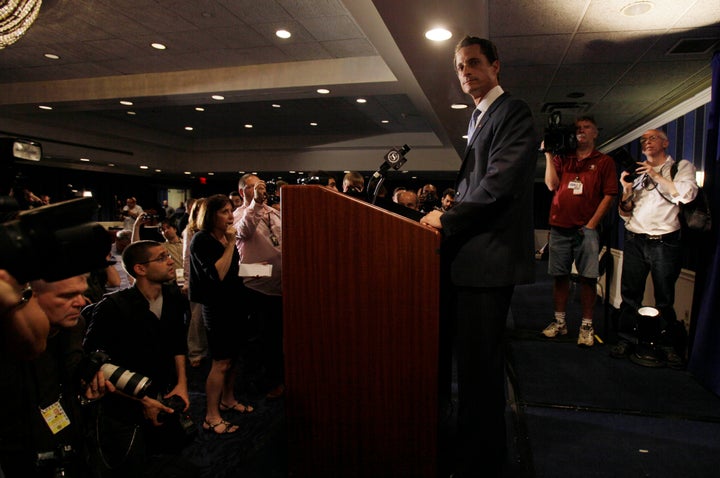 WASHINGTON -- Two new surveys of New York City residents provide conflicting results on whether Rep. Anthony Weiner (D-N.Y.) should resign his office in the wake of admitting to sending lewd photos to women online. But both polls show New Yorkers giving a thumbs down to a future Weiner mayoral candidacy -- an outcome once thought to be a near certainty.
An automated survey of New York City adults conducted by WABC-TV and SurveyUSA finds the city largely divided, with 46 percent who think Weiner should resign and 41 percent who think Weiner should stay in office.
However, a second survey of the city's registered voters conducted with live interviewers by TV station NY1 and Marist College finds more support for Weiner: Just 30 percent of respondents told the pollsters that they want the beleaguered congressman to resign, while 51 percent want him to stay in office.
Both surveys were conducted entirely on Monday night, but differed in their methods. Among these, the most important differentiating factor may be that the Marist poll first informed respondents that Weiner had just held a press conference to admit "he sent lewd photos over the Internet to women other than his wife." Before asking the question about resignation, they also asked respondents to assess Weiner's actions. Most (61 percent) characterized his behavior as unethical but not illegal. Far fewer said either that they were either illegal (13 percent), amounted to having done "nothing wrong" (13 percent) or were unsure (14 percent).
Informing respondents about Weiner's admission and priming the notion that his actions were something less than illegal may have helped lessen calls for his resignation, but the many differences between the surveys makes it impossible to know for sure. The surveys differed in the populations sampled for the resignation question (Marist interviewed registered voters, SurveyUSA all adults), the use of a recorded voice (SurveyUSA) versus live interviewers (Marist) and -- unlike SurveyUSA -- Marist sampled respondents over both landlines and mobile phones.
Given the time constraint, both surveys also had to rely on relatively small samples with margins of error in the range of plus or minus 4.5 to 5 percent.
While the two polls show division about whether the congressman should resign, they yield far worse news for Weiner's future political ambitions.
The Marist Poll finds just 25 percent who say they want Weiner to run for mayor of New York City in 2013, while 56 percent say they do not want Weiner to run and 19 percent are unsure.
SurveyUSA finds 43 percent who say they would vote against Weiner should he run for mayor "no matter who else is on the ballot," while just 11 percent say they would vote for him and 45 percent say it is too soon to say.
Keep in mind that both polls are taking on an exceptionally challenging task: They aim to measure public opinion in the midst of a breaking news story. Pollsters called voters on a single evening when many may have been unreachable. And the respondents all live in a city that opinion researchers consider to be one of the most difficult to survey in the nation.
So caution about these results is certainly in order. Methodological differences aside, polls may find very different results about Congressman Weiner in a few week's time when the full scope of the scandal -- and the political damage it produces -- is more readily apparent.
Popular in the Community