NEW YORK -- Rep. Anthony Weiner (D-N.Y.) insisted he's staying in office Monday, even as a string of embarrassing new revelations and photos emerged that apparently reveal a hidden, lascivious online life.
At first, Weiner vehemently denied that a photo of an underwear-clad erection, sent via Twitter to a 21-year-old woman, had come from him, insisting he'd been hacked.
But conservative blogger Andrew Breitbart and his website Big Government rolled out a series of new pictures Monday, including a shirtless shot that appears to depict Weiner flexing and photographing himself.
Breitbart also claimed to have X-rated pictures of Weiner, and other outlets, including Radar Online and ABC News, reported having more damaging information from women Weiner had purportedly communicated with.
"I am deeply ashamed of my terrible actions," a tearful Weiner told reporters at a remarkable press conference in New York.
"I came here to accept the full responsibility for what I've done," he said, apologizing to his wife of one year, Huma Abedin, and reporters and others he lied to about the initial reports. He even said he was sorry to Breitbart, who had commandeered the podium for his own impromptu press event before Weiner spoke.
"I'm here to watch myself be vindicated," said Breitbart, who had faced criticism for his role in the scandal.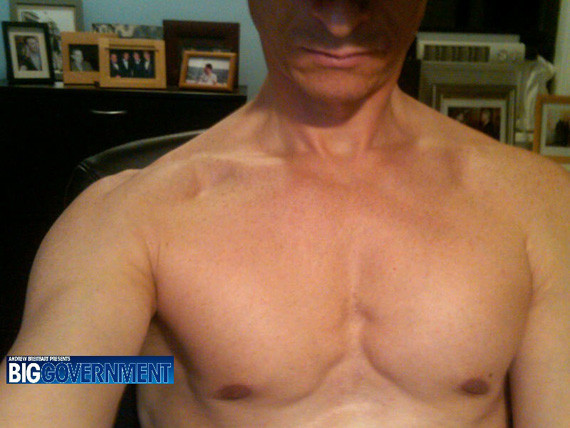 Weiner admitted that he had had ongoing online relationships with six women, and said that he talked to his wife about ones that predated their wedding last summer.
But she did not know about the more recent communication, and Abedin only learned Monday morning that Weiner had lied about having tweeted the photo, he said.
Weiner insisted he was staying in office because he felt he was a good legislator, and he vowed to recapture the respect and trust of his Queens and Brooklyn voters, in spite of the lies, embarrassment and ridicule he will likely face.
He also said that although he had lied repeatedly about his lewd behavior, he felt he had violated no laws or ethics rules.
"I don't see anything in what I did that violated the rules of the House," Weiner said. "I don't believe I did anything that violates any law or any rule."
He didn't have any explanation for his online habits.
"I don't know what I was thinking," Weiner said, explaining that he thought his sexting and racy communications were "frivolous." He also said that he has never met any of the women he communicated with in person. He declined to say if he engaged in phone sex with them, as the latest allegations claim.
"It was something that I did that was just wrong, and I regret it," Weiner said, adding that he panicked when the first tweets went public, and lied to hide his other X-rated activities.
"I was embarrassed, I was humiliated," he said. "I was trying to protect myself and my wife."
He insisted he did not use government equipment, using his own phone and his home computer, to communicate with the women.
People who know Weiner were stunned, having argued as recently as last week that he was too smart to have done what he was accused of.
"Well, apparently he wasn't," one told The Huffington Post.
Another said keeping his job may be the least of his worries.
"Forget staying in office. He's going to get divorced," the person said.
The congressman insisted that his marriage would survive, and said he might seek psychiatric help.
"I'm going to try to handle this, and I have not ruled out seeing someone," he said. "This is a deep weakness that I have demonstrated, and for that I apologize."
Popular in the Community