Former Rep. Anthony Weiner (D-N.Y.) reported to prison Monday morning to begin serving a 21-month sentence for sending sexually explicit text messages to a 15-year-old girl.
Weiner will serve his sentence at Federal Medical Center, Devens, a federal prison in Massachusetts.
The ex-lawmaker pleaded guilty in May to sending a North Carolina high school student explicit messages in early 2016, acknowledging he was aware of the girl's age when he messaged her.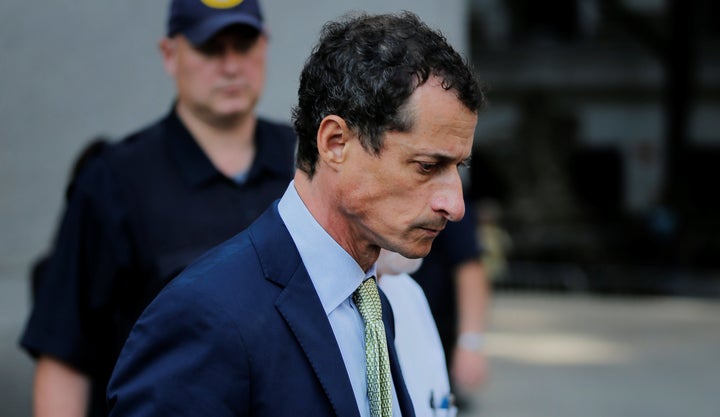 "I accept full responsibility for my conduct," Weiner said in a statement. "I have a sickness but I do not have an excuse. ... I apologize to the teenage girl who I mistreated so badly."
Weiner's wife, longtime Hillary Clinton aide Huma Abedin, filed for divorce shortly after Weiner pleaded guilty.
Federal officials began investigating the allegations against Weiner in September 2016. The probe eventually became entwined in the 2016 presidential campaign, as federal agents seized Weiner's electronics and found emails belonging to Abedin on his devices that were potentially connected to the FBI's investigation of Clinton's use of a personal email server. Clinton has cited then-FBI Director James Comey's decision to inform the public of the existence of those emails as part of why she lost the presidential race.
While Weiner's legal team pressed for a sentence of probation, U.S. District Judge Denise Cote sentenced Weiner to jail time in September. Weiner will also be required to register as a sex offender.
Weiner resigned from Congress in 2011 after it was revealed he sent lewd photographs and messages to women, a scandal that came to light after Weiner accidentally posted one of the photographs to his public Twitter feed.
He attempted to make a political comeback in 2013, when he ran for mayor of New York City. His bid was derailed after a woman came forward with explicit messages she'd exchanged with Weiner after he departed Congress.
Popular in the Community