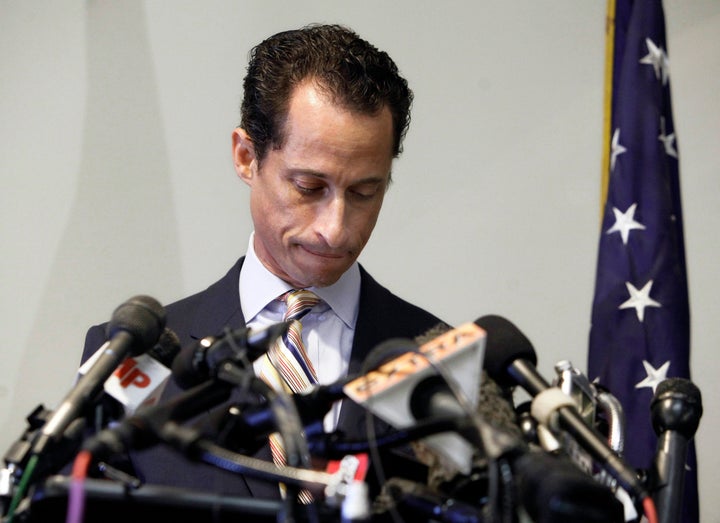 WASHINGTON -- Rep. Anthony Weiner submitted his official resignation letter on Monday to New York Gov. Andrew Cuomo, New York Secretary of State Cesar Perales, House Speaker John Boehner and House Minority Leader Nancy Pelosi. His congressional tenure ends at midnight on Tuesday.
The two-sentence letter of resignation comes four days after Weiner, a New York Democrat, announced he would step down after his online indiscretions with various women were exposed. Weiner admitted two weeks ago to having sent a lewd photograph via Twitter, but he resisted pressure to resign until a number of other details about his online dalliances came to light.
"It has been an honor to serve the people of Queens and Brooklyn," he wrote in the letter.
Weiner made $174,000 per year as a member of Congress, which means he earned about $1,900 since announcing his resignation on Thursday.
A number of members of Congress, including top Democrat Pelosi (D-Calif.) and Democratic National Committee Chairwoman Debbie Wasserman Schultz (D-Fla.), called for Weiner to step down. President Barack Obama also weighed in, saying he would resign if he were in a similar position.
Here's the letter of resignation:
Correction: An earlier version of this article stated that members of Congress make $147,000 per year. The article has been corrected to reflect the actual figure, which is $174,000.

REAL LIFE. REAL NEWS. REAL VOICES.
Help us tell more of the stories that matter from voices that too often remain unheard.