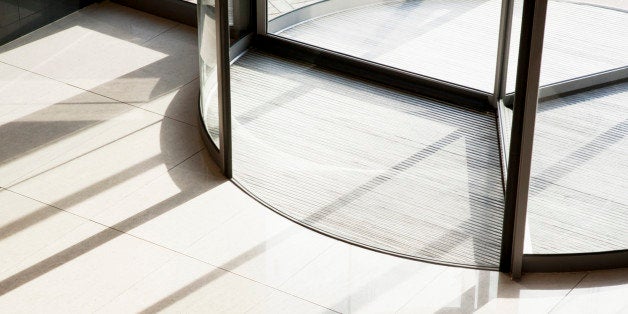 When former House Majority Leader Eric Cantor (R-Va.) took a job with the investment bank Moelis & Co. earlier this month shortly after resigning his Congressional seat, he became the latest example of the tight-knit relationship between Wall Street and Washington. In an interview, I called this out for what it is: another sign that the revolving door still spins freely in Washington. Cantor had little experience in financial services, and the value of people like him to Wall Street firms is influence peddling, plain and simple.
Wall Street's outsized influence in our nation's capital is something I've talked about for a long time -- long before I even thought about running for office. But where I see a problem -- an infestation, really -- a lot of others in Washington, both Democrats and Republicans, seem to see government working just fine.
So when former Congressman Anthony Weiner -- a Democrat from New York -- dismissed my concerns, it was business as usual. Identifying himself as a liberal, Weiner called my criticism of the revolving door culture "overblown" and "petty."
Let's start with some facts.
The Cantor move to Wall Street is not some isolated incident. Just look at the influence of one mega-bank -- Citigroup -- on our government. Starting with former Citigroup CEO Robert Rubin, three of the last four Treasury secretaries under Democratic presidents held high-paying jobs at Citigroup either before or after serving at Treasury -- and the fourth was offered, but declined, Citigroup's CEO position. Directors of the National Economic Council and Office of Management and Budget, the current Vice Chairman of the Federal Reserve and the U.S. trade representative, also pulled in millions from Citigroup.
That's what the revolving door looks like at just one Too Big to Fail Bank. What about others? The influence of Goldman Sachs in Washington has been much documented, including here at Huffington Post. JPMorgan? Shortly before the Cantor episode, another former member of Congress -- Democrat Melissa Bean -- took the same senior job at JPMorgan Chase previously held by Democrat Bill Daley before his recent service as White House Chief of Staff. Yes -- this is just a single position at JPMorgan Chase, evidently reserved for the latest politician ready to cash in on Wall Street.
I could go on -- and I will. Soon after they crashed the economy and got tens of billions of dollars in taxpayer bailouts, the biggest Wall Street banks started lobbying Congress to head off any serious financial regulation. Public Citizen and the Center for Responsive Politics found that in 2009 alone, the financial services sector employed 1,447 former federal employees to carry out their lobbying efforts, swarming all over Congress. And who were their top lobbyists? Members of Congress -- in fact, 73 former Members of Congress.
According to a report by the Institute for America's Future, by the following year, the six biggest banks employed 243 lobbyists who once worked in the federal government, including 33 who had worked as chiefs of staff for members of Congress and 54 who had worked as staffers for the banking oversight committees in the Senate or the House.
The point here is simple: Eric Cantor isn't the exception -- he's the rule. The ties between Washington and Wall Street run deep.
When former Congressmen call, when a Senator's ex-Chief of Staff is on the line, when someone who worked on the Banking Committee for years calls, it's hard to ignore them. Relationships matter, and anyone who doubts that Wall Street's outsized influence in Washington has watered down our government's policies toward still-too big-to-fail banks isn't paying attention.
It is dangerous when key economic positions in our government fall under the control of a small group like the Citigroup clique. Groupthink can become a serious issue -- old ideas stay around after they're useful, and new ideas too often don't get a fair hearing. Small, tight-knit groups also tend to consolidate their power over time using the hiring process in ways that undermine the public interest. Too often, people get jobs based on who they know - not what they know. And too often, the dominant group is confident that not just insiders, but their insiders, are best for the key jobs. The Citigroup clique, for example, includes some effective public servants, but as a whole it has also crowded out others who would have brought different and valuable perspectives to their service.
There is one thing Anthony Weiner and I agree on: there are a lot of smart, hard-working people in the financial industry. In fact, when I worked to set up the new Consumer Financial Protection Bureau, we hired some of them. Private sector experience shouldn't disqualify someone from federal employment, but we can agree on that and still acknowledge the extent to which it defies probability that so many of the very best people chosen for top policymaking positions in Washington all happened to have had high paying jobs on Wall Street. There are experienced and innovative people throughout the private and public sectors who are more than qualified for these jobs, and that's just a fact.
Let's be honest -- the revolving door is only part of a larger problem. There's also a huge imbalance in advocacy resources. During the debate over Wall Street reform, the big banks spent more than a million dollars a day lobbying against new regulations. That's a lot of lobbying. And according to the Center for Responsive Politics, the "financial sector is far and away the largest source of campaign contributions to federal candidates and parties," contributing nearly $300 million to candidates, parties and political action committees in the past two years.
When you put all this together -- all the influence peddling and campaign contributions and lobbying imbalances -- what you have is a really big mess. Or, to be more specific, you have large financial institutions that are dramatically bigger today than they were in 2008 back when we all called them "Too Big to Fail" -- you remember, back in the context of the biggest financial crisis since the Great Depression caused by - you guessed it -- many of the same participants in the Washington to Wall Street revolving door we're talking about.
If we want Washington to work better for families, we need to limit Wall Street's outsized influence on economic policymaking. It's bad for the country when so many people on Wall Street continually angle for key economic policymaking jobs, and so many people in key economic policymaking jobs angle for jobs on Wall Street. The government is supposed to work for everyone, not just those who can hire armies of lawyers, lobbyists, and former (and future) government officials.
Popular in the Community