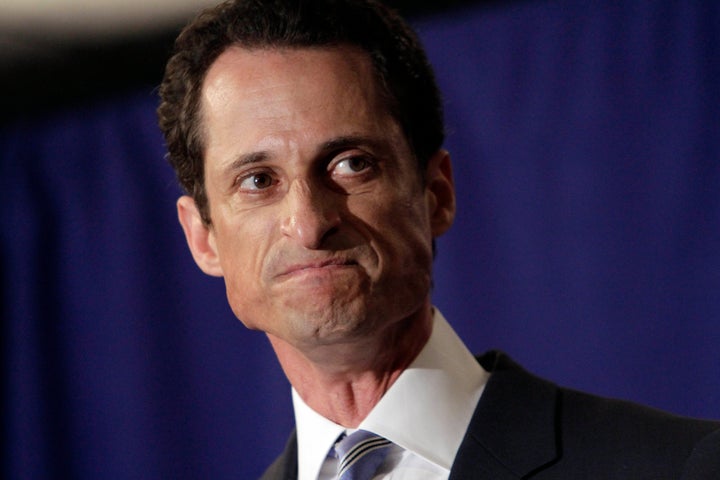 WASHINGTON -- It was only fitting that the circus surrounding Rep. Anthony Weiner's admission on Monday that he had, in fact, sent lewd messages to random females over Twitter ended with a lewd question referencing a wiener.
"Were you fully erect?" an apparent plant from a shock jock radio show shouted as the New York Democrat ended a painful apology news conference in New York City's Sheraton Hotel.
Tent pole jokes aside, the inquisitor highlighted a remarkable fact: A man regarded as one of the smartest strategists in Democratic politics and a likely 2013 New York City mayoral frontrunner had fallen from the rising star to national punch line in less than a week.
And the embarrassing scandal inevitably raised the question of whether the career of a politician -- even one as skilled as many thought Weiner was -- could survive it. A quick poll of New York politicos and D.C. pundits found few saying he could. But they also noted a geopolitical factor that worked to his advantage: This is New York -- stranger things have happened.
"He needs to have a multi-year commitment to a comeback strategy," said Chris Lehane, a Democratic operative and oft-described crisis communications expert with experience in the Clinton White House. "I'd tell him that you have to realize it will take you multiple years to get back to the position you were in just a week ago."

Weiner may realize that much. Indeed, the congressman vowed he would win back the trust of his constituents over time. But even in New York City that will be tough, requiring a sort of discipline that many who are familiar with Weiner do not think he possesses.
"He ought to have a goal about not thinking about a political renewal but a personal renewal. If he does anything that looks like he is trying to rehabilitate himself, that would be a terrible mistake," said Lanny Davis, the crisis management guru who was brought into the Clinton orbit to handle the ex-president's own lewd conduct. "The last thing he should be talking about is political rehabilitation. That is a terrible mistake. This is not about his political career."
Former Rep. Martin Frost (D-Texas), who served as chair of the Democratic Congressional Campaign Committee (DCCC), also said the facts of life in New York give Weiner a chance, even if former upstate Rep. Chris Lee (R-N.Y.) quit quickly after sending eerily similar shirtless photos this past winter.
Frost pointed to an even more notorious case as a template. "A lot of people thought Charlie Rangel wouldn't be re-nominated with the problems he had. But Charlie got re-nominated and reelected," he said, referring to the Harlem Democrat's censure last year.
"[Weiner] has a lot of time between now" and his reelection campaign, Frost said. "New York has one of the latest primaries in the country, which gives him some time to repair his image. I don't know what the ethics committee can or will look into. But his problem, in the end, is with the voters in New York."
Before Frost could finish his thought, House Minority Leader Nancy Pelosi (D-Calif.) had requested an ethics probe into the Weiner affair.
Current DCCC chairman and fellow New Yorker, Rep. Steve Israel, not only backed the call, he didn't sound especially encouraging about his colleague's fate. "Congressman Anthony Weiner engaged in a deep personal failure and inappropriate behavior that embarrassed himself, his family, and the House," Israel said. "Ultimately, Anthony and his constituents will make a judgment about his future."
Weiner's office responded shortly thereafter, saying the congressman welcomed and would "fully cooperate with an investigation by the House Ethics Committee."
Many of New York insiders contacted by The Huffington Post thought Weiner might revive himself, but only if there wasn't another graphic or lurid chapter to the scandal. That might be overly hopeful, they added, predicting a slow drip of damaging revelations that could last all summer in New York's already heated media market.
"He lied. He carried on a deception for a week in the national media," said one influential and disgusted New York Democratic operative. "He should be hounded out of office."
A fellow lawmaker was also pessimistic about Weiner's survival. "I don't think so," the legislator said of the congressman maintaining his post. "I think the leadership has already turned on him."
And for Weiner to tough it out, will take remarkable discipline that those who know him aren't sure he has -- certainly not after his conduct this past week.
They point to a law Weiner sponsored in the summer of 2008 to let supermodels enter the United States more easily. Aides had for years advised the then five-term congressman not to do, warning Weiner that -- with his surname and reputation as a ladies man -- he would get hammered in the press.
"He did it anyway," said a Weiner confidant. The measure became fodder for endless Weiner jokes -- that now pale in comparison.
"He's not good at taking advice," one person close to the congressman admitted.
But taking advice will be crucial.
"At this point he now needs to close the door, be quiet and stop talking about this. There is nothing else to add at this point," said Lehane.
And it won't be easy for the glib Weiner, who faces the prospect of ongoing revelations from the six women with whom he admitted to having inappropriate online relationships. Media outlets have already begun reaching out to those women. And conservative media figures -- mainly Big Government publisher Andrew Breitbart -- claim to have troves of additional messages not yet released.
In addition, Weiner will have to live though the ethics process, which could easily stretch until next summer's election season, keeping the story in the news.
"How is he going to raise money? Who in the delegation is going to campaign with him?" one New York Democrat wondered, noting that Representative Lee resigned over less.
If there is a drip, drip, drip of revelations, pressure could easily grow for him to get out. The Republican Senate and House campaign committees each sent out releases Monday targeting Weiner's friends, including his one-time mentor, Sen. Chuck Schumer (D-N.Y.), and the DCCC boss, Israel.
On top of that, one New York lawmaker noted that the state is about to go through a redistricting of House seats in which it will lose two districts. There would be little incentive to protect a disgraced Weiner in a district that was not drawn to protect minority voting rights.
"I don't see how anyone goes out of their way to save his district," the legislator said.
Popular in the Community