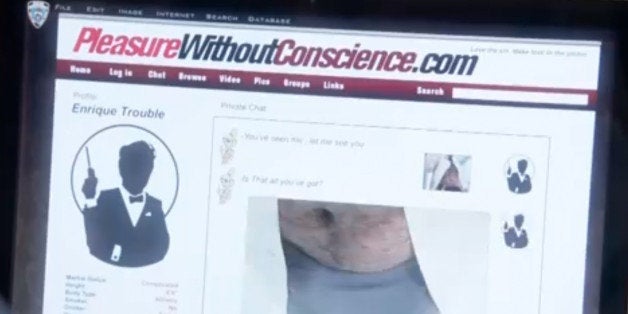 Think we're over Anthony Weiner-gate? Think again!
This week, not one but two hit TV dramas -- "Law & Order: SVU" on NBC and ABC's "Scandal" -- are doing Anthony Weiner-inspired, ripped-from-the-headlines stories. But who'll do it best? Let's take a look:
"Law & Order: SVU" episode: "October Surprise"


Win: "SVU" previews show the lewd photos pulled up on someone's laptop (above), with a nice nod to Carlos Danger himself -- their offending wannabe-mayor goes by Enrique Trouble!
Lose: Because it's "SVU," the sexted photos were allegedly sent to a 15-year-old, making it somehow even skeevier than Weiner's dirty deeds.
Added bonus: A clever "just the tip" joke!
"Scandal" episode: "Say Hello To My Little Friend"


Win: The episode title alone wins, but the photos up on the client board at OPA (above) are incredibly close to the real deal.
Lose: He's a blonde white guy? Boo.
Added bonus: He's not just a sexting maniac -- he might be a killer, too!
Tell us: Who do you think will tackle Weiner best?
"Law & Order: SVU" episode "October Surprise" airs Wed., Oct. 23 at 9 p.m. ET on NBC; "Scandal" episode "Say Hello To My Little Friend" airs Thurs., Oct. 24 at 10 p.m. ET on ABC.
REAL LIFE. REAL NEWS. REAL VOICES.
Help us tell more of the stories that matter from voices that too often remain unheard.