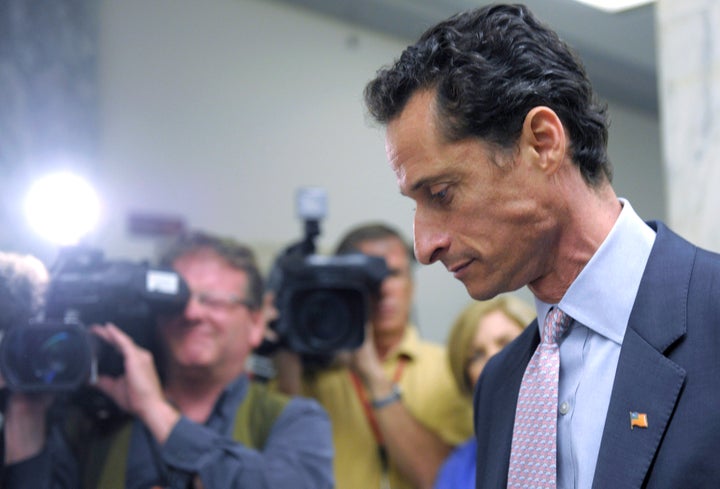 The controversy surrounding the lewd photograph sent from Rep. Anthony Weiner's (D-N.Y.) Twitter account took a new turn Monday. Andrew Breitbart's website BigGovernment.com claims that a new woman has come forward with photos, chats, and emails sent to her by the congressman that suggest the two were involved in "an online, consensual relationship involving the mutual exchange of intimate photographs."
(SCROLL DOWN FOR UPDATES)
The first picture posted on BigGovernment.com shows Weiner holding a piece of paper with the word "me" written on it, and an arrow pointing to his face. According to the website, Weiner sent the photo in order to prove to the woman that he it was in fact the person corresponding with her online.
A second photo shows Weiner with two cats in the background. It was allegedly emailed to the woman from anthonyweiner@aol.com with the subject line "Me and the pussys."
A third photo appears to show Weiner shirtless. The photo was allegedly sent to the woman on Friday, May 20, 2011 via a Yahoo! email address that she claims was an alternate alias for Rep. Weiner. BigGovernment.com did not specify the email address but said a Google search for it revealed an invisible Yahoo! profile with more photos of Weiner sans shirt.
Weiner is scheduled to address the media at 4pm Monday. According to NY1, Weiner will not announce his resignation.
Earlier, On Wednesday, May 18, 2011, according to BigGovernment.com, Weiner allegedly sent the woman an email from that same Yahoo! address and attached the now-infamous photo of a man's bulging underpants.
Breitbart's website has not revealed the identity of the woman, and the photos themselves do not prove that an illicit relationship was taking place.
An ABC News official told the New York Times that the network has interviewed a woman who says she received the same photos from Weiner that Breitbart obtained.
Radar Online is also reporting that a woman was involved in a lengthy "sexting" exchange with the congressman via Facebook last month,. "I have more than 200 messages from him and they're all explicit in nature," the woman, who volunteered as a Democratic campaign worker, told Radar Online. She also told the website that she had phone sex with Weiner for 30 minutes on his government-provided phone.
Weiner's office has not responded to a request for comment from The Huffington Post.
Last month, BigGovernment.com revealed that a lewd photo of a man's bulging underpants had been sent to a 21-year-old female college student in Seattle from Weiner's Twitter account. It was quickly deleted, but a frenzy of coverage and comment ensued on blogs, cable news outlets and other media. Weiner's spokesman said that the congressman's Twitter account had been hacked and dismissed the episode as a prank.
Popular in the Community