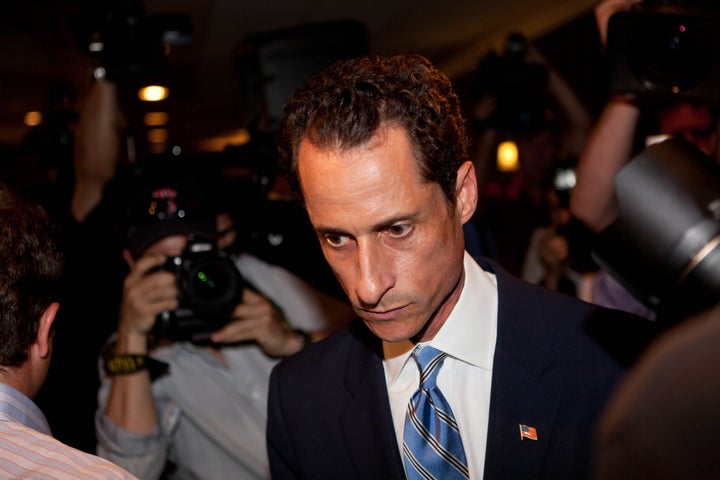 There is a school of thought that says when a Congressman is caught out in a sex scandal, the one thing they should never, ever do is resign from office. That seems to be the path that Representative Anthony Weiner (D-N.Y.) is on, the hope being that he can outlive this problem and soldier on -- as President Bill Clinton and Senator David Vitter (R-La.) have done -- and avoid a long period on the fringes of policymaking -- as New York Governor Eliot Spitzer did. As Matt Yglesias advised: "The key thing is to keep your wits about you, and refuse to resign."
Of course, if a key ingredient to this strategy is remaining in close proximity to one's wits, that battle was lost for Weiner the moment he said that his junk-shot was, in fact, "out there" but that he could not with "certitude" say that the bulging image that destroyed Twitter was his. That strikes me as being essentially witless, and it all but set the stage for the new images that became publicly disclosed yesterday and his abrupt about-face and admissions.
So, should Weiner resign? You know, why not, right? As has been dutifully pointed out already, Weiner was widely known to be using his platform at the House of Representatives as a springboard for a future run at the New York City mayorship. As such, he used his office primarily as a means to mount a publicity campaign for those ambitions, casting himself as the hard-charging cable-news liberal firebrand. It's now all but certain that those ambitions will come for naught, so what's he going to use the office for now? A determined fight to end mohair subsidies, once and for all? Outside of seeking a Steve Zissou-style vengeance on the goat that gored him, Weiner's got little going on in the area of personal policy initiatives.
And if Weiner's district gets cut to bits during the redistricting process, sticking it out with the faith that his own constituents will return him to office isn't a path that leads anywhere. So why stick it out? Well, I have a feeling that Weiner wants to make some kind of point about all of this. Central to his self-defense going forward will be two concepts -- that he did nothing illegal, and while what he did do was wrong, it didn't come at the expense of his job.
As to the matter of illegality, for the time being, Weiner is correct. This is America, and by God, we are a nation where consenting adults are allowed to have hot, sexy chat with each other and distribute images of their genitalia between themselves to their hearts' content. Of course, things get slightly dicier if it comes out that Weiner was pursuing this hobby on the taxpayer dime or otherwise expended government resources. Allegations to this effect have already been made, and it could end up ensuring that Weiner receives some sort of slap on the wrist from some Ethics Committee. To be sure, I won't personally care if Weiner is satisfying himself on his office phone, because at least that detracts from the time he would ordinarily be speaking to lobbyists and screwing me in the process.
So why should Weiner resign, then? Well let's go out on a limb, I guess, and say: He lied!
Now let's be clear: that Weiner lied about his shenanigans to his constituents should only matter to his constituents and they can remove him themselves if they please the next time he's up for re-election. So, as far as his constituents are concerned, they are in need of no special dispensation.
Similarly, I don't much care that he lied to the media. Congresscritters lie to the media all the time, and if they want to come off all especially aggrieved in this instance, I'll simply point out that their ordinary process of dealing with a lie is as follows:
So, the media can go and snack on it. Here's the part I can't reconcile: when this story broke and Weiner began lying about it, he knew full well that this caused an unholy amount of upheaval in the life of Genette Cordova -- the women to whom the crotchshot image was sent, via Twitter -- as well as numerous other women and girls whose only crime was that they followed him on Twitter. And yes, we can say that it was the unrestrained hordes of the media and the partisan blogosphere that mounted up and rode into that despairing crevasse, but the simple fact of the matter is that Weiner could have ended that instantly has he just come clean in the first place. Let's recall that Weiner said this, to Wolf Blitzer:
"Please, I want to ask you, does this person, what did she do, beyond tweet something that she's a follower of mine, you can probably find hundreds of people that did that. I would hope that you would leave these people alone. I mean, come hound me but they didn't do anything wrong for following me on Twitter."
Ha, yes. He would "hope" that the media "would leave these people alone." He won't personally come clean and bring about the cessation of that activity, but by all means, come "hound" him, and be told that you can't say with certitude that this particular crotch shot is one of the ones that is "out there."
Regardless of what fruit is borne from further investigations and Ethics Committee ministrations, Weiner really cannot at this moment truthfully say that the harm done here is confined to himself, his family and people with whom he entered into consensual quasi-sexual relationships, who were perfectly capable of gaming out how all this would end for themselves.
By perpetuating his lie, Weiner failed to minimize the harm meted out to perfectly innocent people. As far as I can tell, causing harm to innocent women isn't a thing we should tolerate in our public servants, and it doesn't comport to any progressive values of which I am aware. So the right thing for Weiner to do is accept some responsibility and get a Representative into that seat who can uphold the ideological values Weiner fumbled, by agreeing in this instance to metaphorically cut off his own head.
Popular in the Community