On Friday morning, at least two abortion clinics in the U.S. were targeted by anti-abortion protesters who stormed the clinics' waiting rooms, refusing to leave. The protesters were eventually arrested by local police for trespassing.
HuffPost confirmed the arrests with Northland Family Planning in Sterling Heights, Michigan, and Alexandria Women's Health Clinic in Alexandria, Virginia. Two other clinics, one in Columbus, Ohio, and another in Albuquerque, New Mexico, were also reportedly targeted, but HuffPost has yet to receive confirmation.
According to Lara Chelian, the Director of Advocacy at the Sterling Heights clinic, there were four arrests made at her clinic.
Chelian said that about 20 anti-abortion protesters showed up outside the clinic on Friday morning ― something that is far from unusual. However, she told HuffPost that five of those protesters "stormed the [Northland Family Planning clinic's] waiting room and refused to leave."
One protester reportedly left when staff threatened to call police. The other four remained, and were later arrested.
"They must have posted bail immediately because the ones who are arrested are back [protesting] already," Chelian told HuffPost on Friday afternoon.
Created Equal, an anti-abortion group whose members participated in the demonstration on Friday posted video footage on Facebook.
Participants of the demonstrations appear to have been performing "red rose rescues," a concept that originated with Canadian anti-abortion activist Mary Wagner. The 43-year-old was released from a Toronto jail on Tuesday after serving six months while awaiting trial for previous arrests on abortion clinic grounds. Rather than being sentenced with jail time, she was given 30 months of probation.
Wagner was photographed and filmed participating in the Sterling Heights demonstration on Friday (shown in a public Facebook video below).
Chelian confirmed to HuffPost that anti-abortion protesters were indeed trying to hand out red roses to patients driving into the clinic, and one protestor outside the Sterling Heights clinic uploaded a Facebook selfie with another protester in which she appears to be holding a bouquet of roses.
Monica Migliorino Miller, an anti-abortion rights activist and writer who also participated in the Sterling Heights demonstration, said in a video she published on YouTube, "the red rose rescue is an act of charity on behalf of the mom scheduled for abortions and, of course, for the innocent unborn who are about to be put to death. Those who took part were willing to embrace the risks for these women and their babies."
Related
Before You Go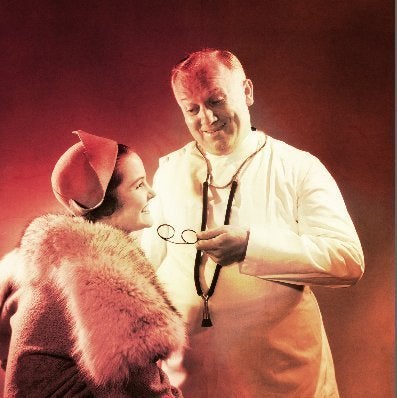 Myths About Abortion That Need To Be Busted
Popular in the Community