When Carrol Grady received a phone call telling her that her organization, Someone To Talk To, was being disinvited from having a booth at this week's North American gathering of Seventh-day Adventist teachers because "this convention is not the right venue for your group," she was shocked and distressed. With only one week before the start of the convention this was painful news to absorb, to say nothing of the expense already incurred personally by her and her volunteers.
Someone To Talk To is a ministry to Adventist families and friends of gays and lesbians. Grady is the 76-year-old founder. "I found it difficult to understand how this venue was not right for our group," she says, "when we are a ministry directed toward young people who are often the target of bullying in our schools and one of the themes of this convention is bullying and harassment in schools. What students and teachers often need is simply someone to talk to." Grady wrote a book, "My Son, Beloved Stranger," and ultimately founded this ministry after walking with her own gay son through the challenges of being gay and an Adventist Christian.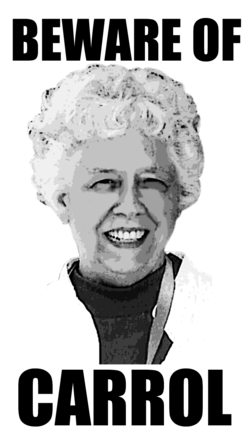 Grady immediately wrote an e-mail to Larry Blackmer, North American Division Vice President for the Office of Education, asking for the courtesy of an explanation. Blackmer replied saying that several unnamed people complained about her organization's support for gay marriage. Other education officials then allegedly voted to ban her booth from the convention.
Grady's website does indeed express sympathy for marriage between same sex partners as a vital part of their mental, emotional and even physical health, should they choose marriage. While not attempting to be thorough, the opinions expressed on her website are backed up by research. Still, Grady says, the booth was not about promoting gay marriage, but about preventing bullying for all students, including gays and lesbians.
The Seventh-day Adventist Church's official position is that, "sexual intimacy belongs only within the marital relationship of a man and a woman." This places Someone To Talk To's viewpoint outside the official church doctrine. Other Adventist leaders wonder whether every booth is being submitted to the same scrutiny.
"Are all the booths being screened for doctrinal purity?" asks David Ferguson, recent past Church Relations Director of Seventh-day Adventist Kinship, a ministry that provides a safe, spiritual and social community to lesbian, gay, bisexual, transgender and intersex current and former Seventh-day Adventists around the world. "Are other organizations being excluded based on their beliefs about the age of the earth or the ordination of women?"
The convention website does indicate that there are rules for exhibitors to abide by but fails to make those rules available.
Being a gay, lesbian or bisexual teenager in the United States is risky business. While the greatest mortal threat these teens face is from themselves, studies suggest that all of us bear the responsibility. According to The Trevor Project, gay, lesbian and bisexual teens are four times as likely to commit suicide than their heterosexual peers, and when combined with rejection from family and other important adults in their lives, the suicide rate for LGBT teens skyrockets to eight times the rate for those coming from supportive and accepting families, according to the Family Acceptance Project.
Schools are a particularly dangerous place for gay teens. According to the 2009 National School Climate Survey nearly 85 percent of LGBT teens report being harassed in school and nearly two-thirds report feeling unsafe in school because of their sexual orientation.
Grady and her team decided to go to Nashville in spite of the ban on their booth, to talk with individuals about their ministry and hand out their materials, but Grady now says she has been informed that security will be prohibiting the distribution of material in the convention facilities. "They can't stop us from talking to people," she says. "If they want our material we can go outside and give it to them off the property."
In conjunction with these events, Adventist filmmakers, Daneen Akers and Stephen Eyer are screening their recent documentary, "Seventh-Gay Adventists: A Film About Faith on the Margins," on Tuesday in a nearby venue not officially connected with the Teachers' Convention (info here). Akers is being told by teachers that an email was sent from regional education superintendents that the time of the film screening would be a good time for them to hold a mandatory meeting of all their employees.
One teacher who did not want to be named said, "The teachers were told that Tuesday evening would be their only free evening to rest or explore Nashville. Some were also planning to see 'Seventh-Gay Adventists.' Now, in several conferences, teachers are being summoned to a mandatory meeting." Some see this as a direct attempt to block teachers from seeing the film which portrays three Adventist couples (two gay and one lesbian), products of Adventist education themselves, as they express their love for the Adventist church and its teachings and their struggle to belong.
Dr. George Babcock, Principal of Hinsdale Adventist Academy in Hinsdale, Ill., finds the timing of the ban on Grady's booth and the sudden change of the convention schedule to be more than coincidental. In his own school, a non-discrimination policy that he pioneered two and a half years ago, expressly forbidding discrimination on the basis of "sexual orientation or gender identity/expression," has recently come under attack by angry parents and other constituents. Pressured by the Illinois Conference administration, the statement was overturned last week and replaced with the standard North American Division non-discrimination policy which does not address discrimination based on religion, physical handicap or sexual orientation.
"Carrol Grady has literally become an adopted mother and grandmother to hundreds of gay and lesbian Adventists who have been rejected by their families and the church. It's hard to imagine not wanting Carrol's message and resources to be available to educators. She's all about loving all of our kids, including our LGBT kids and stopping bullying in schools," says Akers. "Just this week I received emails from two Adventist young people who are contemplating ending their lives because they are at the point of total despair." Anti-bullying advocates like Grady, Akers, Eyer and Babcock see bullying in schools as a matter of life and death and are using their voices and relative influence to bring a reluctant denomination to face this reality squarely.
Image credit: Designed for T-shirt to be worn by Grady's supporters, by Jared Wright.
Related
Popular in the Community