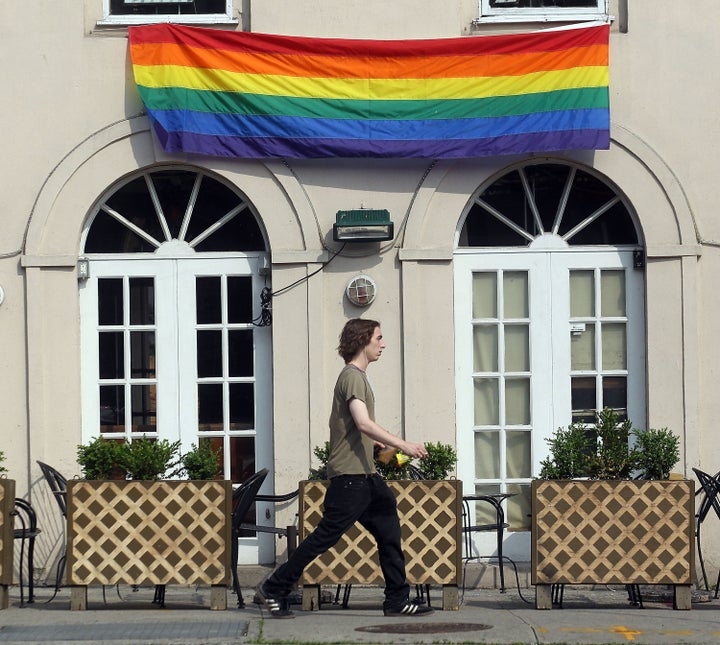 Anti-bullying legislation may seem unlikely to spark controversy, but there are groups working to overturn new laws in the name of religious freedom.
Focus on the Family is planning to counter the "Day of Silence," an annual event to protest LGBT bullying set for April 20, with its own "Day of Dialogue". The evangelical organization's aim is to muffle an effort that "crosses the line in a lot of ways beyond bullying into indoctrination, just promoting homosexuality and transgenderism."
The group has been advocating an anti-anti-bullying message for years. When a California school adopted an anti-bullying rule that mentioned gays and lesbians in 2010, backlash ensued.
"The school introduced anti-bullying lessons, but really they're teaching elementary school kids about gay marriage," Candi Cushman, education analyst for Focus on the Family, told ABC. "We think parents should have the right to teach kids about it in their own way."
In March, a Christian hard rock band delivered an unusual message to Iowa high school students at an assembly about bullying. "They told these kids that anyone who was gay was going to die at the age of 42," one parent told the La Crosse Tribune.
Last month a Christian, family-values lobbying group convinced Arizona lawmakers to kill an anti-bullying bill that it said carried a gay friendly agenda, according to the Arizona Daily Star. The state Senate's minority leader, David Schapira, blamed the president of the lobbying group for killing the bill, calling her a "legislative terrorist."
"Cathi Herrod, an unelected lobbyist, killed a bill that would protect all Arizona kids purely because of her intolerance of gay kids," he said.
In recent years, concerns about bullying have garnered national attention. But when you look behind the curtain at what is driving this nationwide dialogue, you find out that the groups that are pushing the "anti-bullying" campaigns are the same organizations working to redefine marriage and to force cultural acceptance and affirmation of homosexual lifestyles.
Other states have passed legislation that specifically protects religious bullies. In 2011, Michigan passed a bill with a provision that allows bullying based on "a sincerely held religious belief or moral conviction."
Harassment, intimidation, or bullying prevention task forces, programs, and other initiatives formed by school districts, including any curriculum adopted for such purposes, shall not include materials or training that explicitly or implicitly promote a political agenda, make the characteristics of the victim the focus rather than the conduct of the person engaged in harassment, intimidation, or bullying, or teach or suggest that certain beliefs or viewpoints are discriminatory when an act or practice based on such belief or viewpoint is not a discriminatory practice as defined in 4-21-102(4).
This measure originally was introduced in the wake of a gay teen's suicide. Last year, the Tennessee Senate passed a so-called "Don't Say Gay" bill that would have prohibited teachers from acknowledging any sexuality other than heterosexuality to students between kindergarten and eighth grade. It was voted down in the state House.
Anti-bullying backlash doesn't only come from Christian groups. Orthodox Jewish and Christian groups came together in Toronto last year to protest an anti-bullying measure "as a vehicle to indoctrinate children into embracing a new sexual revolution." It focused on the measure's call to establish a gay-straight alliance, and add support for students of all sexual orientations and gender identities.
"To force, especially Christian, classrooms or schools to have homosexual clubs would, of course, be an affront to their family values," said Charles McVety, president of Christian Canada College. "And what does this have to do with bullying? Nothing."
"Anyone who claims to be in the light, but hates his brother is still in the darkness." 1 John 2:9
CORRECTION: An earlier version of this story indicated that Matt Epling was gay. He was not. We regret the error.
Popular in the Community