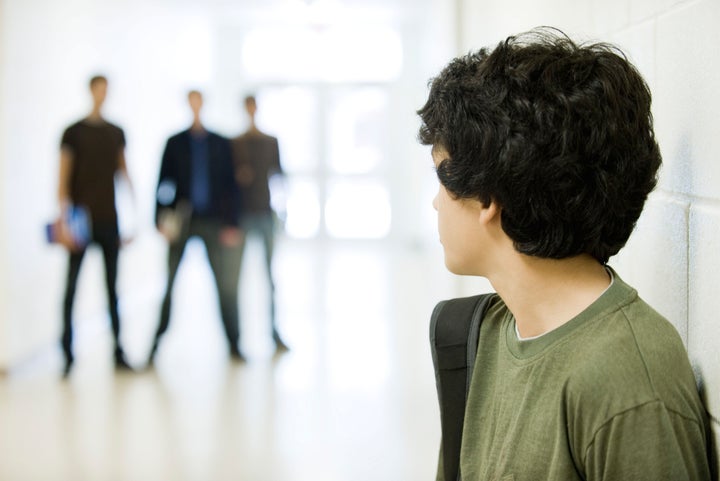 This month kicks off PFLAG's 40th anniversary year. Forty years ago, a schoolteacher from Queens, NY stood up for her gay son after seeing him harassed and bullied because of his sexual orientation. One mom stood up and now, 40 years later, tens of thousands of people are standing up in communities all over the country and taking a stand against bullying.
For too many of our children, attending school can be a frightening experience. As parents, families, friends, and allies we need to do something to make schools safer for ALL students.
This is why PFLAG National created the Cultivating Respect: Safe Schools For All initiative, which seeks to provide support, education and advocacy to students, parents, families, friends and educators to help them create a learning environment that is conducive to the educational success of all students. PFLAG chapters are in their communities working directly with schools and other education stakeholders to provide support, resources, training, model policy, and creative programs to create this environment of respect.
Our 40-year history of elevating the unique family and ally voice in the LGBT movement has placed us on the front lines of fighting innumerable instances of bullying, harassment, and discrimination in our nation's schools and communities and, along with countless state and local partners -- and national partners like GLSEN -- we are making an impact, every day, on the lives of students across the country.
Ready to step up and make a difference?
Start here with our top ten tips to make schools safer for ALL children:
Learn the Facts - Students who are, or are perceived to be, lesbian, gay, bisexual or transgender -- LGBT -- are at a higher risk for depression, self-harm and dropping out of school.
Understand the Language - Using respectful and appropriate language is an important benchmark to set a tone of respect and understanding.
Stop Bad Behavior - Don't ignore or excuse discriminatory behaviors or harassment, and don't be immobilized by fear: Not taking action can endanger students and make the classroom unsafe.
Set the Policy - A strong and inclusive anti-harassment policy not only protects students; it also protects the school.
Plan School-Wide Activities - Showing films, reading books and planning schoolwide activities offers opportunities for everyone to learn and participate. These programs help build community, empathy and understanding.
Be Public - Adults should go public with their support for diversity, and oppose bullying and harassment. Signs, stickers and other public displays tell youth that their diversity is welcomed, supported and protected.
Address Cyber-Bullying - Take cyber-bullying seriously. Add cyber-bullying to existing anti-harassment or bullying policies, and help provide training and education for students, teachers and parents.
Train and Educate Everyone - It is imperative that every adult -- parents, teachers, administrators -- is trained to respond to bullying in ways that support every student.
Popular in the Community