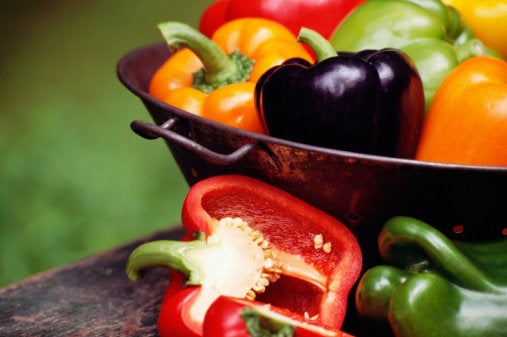 As many of my readers know, I've been following an anti-cancer diet [1] -- a diet based on whole grains, vegetables and beans -- for about 12 years now, after being diagnosed with advanced breast cancer and going through conventional treatment. After being told the cancer would likely return within a year, I adopted an exceptionally healthy way of eating to try to increase my chances of long-term survival.
I took a chance on a plant-based way of eating 12 years ago, basically because I was out of other answers. I have since educated myself and believe it is the best way of eating to guard against conditions such as cancer, diabetes, heart disease and obesity [2]. I was most convinced by the evidence put forth in "The China Study," written by T. Colin Campbell, Ph.D., [3] a nutritional biochemist at Cornell. Dr. Campbell's 40 years of research reconfirmed what I learned through personal experience, and as a result, I keep my recipes high in fiber and low in fat (they contain no animal protein), salt and sugar.
For those of you who don't know, a healthy plant-based diet is centered on -- you guessed it -- plants! There is usually a whole grain like brown rice or quinoa. My family and I plan the rest of the meal around the grain, rather than around meat as most Americans do. Then we add beans (or a bean product such as tofu or tempeh) and vegetables. I typically enjoy three vegetables with each meal.
A question I'm frequently asked is, "Can you eat this way and still socialize?" My answer is: "You bet!"
Our recent family vacation to Cape Cod shows how easy it is to blend our plant-based way of eating with our extended family's standard American fare. When my husband's mom Alice invited us over for a family dinner, she said, "I'm cooking pork, but I'm also cooking some brown rice and vegetables ... if you want to bring something."
I thought I'd round out the meal by bringing a bean dish, and everybody typically likes them. I usually make my beans from scratch, meaning I soak them overnight and then cook them. But lately, I've been focusing on ways to make healthy eating easier and faster -- especially for people who are just getting started on trying to eat better. So, my aim has been to create deliciously healthy, plant-based meals that only take 30 minutes (or less!) to prepare.
I had brought along two small bags (about four cups) of dried, Maine pesticide-free red kidney beans. With local dried beans, you can soak for just a couple of hours, cook an hour and still wind up with soft-creamy and well-cooked beans that are easy to digest. (I've included instructions here for using both dry and canned beans -- both are deliciously healthy.)
When we arrived for dinner that evening, we brought along our beans plus a combination of plump whole sugar snap peas (minus the hard top stems) and carrots thinly sliced on a diagonal. These vegetables were quickly blanched (thrown into boiling water for one to two minutes max), drained, plunged into cold water for another couple of minutes to prevent further cooking, drained again, tossed with small amount of balsamic vinegar and placed in a serving dish.
Our beautiful vegetables and beans graced the table along with my mother-in-law's short-grain brown rice, a green salad, her homemade applesauce and her pork dish. There was something for everyone at this colorful and bountiful table.
4 cups of dried red kidney beans
1 whole onion, peeled (don't cut)
3 apples, diced (don't peel!)
1/8 teaspoon sea salt per cup of beans (1/2 teaspoon)
1 tablespoon stone-ground grain mustard
Soak fresh dried beans for 2 to 3 hours. Drain beans and add fresh spring or filtered tap water to cover by 1 inch. Add peeled onion and chopped apples. Bring to a boil on high flame, turn to low, cover and simmer 50-60 minutes.
Test beans for doneness by taking one bean from the pot with a spoon and blowing gently on it. Some of the thin skin should now peel back from the body of the bean. I also taste mine by carefully biting the bean between my teeth (it's hot so proceed with care!). It should be soft and some of it should dissolve between your tongue and the top of your mouth. Fresh beans usually are tender after an hour. If not, cover beans and continue to cook another 15 minutes, then repeat procedure. When done to your liking, add sea salt. Stir, cover again and cook another 5 to 7 minutes. Serve with brown rice and your favorite selection of vegetables. Serves 8-10.
And here's the really quick version:
QUICK CAPE COD KIDNEY BEANS
Three 15-ounce cans red kidney beans (don't drain); I look for low-sodium beans -- Whole Foods 365 Organic brand has only 85 mg sodium per ½ cup.)
1 onion, chopped finely
3 apples, diced into small pieces (don't peel), or 3 Tablespoons apple butter
1 Tablespoon stone-ground grain mustard
Put all ingredients in a pot, bring to a boil, turn to low, cover and simmer about 15 minutes. Serve on brown minute rice (according to package instructions) with warmed choice of frozen vegetables (frozen corn is tasty).
[1] World Cancer Research Fund report, 1997. A deliberation of 16 distinguished scientists representing 10 countries, who met extensively and concluded with 15 recommendations in a 670-page report -- the first being, "Consume a plant-based diet."
[2] Ongoing research from the Physicians Committee for Responsible Medicine. The "Foods for Cancer Prevention" fact sheet at its website outlines the PCRM position and contains numerous references to substantiating research.
[3] Campbell, T. Colin, Ph.D., Cornell University professor emeritus in nutritional biochemistry. Dr. Campbell has been at the forefront of nutrition research for more than 40 years and has more than 70 grant-years of peer-reviewed research funding. He has authored more than 300 research papers and co-authored "The China Study: Startling Implications for Diet, Weight Loss and Long-term Health" (2005), which includes more than 700 peer-reviewed studies, funded by the federal government. The findings? "People who ate the most animal-based foods got the most chronic disease ... People who ate the most plant-based foods were the healthiest and tended to avoid chronic disease. These results could not be ignored," said Dr. Campbell. The China Study details the connection between nutrition and heart disease, diabetes, and cancer, and also its ability to reduce or reverse the risk or effects of these deadly illnesses.