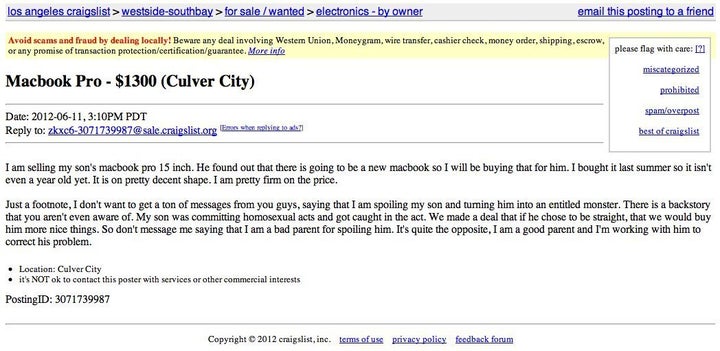 Update on June 14 at 3:13pm: As HuffPost blogger Jamie McGonnigal of TalkAboutEquality.comwrites in his new blog, the Craigslist ad was indeed a hoax. The ad was actually placed by a high school student named Daryl who told McGonnigal:
"I write horrible posts on Craigslist all over the country to see what issues make people angriest for a project I'm putting together. I'm sorry anyone that was offended. ...

It started out when I got my first computer, my friends and I put an ad on Craigslist saying we were selling Justin Bieber tickets. We made fun of the people that would write us. That gave me an idea to start putting up other things on Craigslist to see what people have passion about and to get reactions out of them. I want to write something about issues that people are most passionate about. I want to be a writer one day. I'm sorry about this all. I just don't want this to affect me going to a good school one day. I'm sorry."
A disturbing -- yet questionably-written -- Craigslist ad implying that a parent is working to "correct" their son's homosexuality by buying him a new computer is going viral in the lesbian, gay, bisexual and transgender (LGBT) blogosphere.
The Culver City, Calif.-based ad, which has since been posted by Towleroad and Joe. My. God. among other media outlets, reads as follows:
"I am selling my son's Macbook pro 15 inch. He found out that there is going to be a new Macbook so I will be buying that for him. I bought it last summer so it isn't even a year old yet. It is on pretty decent shape. I am pretty firm on the price."
The ad concludes with a bizarre "footnote" that reads:
"I don't want to get a ton of messages from you guys saying that I am spoiling my son and turning him into an entitled monster. There is a backstory that you aren't even aware of. My son was committing homosexual acts and got caught in the act. We made a deal that if he chose to be straight, that we would buy him more nice things. So don't message me saying that I am a bad parent for spoiling him. It's quite the opposite, I am a good parent and I'm working with him to correct his problem."
Like most items on Craigslist, the legitimacy of the ad cannot be verified, but it's troubling regardless. You can view the ad below: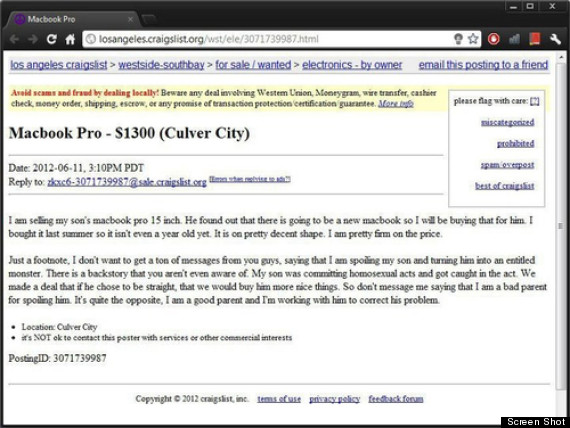 A Talk About Equality blogger claims to have contacted the poster of the ad, who responded, "I regret to inform you that I will not be calling you. I don't need for you or anyone else to have my number. Not after all the hatred and threats I've gotten."

Below, see other strange (and often terrifying) "cures" for homosexuality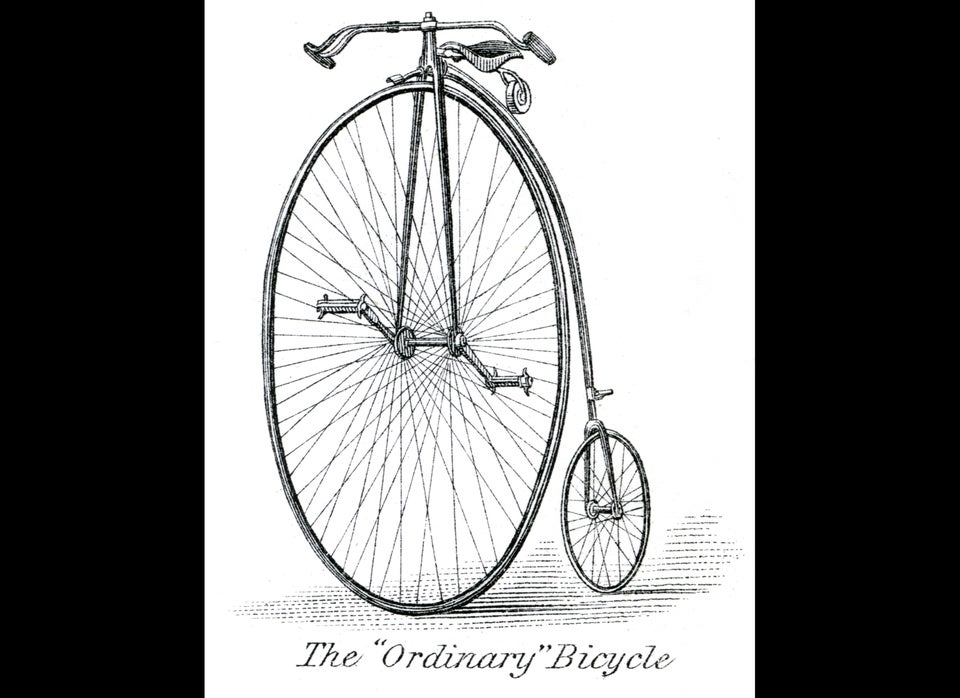 Ridiculous 'Cures' For Homosexuality
Popular in the Community