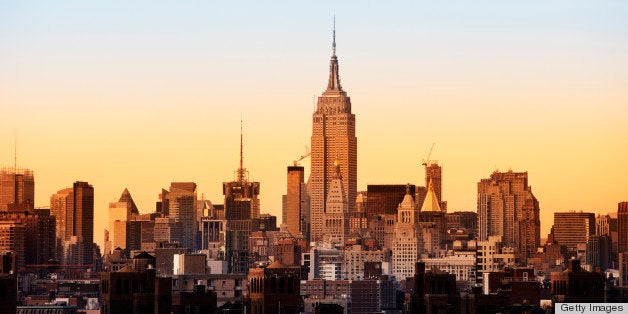 Last week in Manhattan two anti-gay assaults were reported, seriously bringing into question the validity of New York City's "gay-friendly" tag. Despite the fact that the state of New York legalized same-sex marriage in 2011, and that New York City has a very large LGBT population, last week's events are a sad reminder that homophobia is still alive and thriving in this city.
On the afternoon of Sunday, May 5, a gay male couple in their 20s were walking arm-in-arm down Eighth Avenue between 34th Street and 35th Street, within the vicinity of Madison Square Garden, when they were subjected to a brutal anti-gay assault, presumably in the presence of numerous bystanders. The two men allege that they were called "faggots," knocked to the ground and physically assaulted. Both men received treatment in the hospital. Their attackers, described as a group of up to eight men in their 20s, fled the scene and have not been apprehended as of this writing. (See their descriptions here.)
The second incident also occurred in Manhattan, around West 33rd Street and Ninth Avenue. In the early hours of Friday, May 10, two gay men (reported to be a couple) were subjected to an anti-gay assault. After being refused access to a billiards club, they were subsequently approached and attacked by a group of up to five men who allegedly hurled homophobic abuse and physically beat them. Both of the victims required hospital treatment. Only two of the alleged attackers have thus far been arrested.
As a gay man living in New York City, I feel disturbed and unsettled by these recent assaults. I have frequently walked in the very same areas in which these men were attacked. This could very easily have happened to me, or to any other LGBT people walking the streets of Manhattan, or to anyone even perceived to be LGBT. Although I don't like to ever give in to fear, I must admit that there are times when I will not hold my partner's hand in public for fear of being verbally or physically assaulted.
The question is why these types of attacks still take place. We know that even after decades of work on racial equality and gender equality, race-based and gender-based crimes sill occur. Similarly, progress in the area of gay rights will not completely eliminate homophobia. However, despite the fact that it's impossible to completely eradicate prejudice, there is always the hope and expectation that, with societal progress, these types of hate-based crimes will become less common.
Unfortunately, societal progress is often initially met with backlash from those not in agreement with change. In France a sharp rise in anti-gay assaults has coincided with the passage of marriage equality legislation there. In recent weeks in the U.S., various LGBT-related events have hit the national headlines, including the coming out of Jason Collins, the first active NBA player to publicly declare that he's gay, and the legalization of same-sex marriage in Rhode Island and Delaware. The flip side of progress is that it makes LGBT people more visible, which can in turn spark the homophobia of those who are opposed to such progress.
A Call to Action: Rally Time!
New York City has long been a home for LGBT folks from around the U.S. and the world who have sought safety and community here. With the legalization of gay marriage, the state of New York is also now a destination for many same-sex couples who are unable to marry elsewhere. We must set a standard and publicly address the homophobia that fueled these recent attacks in Manhattan.
Silence equals tolerance of the unacceptable. We must come together as a community to express a message of strength and defiance to those who would rather see us locked in closets forever. Regardless of sexual orientation, everyone should have the right to walk down the street without fear of being subjected to verbal abuse or physical assault. I call on LGBT leaders, organizations and allies in New York City to come together as one to rally against hate and in support of diversity.
If you experience or witness LGBT-related violence, please contact the New York City Anti-Violence Project's 24-hour bilingual hotline at 212-714-1141. All calls are free and treated in a confidential manner.
REAL LIFE. REAL NEWS. REAL VOICES.
Help us tell more of the stories that matter from voices that too often remain unheard.