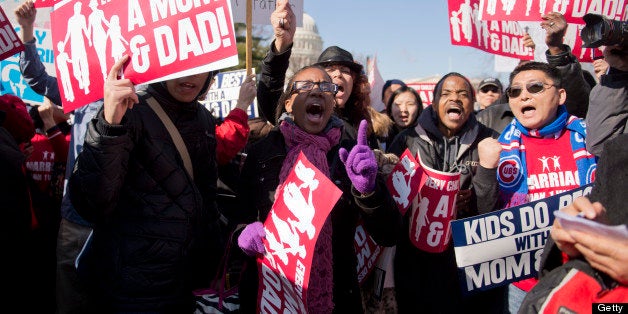 After the Supreme Court handed the gay-rights movement a landmark victory, Thomas Peters didn't have time to eat for 36 hours.
Like many involved in the battle over same-sex marriage, Peters, the communications director for the National Organization for Marriage, has been exceptionally busy the last few days.
"Normally, I wouldn't do that to myself," he said, noting that he wasn't expecting the huge influx of supportive calls and donations that came in to his organization, the group leading the fight throughout the United States against same-sex marriage legalization efforts.
"A not-insignificant part of our base expected us to lose it all at the Supreme Court," Peters told The Huffington Post on Thursday. "I think this does put new momentum into our fight."
On Wednesday, the court, in two separate cases, ruled that the federal government must recognize gay couples married in states where it is legal and returned same-sex marriages to California. But the justices stopped short of declaring it a constitutional right for all gay couples to marry. Peters applauds this decision, even as he penned a piece declaring the rulings "disturbing" and "poisonous."
"A lot of our people are ecstatic. We've been in a waiting game since the court decided to take Proposition 8," Peters said of California's voter-approved ban on same-sex marriage that the court's ruling nullified. "There was always a question about whether the court would just change it all unilaterally. Now, these state-level rights really matter."
While efforts are already in the works to reintroduce a Federal Marriage Amendment, a measure NOM supports that would define marriage as between one man and one woman, Peters feels that the state fights over gay marriage are at the top of his organization's agenda.
Gay-rights advocates also are intensely focused on a state-by-state strategy. The American Civil Liberties Union, for example, announced on Thursday that it has a $10 million dollar fund devoted to urging Republicans to support the cause to advance gay marriage legislation in states like Illinois, New Jersey and Hawaii, and beat back constitutional bans on gay marriage in Oregon, Nevada and elsewhere.
Peters declined to say how much money had come in to NOM since the high court's ruling. "I can say we've had our best fundraising day since we organized the March for Marriage," he said, referring to NOM's rally on the day of the Supreme Court hearings in March.
"We're not done yet," he continued. "We have a lot of people who write out a $3 check and put it in the mail, and then we don't get it for three weeks."
NOM has suffered from declining fundraising in recent years. According to the organization's 990 tax form last year, the group's total fundraising declined by about one-third in 2011, to $6.2 million, down from $9.1 million the previous year. According to the Human Rights Campaign, the gay-rights organization that released NOM's 990, "just two donors were responsible for funding 75 percent of the anti-gay group."
Although widespread polling has indicated that a majority of Americans now support gay marriage, many of those opposed say they are optimistic that the court's ruling may help turn the tide, much as the court's Roe v. Wade decision in the 1970s bolstered the pro-life movement.
"Like Roe v. Wade, it is unrooted in our Constitution or the rule of law," wrote Maggie Gallagher, a co-founder of NOM and a fellow at the American Principles Project, a pro-life group that supports "traditional marriage," about the court's ruling. Gallagher took particular ire with Justice Anthony Kennedy's majority opinion that said the Defense of Marriage Act was motivated by a desire to harm gay and lesbian couples, and their children.
"Like Roe v. Wade, Kennedy's effort to demean and degrade half the American people will backfire," Gallagher wrote to the Huffington Post. As for what's next, she said, "It will need more time to digest, but the sweeping nature of Kennedy's unprincipled disgust is going to fire resistance."
CORRECTION: 6:02 p.m. -- A previous version of this story misidentified the title of the National Organization for Marriage. This has been corrected.
Calling all HuffPost superfans!
Sign up for membership to become a founding member and help shape HuffPost's next chapter