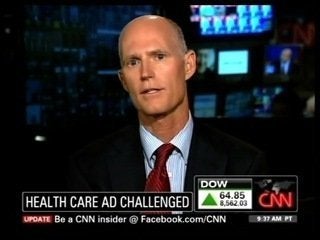 One of the most vociferous opponents of Democratic health care legislation, led by former hospital executive Rick Scott, has pulled its anti-health care ads, saying that it wanted to respect the death of Edward Kennedy.
The well-funded group, Conservatives for Patients' Rights, has been a polarizing force in the debate. Its most recent ads mocked President Obama for going on vacation.
"With the sad news of Senator Kennedy's passing Conservatives for Patients Rights is immediately suspending our ad campaign for health care reform out of respect to the Kennedy family as well as the Senator's colleagues and supporters, to whom we extend our condolences," said Scott in a statement.
The move may have not just be about class, since it also saves the group a chunk of money it can deploy in the fall.
Kennedy's passing has the potential to lower the temperature of the health care debate, which heated up in August at town halls and has descended into dueling conference calls, with both parties accusing the other of negotiating in bad faith. (One party, however, admits to negotiating in bad faith, so at least one of the charges is fair.)
The reprieve may be brief, but gives the administration a chance to catch its breath. Scott, whose hospital chain was convicted of defrauding the government, won't stay down for long, however.
"We know the debate will continue -- a debate Senator Kennedy embraced with vigor -- and we look forward to engaging in the debate in the months ahead," he said. "But now is a time for respect, reflection and remembrance. Senator Kennedy's lifetime of dedicated public service transcended multiple generations. His devotion to many issues and his relentless passion made him a hero to his supporters and worthy adversary to his opponents. His voice and presence will be missed."
Popular in the Community