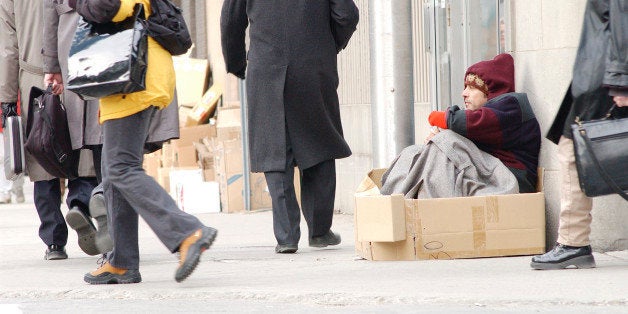 It is particularly miserable to be a homeless person in the U.S. right now.
Anti-homeless laws -- ranging from bans on sleeping in cars to restrictions on lying down in public -- are on the rise, according to a new study released by the National Law Center on Homelessness & Poverty (NLCHP). Since 2009, the organization has been tracking such measures in 187 cities and found that these ordinances are costly and don't make much of a dent in reducing homelessness rates.
The number of cities that prohibit sitting or lying in public spaces, for example, increased from 70 in 2011 to 100 this year -- a 43 percent jump. In 2011, 37 cities banned sleeping in cars. The restriction has now jumped to 81 cities, a 119 percent increase.
Such harsh measures, according to the NLCHP, don't do much in the way of reducing homelessness. They simply make life more challenging for people on the streets and require cities to spend more money on incarceration and other law enforcement expenses.
Palo Alto, California, for example, only has 15 shelter beds to accommodate its estimated 150 homeless people, according to the study. Rent costs are about two-and-a-half times the national average and sleeping in one's car can result in a $1,000 fine or up to six months in jail.
While it's true that homeless people are sometimes reluctant to accept housing, the fact remains that there is a dearth in affordable housing.
But penalizing homeless people for the drop isn't helping matters.
"Criminalization is the most expensive and least effective way of addressing homelessness," the study states. "A growing body of research comparing the cost of homelessness (including the cost of criminalization) with the cost of providing housing to homeless people shows that housing is the most affordable option."
In March, the University of North Carolina at Charlotte released a study of Moore Place, which houses 85 chronically homeless adults.
The tenants also saw a 78 percent drop in arrests. That reduction was largely attributed to a decrease in crimes related to homelessness, including trespassing, loitering, public urination, begging and public consumption of alcohol, according to Caroline Chambre, director the Urban Ministry Center's HousingWorks, the main force behind Moore Place.
To their credit, some cities, however, have been working to implement measures that actually improve the quality of life of homeless people.
In January of 2011, for example, the Houston Police Department launched its Homeless Outreach Team, which comprises police officers and a mental health professional. Together, they collaborate with area service providers to help homeless people access available community resources rather than simply cycling them through the criminal justice system, according to the NLCHP.
"We can end homelessness in America," the study stated. "This will not happen, however, as long as communities continue to rely upon misguided criminalization policies that punish people for being homeless, without offering real solutions to the problem."
Related
Popular in the Community