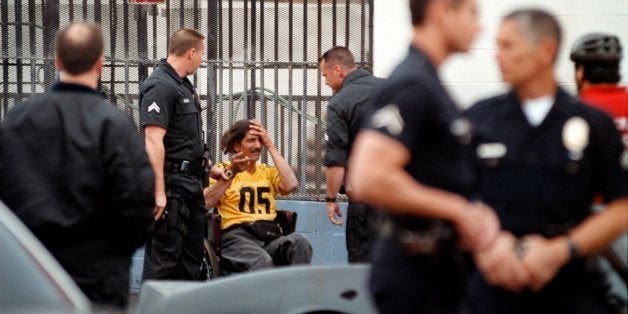 Updated on Aug. 4, 2014 at 3:25 p.m. EST
A police chief turned homelessness advocate says he's disgusted with the increasing amount of discrimination people on the streets face.
Arnold Abbott, a 90-year-old retired police chief from Pennsylvania, now serves as the director of Love Thy Neighbor, a nonprofit that helps homeless people in Broward County, Florida. But instead of getting help from fellow law enforcement officials, Abbott's work has been compromised by authorities who are eager to get homeless people out of public view, the Independent reported.
"They would like to put them in a bus and send them to Miami or Palm Beach," Abbott told the Independent of how homeless people are treated in his area. "It's very close to ethnic cleansing. But they are not going to succeed."
Abbott has personally experienced how far law enforcement is willing to go to make life more difficult for people on the streets.
The city tried fives times -- and failed -- to prohibit him from feeding the homeless every Wednesday on the beach beneath a tourist strip.
But Abbott's experience has become par for the course in cities across the U.S. these days.
Since 2009, the National Law Center on Homelessness & Poverty has been analyzing anti-homelessness measures in 187 cities. The organization concluded in a recent study that such costly ordinances are on the rise and have not proven to work in reducing homelessness rates.
These laws include prohibitions against sitting or lying down in public and sleeping in cars.
Supporters of these laws say they are necessary in order to support local businesses and ensure the vitality of their cities.
When Columbia, South Carolina, voted to criminalize homelessness last August -- a decision it rescinded soon after -- a number of storeowners spoke out in favor of the ruling.
"As small business owners on Main Street we see first hand how the homeless crisis is affecting the city," Jessica and Joe Kastner, owners of Paradise Ice, said according to the city's "Emergency Homeless Response" report. "Please think about the everyday citizens, the revitalization of Columbia and the safety of everyone."
Many of these measures, however, have little do with safety. They often simply deprive people on the streets from benefitting from strangers' goodwill.
The effort to curb feeding the homeless has also seen a sharp increase, for example.
Last year alone, 53 U.S. communities -- and counting -- issued bans against handing out free food, Michael Stoops, director of community organizing at the National Coalition for the Homeless (NCH), told HuffPost. The organization is slated to release an extensive report on the topic later this month.
The restrictions have impeded organized groups and individuals alike.
While many have defied the law in the name of their mission to help people in need, some are just not willing to go that far.
Popular in the Community