NEW YORK -- Earlier this month, Linda Sarsour and a colleague were standing outside the Arab-American Association of New York headquarters in Bay Ridge, Brooklyn, when a man started chasing them down the street.
"He picked up a New York City Department of Sanitation trashcan and threw it at us," Sarsour, the director of the AAANY, told HuffPost Tuesday. "Thank God we weren't hit."
The man then called Sarsour, who is Muslim and wears a hijab, a "f***ing Arab."
"I'm gonna cut your head off and see how your f***ing people feel about it!" the man screamed, according to Sarsour. She said the threat was undoubtedly a reference to the beheading of American journalist James Foley by Islamic State fighters in Syria, which had happened only two weeks before.
And that, Sarsour says, is why the last thing New Yorkers need to see is the incendiary, Islamophobic ad blitz that will appear in the city's public transit system this week.
City religious leaders and a large group of elected officials joined Sarsour outside City Hall Tuesday morning to publicly condemn the ads, all of which equate Islam with the terrorism committed by groups like the Islamic State and al Qaeda.
"These ads are vile, hateful, indecent and only serve to fan the flames of intolerance," Rep. Hakeem Jeffries (D-N.Y.) said in a statement Tuesday. "They have no place in a civilized society and should be resoundingly denounced throughout the four corners of our great and diverse city."
The ads are the work of author and activist Pamela Geller, who paid $100,000 for what she described to the Daily News last week as an "education campaign" to raise alarm over the "problem with jihad" and Islamic Sharia law. Geller is a noted and prolific Islamophobe whose organization, the American Freedom Defense Initiative, has been listed by the Southern Poverty Law Center as a hate group.
One of Geller's ads shows two photos side by side -- on the left, a photo of a British man in a recording booth wearing a red tracksuit, and on the right, a picture of James Foley and his black-clad executioner, moments before Foley's death. The man pictured on the left is suspected of being the same person as Foley's killer. "Yesterday's moderate is today's headline," reads the ad.
Another ad shows a photo of Adolf Hitler sitting with Haj Amin al-Husseini, a former grand mufti of Jerusalem active in the 1920s and '30s. The two men are smiling at each other. The text of the ad reads, "Islamic Jew-hatred: It's in the Quran."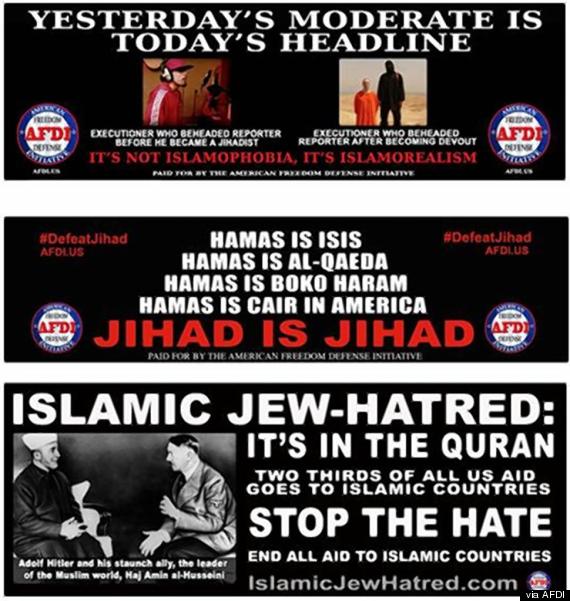 The ads will appear on 100 city buses and in two subway stations, including the busy Columbus Circle station in midtown Manhattan.
"Hiding behind the veil of the First Amendment to spew hate is pure cowardice," New York City Councilman Mark Levine, chair of the council's Jewish Caucus, said in a statement. He was joined outside City Hall Tuesday by Jeffries and a slew of other elected officials, including public advocate Letitia James, Comptroller Scott Stringer and City Council Speaker Melissa Mark-Viverito.
"It's shocking and upsetting that the [Metropolitan Transportation Authority's] policies force them to allow for such an incendiary anti-Muslim ad on our buses and in our subway stations," Levine continued. "These types of propaganda only divide us and ratchet up already increasing animosity."
The MTA, however, has little choice in the matter. A 1998 federal appeals court ruled that ad space in the city's subways and buses counts as a "designated public forum," which means the agency can't restrict what's written.
A few years ago, the MTA tried to block Geller from posting ads that called enemies of Israel "savages." The MTA argued that the ads violated its policy against "demeaning language." Geller filed a lawsuit, and a judge ultimately ruled in her favor, saying that Geller's ads were free speech protected by the First Amendment.
"If you read the court decision on this, our hands are tied," MTA spokesman Adam Lisberg told the Daily News.
Still, the MTA does have a regulation prohibiting ads that "incite or provoke" violence. That's why, in Geller's latest ad buy, the agency rejected this ad:

"The MTA concluded it was reasonably foreseeable that displaying the advertisement would imminently incite or provoke violence or other immediate breach of the peace, and so harm, disrupt, or interfere with safe, efficient, and orderly transportation operations," the agency said in a statement. "Under the MTA's viewpoint-neutral advertising standards, the agency can prohibit advertisements that violate that standard."
Daneek Miller, the only Muslim member of the New York City Council, told HuffPost Tuesday that he and other council members are hoping to find a way to allow the MTA to reject ads like Geller's. He also said that he and his colleagues are in the "infant stages" of developing an ad campaign of their own to counter Geller's.
Miller added that other members of the city council will continue to speak out against the ads.
And indeed, Councilman Brad Lander did so at Tuesday's press conference, arguing that Geller's ads were an affront to one of New York's sacred places -- its subway system.
"The New York City subways are truly an extraordinary place, where Orthodox Jews, devout Muslims, hipsters, atheists, communists, Republicans -- everybody goes to work every day and stands close by each other and shows a kind of dignity and respect and tolerance that not just makes this city function but that makes this city beautiful," Lander said.
"Whatever's going on around the world -- the ethos of the subway, that's the ethos of New York City," Lander continued. "We won't tolerate those hateful ads. We want them down. We stand together. We stand against hate."
Geller did not respond to a request for comment Tuesday.
Sarsour, the director of the AAANY, told HuffPost that public officials in New York should also stand against "government policies that send the same message" as Geller's ads, such as the NYPD's surveillance of Muslim communities.
Popular in the Community