By Hong Soon-do, Beijing correspondent, AsiaToday - China's anti-Korean sentiment led by Seoul's move to deploy the THAAD (Terminal High Altitude Area Defense) anti-ballistic missile system on its peninsula is getting worse. As hostile sentiment towards South Korea is spreading to the private sector, some extremists even claim that diplomatic relations between China and South Korea have broken down. If there aren't any changes of the situation, the bilateral relations could suffer from the aftereffects for a long time even after the problem is settled.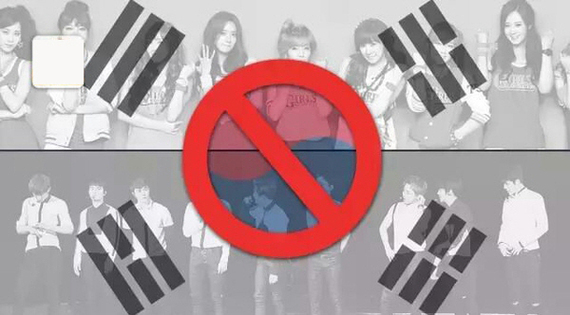 [The image, which is related to the Chinese ban on Korean Wave, is commonly seen in Chinese social networking sites and Internet portals. It seems to symbolize the anti-Korean sentiment spreading in China due to South Korea's THAAD deployment decision./ Source: search engine Baidu]
According to a source familiar with Beijing-Seoul relations on Sunday, China's private sector used to take a stand against the government which put pressure on South Korea especially in the field of entertainment and economy in retaliation for THAAD. But things have changed dramatically in recent years. More than anything else, companies have begun to realign themselves with the government as they have to be careful not to upset the government. Some companies are joining the country's ban on Korean content more aggressively than the government. Mr. Song Qi, who runs an online store carrying Korean products, said, "Earning profit is a top priority for companies, but it's difficult to maintain such position in the current situation. In the case of cosmetics sector, there aren't any companies that see the current situation as an opportunity. Many companies used to work with Korean companies, but now more companies are actively participating in the government's anti-Korean wave measures believing that they would have a wider presence if they intensify regulations against Korean content."
In the private sector, the anti-Korean sentiment appears to be spreading after Lotte, a South Korean retail giant, decided to conclude a deal for the swap of a golf course in Seongju County for a piece of land near Seoul owned by the Defense Ministry for the deployment of THAAD. Countless slogans calling to boycott Lotte products are appearing on Chinese social networks and THAAD-related article posts. Many Chinese are applauding the government's move as it recently rejected shipments of South Korean air purifiers, cosmetics and bidets, and even refused issuing a visa to top Korean pianist Paik Kun-woo.
China's alleged retaliation against Seoul doesn't show any sign of easing. Rather it seems to be worsening. The present climate shows signs that China may cut diplomatic contact with South Korea, as some extreme nationalists claim. If this is the case, the bilateral ties will eventually reach the worst phase. Prof. Q of Beijing University, who demanded anonymity, explained that the situation is far stricter than what Korea thinks. He said, "The current Chinese society is showing a strong sense of nationalism. In this respect, the THAAD deployment on the Korean Peninsula shouldn't take place. If forced to do so, it will leave a huge blow." Seoul should be aware of the fact that the situation is truly unusual and explore strategies and solutions as soon as possible.
Popular in the Community