A refugee from Iran returned to his Oregon home this week to find nearly every surface in his house spray-painted with horrifying death threats and anti-Muslim messages.
"GET OUT OF USA YOU WILL DIE," reads one message on a wall inside the Troutdale home of Hasel Afshar, according to KPTV's Kelsey Watts.
"TERRORIST" was written on a kitchen cabinet; "FUCK YOU TERRORIST" on a wall; "MUSLIM" and "KILL YOU" on the bedroom walls; "DIE" on a mirror; and "HATE" on a door.
Chairs, doors, a couch, and a mattress were hacked with a hatchet, according to KPTV.
And perhaps most frightening: bullets were left behind in the shape of a cross, weighing down a note.
"If I come back here and see you again... I will shoot you and burn your house," Afshar said the note read.
A neighbor who toured Afshar's house told KATU there was a threat that read, "If you don't leave this house within a week, we'll kill you."
"I think this is a great country but I don't know, it's just a lot of racist people," Afshar told KOIN6.
Lieutenant Chad Gaidos, of the Multnomah County Sheriff's Office, confirmed to The Huffington Post that officers arrived at Afshar's house Wednesday night to investigate the threats and vandalism.
"The Sheriff's Office is investigating this case as an intimidation/biased crime," he said in an email, adding that protocol required that the sheriff's department notify the FBI of the crime.
The Council on American-Islamic Relations called for the FBI to get involved in the investigation on Wednesday. An FBI spokeswoman didn't immediately respond to a request for comment on the matter.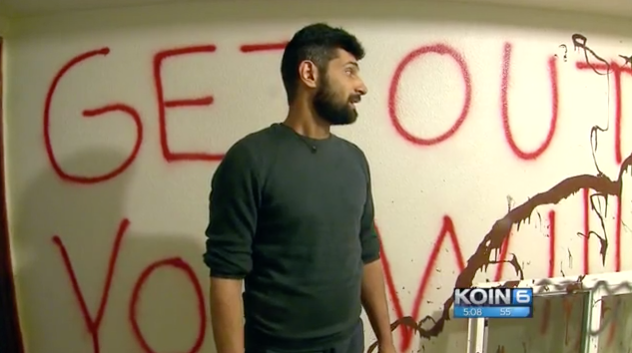 The attack on Afshar's home is sadly a familiar story in America this year, as Muslims and people perceived to be Muslim have been repeatedly targeted in hate crimes.
In just the last week, a Muslim family in Virginia returned to their home to find "FUCK MUSLIMS" written on a wall, and their copy of the Quran destroyed; a man in Minnesota said his hatred of Muslims drove him to stab a Somali man; and in Colorado, a man was arrested for throwing rocks and a Bible through the glass doors of a mosque.
Earlier this month in Arizona, a man tore up copies of the Quran inside an Islamic center, and a couple allegedly urinated on a Quran inside a New Mexico library.
And in one seven-week span this year, authorities determined that arson was to blame for three mosque fires. According to CAIR, mosques have been targeted with threats and acts of vandalism or destruction over 30 times in the first few months of 2017.
The Southern Poverty Law Center says the number of anti-Muslim hate groups tripled in 2016. And according to the FBI, the number of anti-Muslim hate crimes rose 67 percent in 2015. (The numbers for 2016 haven't been released yet.)
Afshar, who came to America from Iran 7 years ago, is not a Muslim, he told the local news outlets in Oregon. He's Baha'i.
He told KPTV that after what happened to his home this week, he will probably move out of America.
America does not do a good job of tracking incidents of hate and bias. We need your help to create a database of such incidents across the country, so we all know what's going on. Tell us your story.
Before You Go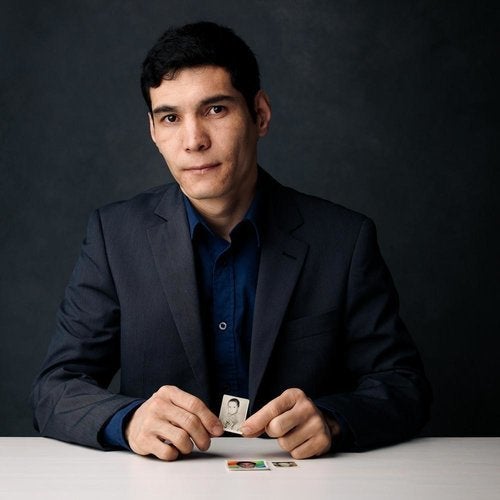 Refugee Portraits
Popular in the Community