A Muslim family in northern Virginia returned home this week to find "FUCK MUSLIMS" scrawled on the wall of one room and a copy of the Quran ripped apart.
The break-in at the Alexandria area apartment occurred sometime between March 24 and March 27, while the family was away, according to a Fairfax County Police Department spokesman.
Officers were at the apartment Tuesday afternoon investigating, spokesman Don Gotthardt said.
"There's no reason to believe that this particular family was targeted," he said, but added that the investigation is in a "very preliminary" stage.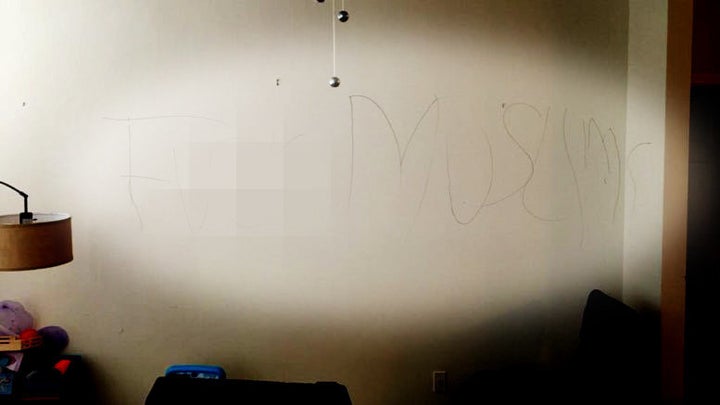 The family, who is of South Asian heritage and hasn't yet been identified, informed the Council on American-Islamic Relations about the break-in. In a press release Tuesday, CAIR stated that "other Islamic materials such as prayer books" were also damaged and that personal property was stolen.
"What may have begun as a break-in, clearly ended as a possible hate crime," CAIR national spokesman Ibrahim Hooper said in a statement. "The message of hate left at the scene and the damage done to religious texts indicate the need to investigate a bias-motive for this crime."
What happened in Fairfax County is more sad evidence of the hate being directed at Muslims in America.
Elsewhere in the country this week, a man in Minnesota was arrested for stabbing and biting a Somali man. "I hate Muslims," he allegedly told police when questioned about the attack. And in Fort Collins, Colorado, another man was arrested for throwing rocks and a Bible through the glass doors of a mosque.
Earlier this month in Tucson, Arizona, a man broke into an Islamic center and tore up copies of the Quran. And in New Mexico, a couple was accused of urinating on a Quran at a Santa Fe library.
So far in 2017, mosques have been targeted with threats or acts of vandalism or destruction over 30 times, according to CAIR. In one seven-week span, arson was to blame for three mosque fires. The cause of another mosque fire during that period is still unknown.
In 2016, the number of anti-Muslim hate groups in the U.S. tripled, according to the Southern Poverty Law Center. The year before that, the number of hate crimes targeting Muslims increased by 67 percent, according to the FBI.
"Every day, we receive more reports of hate incidents, threats and violence targeting American Muslims, Islamic institutions and even those perceived to be Muslim, yet we hear only a deafening silence from the Trump administration," said Nihad Awad, CAIR's national executive director, in a statement last week. "President Trump must speak out against the growing Islamophobia in our nation for which he bears substantial blame."
The White House has yet to address the apparent surge in anti-Muslim sentiment. But last week, a leader of one of the largest anti-Muslim hate groups in the country went to the White House to meet members of the president's legislative staff.
Elsewhere in Virginia this month, the state Republican Party demanded that the state's attorney general, Mark Herring, apologize for visiting a mosque in Falls Church.
America does not do a good job of tracking incidents of hate and bias. We need your help to create a database of such incidents across the country, so we all know what's going on. Tell us your story.
Popular in the Community