Under President Donald Trump, the United States government has shown an "unprecedented level of government hostility" toward the Muslim religious minority in the country, according to a newly released report by the Council on American-Islamic Relations.
CAIR's 2018 civil rights report, "Targeted," disclosed that federal government agencies instigated more than one-third of anti-Muslim incidents in 2017. Of the nearly 2,599 reports of anti-Muslim incidents CAIR received, 919 involved a government agency ― about 35 percent.
The Customs and Border Patrol accounted for 348 of the reports, making up 38 percent of anti-Muslim incidents involving a federal agency, while the FBI accounted for 270 ― 29 percent of the government's anti-Muslim incidents.
The Transportation Security Administration accounted for 72 incidents, or 8 percent of the government's anti-Muslim incidents; Citizenship and Immigration Services accounted for 5 percent, and Immigration and Customs Enforcement accounted for 4 percent. In 12 percent of the cases, multiple federal government agencies were involved.
The overall 2017 figure for anti-Muslim incidents reported to CAIR featuring a government agency represented a sharp increase from previous years. In 2016, these type of incidents accounted for 24 percent of the total reported to the group. The figure was 22 percent in 2015 and 2014.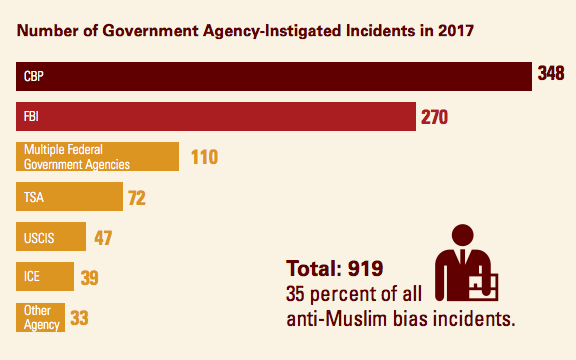 "It demonstrates how Islamophobia is further being institutionalized," Zainab Arain, CAIR's research and advocacy department coordinator and author of the report, told HuffPost.
"It's partially attributable to Trump, not only his presidency, but even his campaign prior to his presidency," Arain said. "Just seeing all the anti-Muslim bigots that are now part of his administration who are further pushing forward anti-Muslim policies which result in this state-sanctioned discrimination."
The damning report also revealed that 464 reported incidents were specifically related to the Trump administration's series of "Muslim ban" executive orders that began last year. They represented 18 percent of the total number of anti-Muslim bias incidents documented in 2017.
The first version of Trump's executive order, which he signed in January 2017, barred the entry of individuals from several Muslim-majority countries into the U.S. CAIR documented a case where an American Muslim father was separated from his noncitizen daughter as a result of the travel ban. The woman later successfully sought legal permanent residence status to join her father.
In another incident, a Muslim man who had been residing in the U.S. as a visa holder and was married to a Muslim U.S. citizen found himself stuck abroad because of the travel ban. With the help of CAIR, the family was eventually reunited in the U.S.
Responding to the report, a Customs and Border Patrol spokesperson told HuffPost that the U.S. "has been and continues to be a welcoming nation."
The spokesperson said the agency "not only protects U.S. citizens and lawful permanent residents in the country but also wants to ensure the safety of our international travelers who come to visit, study and conduct legitimate business in our country. CBP does not discriminate on the entry of foreign nationals to the United States based on religion, race, ethnicity or sexual orientation."
Officials with the TSA told Huffpost in an email that its officers and contracted screeners "are trained to treat all passengers with dignity and respect, and receive periodic training regarding cultural and religious sensitivities." The agency has "long made clear that profiling is not only discriminatory, but it is also an ineffective way to identify someone intent on doing harm."
The FBI declined to comment.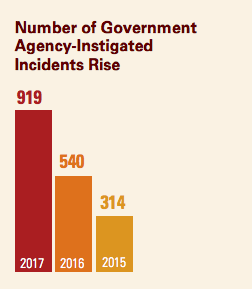 The most common form of abuse against Muslims last year in the CAIR report was harassment ― defined by the group as a "non-violent or non-threatening incident." CAIR categorized 14 percent of abuse against Muslims as harassment, another 13 percent as harassment and targeting specifically by the CBP, and 10 percent as harassment by the FBI. Hate crimes made up an additional 12 percent of anti-Muslim abuse, and employment discrimination accounted for 9 percent.
Noting that government agencies were found to be major contributors to anti-Muslim bias in 2017, CAIR wrote: "It is possible to attribute this to the unconstitutional Muslim Ban executive order."
"How do we now protect ourselves when the source that we would otherwise seek to guarantee our rights is no longer guaranteeing our rights, but rather, is infringing upon [them]?" Arain asked.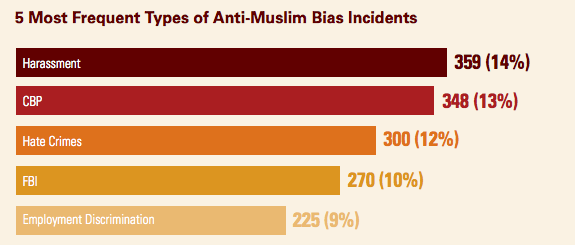 Air, bus and train terminals were documented as the most common location for anti-Muslim incidents, accounting for 20 percent of total incidents by location.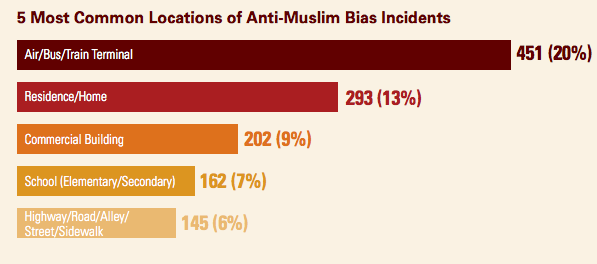 Another report, released earlier this year by the nonprofit group South Asian Americans Leading Together, found that 1 in 5 perpetrators of hate violence in the United States against various South Asian and Middle Eastern communities invoked Trump's name, his administration's policies or his campaign slogan, "Make America Great Again," during the attacks.
Each year, CAIR complies thousands of reports through methods including telephone calls, emails, online submissions, its mobile application and media reports. CAIR's civil rights staff members review the material and conduct interviews to determine whether a case demonstrates anti-Muslim, ethnicity-based or other biases and should be added to its national databases and reports.
This story has been updated with comment from TSA.
Popular in the Community