Anti-racist demonstrators overwhelmed a half-dozen activists who had gathered at the White House Saturday in support of a ban on Muslim immigration to the U.S.
The counterprotesters, who outnumbered the anti-Muslim gathering by at least 3 to 1, chanted slogans against bigotry and waved placards expressing solidarity with Muslims.
Two people even held up a sheet in front of the small ring of anti-Muslim demonstrators, hiding the gathering from passersby.
Several Secret Service officers surrounded the anti-Muslim activists, separating them from the much larger crowd of counter-demonstrators.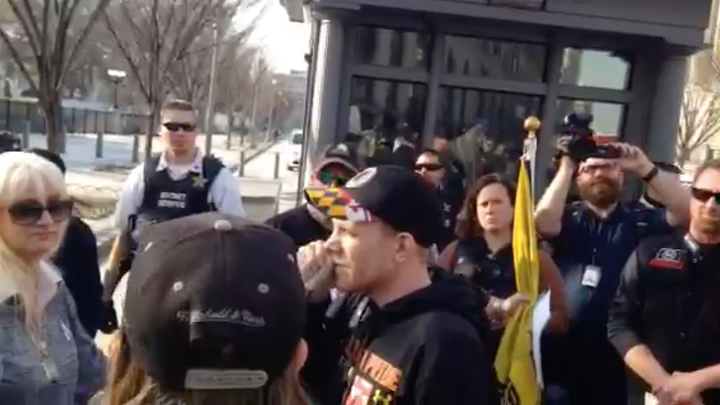 Protester Ed Speiger, who came from West Virginia, tried to disseminate the anti-Muslim group's message with a megaphone but struggled to make his voice heard above the counter-protesters' chants.
"Can we have a conversation instead of a bunch of chanting?" he pleaded at one point.
Speiger and his fellow anti-Muslim activists said they were protesting against "radical Islam" and the supposed failure of ordinary Muslims to adequately condemn terrorism committed in the name of Islam.
He endorsed restrictions on Muslim entry of the kind proposed by Republican presidential candidate Donald Trump.
"I honestly believe what Trump said is very, very true," Speiger said.
His exact position wasn't clear, though. He said that the ban on entry should not apply to U.S. citizens, but "U.S. Muslims, yes I do believe that." 
But when asked to clarify if he would forbid permanent, legal U.S. residents who are Muslim from re-entering the country after traveling, Speiger was noncommittal.
"They need to be screened thoroughly," he said. "That's something I cannot answer, because I am not a politician."
Speiger said he is deciding between supporting Trump and Sen. Ted Cruz (R-Texas) in the Republican presidential primary.
The demonstration's organizers initially said on the event's Facebook page (which was since deleted) that they had planned to burn Qurans, but then canceled the idea on the grounds that it was reportedly illegal to do so.
The hourlong demonstration and counter-protest took place on the 15th Street side of Lafayette Square Park just east of the White House and the Department of Treasury.
The park itself was closed off for unrelated reasons. A spokeswoman for the National Parks Service said that it had been closed out of security concerns sparked by an unattended package, which was later determined to not be a threat.
PHOTO GALLERY
Muslim Leaders Condemn Terrorism
REAL LIFE. REAL NEWS. REAL VOICES.
Help us tell more of the stories that matter from voices that too often remain unheard.