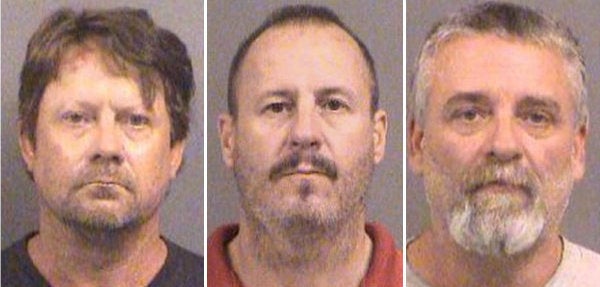 WASHINGTON ― Three anti-Muslim extremists arrested ahead of the 2016 election, and charged with plotting a terrorist attack that would have killed Somali refugees, wanted a jury pulled from a rural part of Kansas that's even more pro-Trump than the area where they're set to face trial.
But a federal judge shut down their request this week, ruling that selecting jurors from an area where Donald Trump won by nearly 28 points in the 2016 presidential contest ― instead of an area where he won by almost 55 points ― would still allow the defendants to be tried before a jury that reflected a "fair cross-section of the community."
Authorities arrested Patrick Stein, Gavin Wright and Curtis Allen in October 2016, alleging they were part of a militia group known as the "Crusaders" with "sovereign citizen, anti-government, anti-Muslim, and anti-immigrant extremist beliefs." The men allegedly said they wanted to "wake people up" by using a bomb to kill Muslim immigrants living in Garden City, Kansas.
They allegedly stockpiled weapons, ammunition and explosives, and talked about setting off four car bombs inside an apartment complex that housed Somali refugees.
Allen's federal public defender, in a motion last month that was joined by federal taxpayer-funded attorneys for the two other defendants, argued that the case was "uniquely political because much of the anticipated evidence will center around, and was in reaction to" the 2016 presidential election.
They argued that the jury division the jurors will be pulled from was "more urban" than the "more rural" division they wanted included, and that it would lead to the "exclusion of a disproportionate portion of residents holding certain conservative political beliefs."
While Trump won by 27.89 percentage points in the Wichita-Hutchinson jury division, they wrote, he beat Hillary Clinton by 54.76 percentage points in the Dodge City jury division.
"Stated another way, a prospective juror who lives in a county within the Dodge City jury division is twice as likely to be a Trump voter than the prospective juror who lives in a county within the Wichita-Hutchinson jury division," the attorneys argued.
But U.S. District Judge Eric Melgren, a former top federal prosecutor appointed to the bench by President George W. Bush, found that the "demographic differences between the Dodge City and the Wichita-Hutchinson divisions are not legally cognizable and will not reflect adversely on the ability of the jury panel to perform its jury function with impartiality, either in actuality or in appearance."
Melgren, who had previously denied a request from one of the accused terrorists to be released from jail on bond, wrote that there was "no evidence to suggest that citizens of the Dodge City division would evaluate the evidence presented at trial differently than citizens of the Wichita-Hutchinson division."
The three men are scheduled to go on trial in mid-March. Allen is also attempting to suppress information obtained through a warrant to Facebook. HuffPost found after their arrest that the trio had posted anti-Muslim, anti-Clinton and some pro-Trump memes and links to dubious websites. All three Facebook accounts have since been scrubbed from the internet.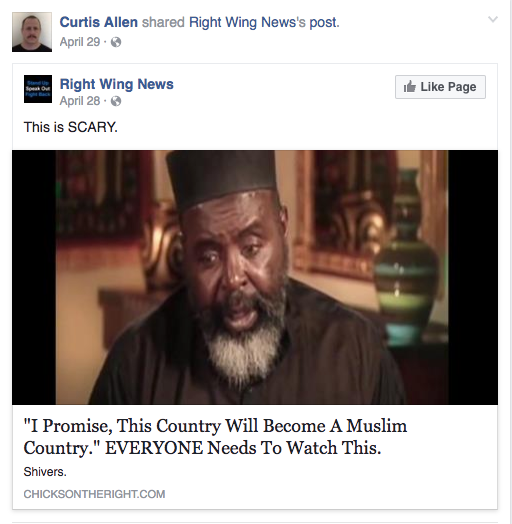 The warrant gave the feds access to a wide variety of material from the men's Facebook accounts, including "rejected 'Friend' requests; comments; gifts; pokes; tags" and the like. But Allen's attorney argued it was "overbroad because it allowed the government to rummage through every type of information in the account, without regard to the purpose of the search, exactly what the Fourth Amendment was designed to prevent."
Attorneys for the three defendants are likely to argue that their clients' conduct didn't cross the line into criminal behavior, and that their threats and plots were just talk ― a strategy that has almost universally failed in cases involving Muslim defendants accused of terrorism.
An attorney for Wright had previously argued that the case involved only "mere puffery and the venting of frustration," and that Wright was a "good, law-abiding man, who may be a not-so-good judge of character." The attorney said Wright "feared that then-President Obama was corrupt and in league with the Muslim Brotherhood" and that the "United Nations, China and Cuba were formulating an invasion of the United States that would have to be repelled by American partisans, such as themselves."
Even if the defendants had already been convicted, the federal terrorism case against these three white men from Kansas would not have been included in a report the Trump administration released this week that drew a link between immigration and terrorism, focusing solely on international terrorism. By the metrics of that report, a terrorist attack aimed at Muslim immigrants doesn't count.
Read the judge's order below.
Ryan Reilly is HuffPost's senior justice reporter, covering criminal justice, federal law enforcement and legal affairs. Have a tip? Reach him at ryan.reilly@huffpost.com or on Signal at 202-527-9261.
Popular in the Community