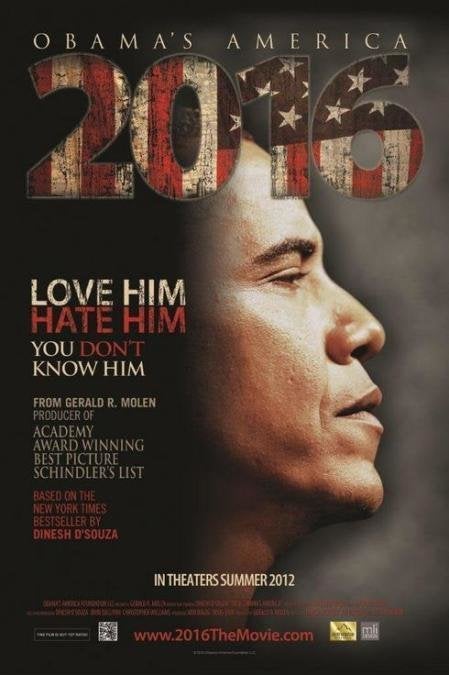 The film has already shot up to the No. 2 grossing documentary of the year, and now anti-Obama project "2016: Obama's America," based on "The Roots of Obama's Rage" by conservative author Dinesh D'Souza's, will expand nationwide this weekend.
The anti-Obama film, co-directed by D'Souza and John Sullivan and produced by Academy Award winner Gerald R. Molen, has already grossed $2.1 million in 169 theaters, according to the Hollywood Reporter. It placed just behind "Bully," which earned $3.2 million, and currently ranks as the No. 12 political documentary of all time. For the weekend of Aug. 17, the film hit No. 13 on the overall domestic box-office chart, according to Box Office Mojo.
Come Friday, "2016: Obama's America" will expand to 1,075 theaters just ahead of the Republican National Convention, which kicks off Aug. 27 in Tampa, Fla.
"I think the reason why the film is doing so well is threefold -- we've expanded into good markets, we've been advertising nationally for two weeks on talk radio and television news channels including Fox News Channel, A&E, the History Channel and MSNBC," Sullivan told THR.
The documentary asks the question: "If Obama wins a second term, where will we be in 2016?" The film analyzes D'Souza's theory that Obama is wholly influenced by his past and his father's "anticolonial" ideals.
The official synopsis, via IMDb, reads:
Immersed in exotic locales across four continents, best selling author Dinesh D'Souza races against time to find answers to Obama's past and reveal where America will be in 2016. During this journey he discovers how hope and change became radically misunderstood, and identifies new flashpoints for hot wars in mankind's greatest struggle. The journey moves quickly over the arc of the old colonial empires into America's empire of liberty, and we see the unfolding realignment of nations and the shape of the global future.
Both D'Souza's book and the film use quotes from Obama's "Dreams From My Father" to back up purported claims.
Andy Webster of The New York Times describes how D'Souza "argues that the president has emasculated NASA, refused to take a 'meaningful step' against Iran's nuclear ambitions and is willing to let Argentina reclaim the Falkland Islands from the British." The co-director might have interviewed Obama's half brother, George, who lives in Kenya, but he did not interview any Obama supporters.
"Not interviewed by the filmmakers are Obama's political supporters, but this isn't that kind of documentary," wrote Weber. "At a show on Saturday night, the film's conclusion was met with claps and cries of 'Romney!,' 'Ron Paul!,' 'Reagan!' and 'Another Reagan!'"
Slate's David Weigel reviewed it as "mostly solid," highlighting how D'Souza does not drown in conservative conspiracy theories. "The movie is really too good to get pedantic about," he wrote. "There are no conspiracy theories about Obama's birth, religion, Social Security number, passport, or college transcript. Instead, there is a deep dive into Barack Obama's known Communist associates, his late father's avowed socialism, and his mother's radicalism."
With a budget of $2.5 million, the documentary has yet to break even after six weekends. Despite climbing the box office ranks, "2016: Obama's America" is no blockbuster yet.
Popular in the Community