In championing the protests being staged at Democratic town halls, the Republican Party faces the obvious danger of becoming defined by the crazier elements of the crowd. So it's hard to imagine GOP higher-ups feeling good about what took place during a protest last week outside the Fort Collins office of Rep. Betsy Markey (D-Colo.).
A woman protesting Democratic plans for health care reform was captured holding up a sign of a Swastika, with the president's name below it, encircled and crossed out by a red line. The implication is that Obama is a Nazi -- though the culprit, in this case, added a question mark next to his name, as some sort of caveat.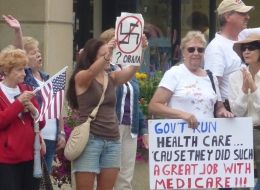 Earlier this week, House Speaker Nancy Pelosi suggested that the protests at these events were illegitimate, in part because the protesters were carrying signs with "swastikas and symbols like that to a town meeting on health care." She was ridiculed by right-wing media for making an unsubstantiated charge in an effort to defame these grassroots demonstrators.
The image was provided to the Huffington Post by a reader who is a Democrat. Asked for reaction, Markey spokesman Ben Marter said: "Even as tempers flare on both sides of this debate, we need to remember that we are all Americans and we all want the best care for our families and our loved ones. And to that end we need to have a respectful and constructive conversation about one of the biggest issues that our country is facing."
This is the second time this week that a Nazi reference has popped up during a protest of a Democratic lawmaker. Earlier, a demonstrator at an event featuring Rep. Lloyd Dogget (D-Texas) carried a sign with the Nazi SS symbol.
These protesters are outside the norm. But they are receiving the preponderance of media attention, which presents a tricky proposition for the GOP. Clearly, the party has reveled in the disruption of Democratic town hall events. But it also risks being perceived as tolerant of an angry mob-like mentality that freely throws out charges of Nazism against the President of the United States.
Popular in the Community