Yahoo! News' Chris Moody reports today on the opening of a "strange new front in the war over Obamacare": America's college campuses, where a new organization called "Generation Opportunity" will be making the case for dying young and leaving behind a beautiful corpse, brah.
Why college campuses? Well, when the health insurance exchanges open in October, a key target demographic will be the young and uninsured. As health care costs incurred by the young tend to be much lower than those of the elderly and the chronically ill, the young pay premiums that help to subsidize everyone in the pool of the insured. This is basically how all health insurance works, but youth involvement in the exchanges is important because they are starting from scratch. (As Jeff Young reports, 48 million Americans will be uninsured when the Obamacare exchanges open.)
Additionally, young adults are uninsured in greater proportion to other age groups. According to the census, the uninsurance rate for 19- to 25-year-olds is 27.2 percent; the national rate for all ages is 15.4 percent. Young adults also tend to make less money, so they're more likely to qualify for Medicaid or subsidies.
Enter Generation Opportunity, a "Virginia-based group that is part of a coalition of right-leaning organizations with financial ties to billionaire businessmen and political activists Charles and David Koch." They'll be coming to 20 college campuses in the next month to encourage college students not to sign up for the exchanges, even if that's their only option for health care coverage:
Generation Opportunity intends to host events at college football tailgate parties festivals, where "brand ambassadors" (read: hot young people) will pass out beer koozies that read, "opt out," pizza and literature about the health care law. Some events may have impromptu dance parties with DJ's, complete with games of Cornhole and competitions for prizes, organizers said.

[...]

"What we're trying to communicate is, 'No, you're actually not required to buy health insurance,'" Generation Opportunity President Evan Feinberg told Yahoo News in an interview about the campaign. "You might have to pay a fine, but that's going to be cheaper for you and better for you."
Oh, wow, I get to pay five times as much for my asthma treatment AND I get to pay a fine? Sign me up.
Outside of the college tour, Generation Opportunity will try to reach the youngs with a series of advertisements, themed around Uncle Sam performing horror-movie body-terror schtick on your nether bits:
(Article continues below)
Targeting college kids may be a somewhat limited strategy for Generation Opportunity, who essentially want to keep the young off the exchanges so that the exchanges will fail and thus precipitate a repeal of the law. Right now, under current law, young people can stay on their parents' insurance longer than before. And full-time college students frequently have access to school-run student health facilities and programs.
But these aren't cure-alls for this demographic -- not everyone in college has access to their parents' plans, and part-time students often don't get the same benefits as full-time students. So this organization will probably be able to target a decent number of people who might be eligible for health care coverage through the exchanges. Nevertheless, the Obamacare exchanges will probably want to tap into a bigger universe of people -- those aged 22-30 who are either out of college or who lack a college degree -- in order to make the system work.
Not only are young adults more supportive of the law overall, they are notably more likely to consider purchasing insurance on the exchanges. The poll found that 35 percent of those ages 18-29 are "almost certain to purchase" or "very likely" to consider it, while 39 percent are about 50-50, and 27 percent are "not too likely" or "not at all likely." As age increases, respondents become less likely to consider buying coverage. Among seniors ages 65 and older, only 8 percent are likely to consider purchasing insurance on the exchanges, while 76 percent are not likely to consider it.

The findings counter the widespread concern that generally healthier young adults may forgo coverage altogether and pay the fine instead, which would leave the insurance pool full of older and sicker individuals and result in premium spikes and an unsustainable market.
Can a bunch of hotties with beer coozies reverse this trend? I guess we are going to find out.
Before You Go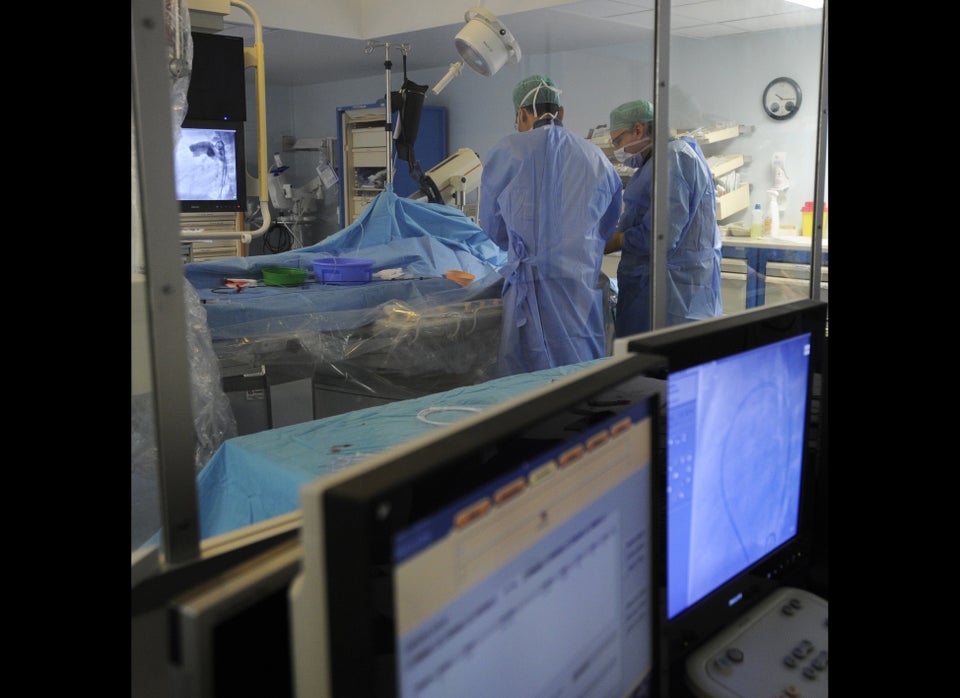 Lies And Distortions Of The Health Care Debate
Popular in the Community