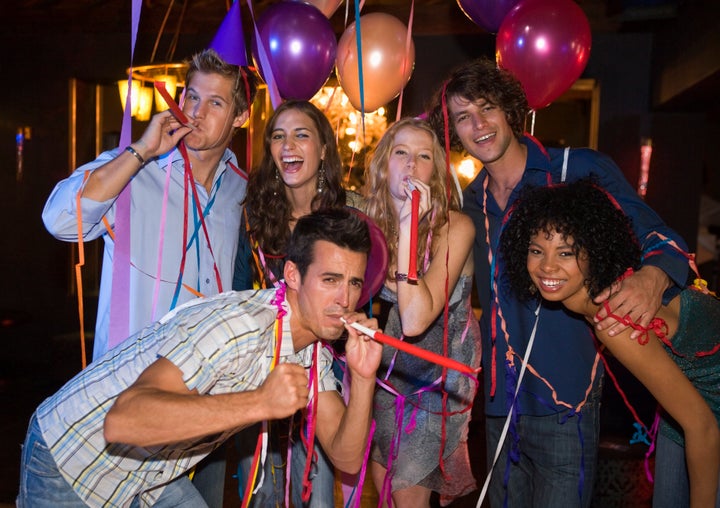 At the very least, they are dying, says The New York Times. In a September piece despairing the lack of festive gatherings held by people born roughly between 1985 and 2000, parties are on their way out due to the general social malaise caused by changes in technology, diets and rent. 
"I've only been to a handful in my two years since [college]. My roommates and I never threw any parties, either," said one Brooklyn-based youth.
This is because parties are literally the worst. Let's look very closely at scenes depicted in popular party songs.
Has anyone actually found true love in the sweaty nightmare that is the club dance floor, as Usher and Pitbull wax lyrical about in "DJ Got Us Fallin' In Love"? Or had a good time after seeing "their girl" positioned "on my jock huh nonstop when we in the spot," as depicted in LMFAO's "Party Rock Anthem"? How many women respond positively to a strange man opening with "Hey, pretty girl," before comparing her physique to his automobile, as R. Kelly does in "Ignition (Remix)"?
If you're not dropping a couple on jewelry for your stripper girlfriend or otherwise shamelessly participating in gaudy displays of wealth as you're out with your friends, you're paying too much for kale and enough experimental craft beers to host everyone at your tiny home, as noted by the Times. Parties are terrible.
Other songs offer more indisputably unpleasant results of going to parties. "Where are my keys? I lost my phone," Lady Gaga cries in "Just Dance." "Ripped my favorite party dress / Warrants out for my arrest," Katy Perry laments in "Last Friday Night."
The foil to these extolments of party culture, of course, are anti-party anthems. Only a few presently exist, but as the party continues to die its rightful death, they will likely grow in number.
In her cardinal hit "Royals," millennial singer Lorde rolls her eyes at the "gold teeth, Grey Goose, trippin' in the bathroom" scenes described by other songwriters peddling lifestyles that make luxury brand leaders very happy. Courtney Barnett debates the benefits of going out or staying home with "I'd rather stay in bed, with the rain over my head" in her peppy "Nobody Really Cares If You Don't Go to the Party." Nineteen-year-old Alessia Cara is very clearly disinterested in the party she's stuck at in "Here."
"I would rather be at home all by myself not in this room / With people who don't even care about my well-being," she sings. "I don't dance, don't ask, I don't need a boyfriend / So you can go back, please enjoy your party / I'll be here."
Elsewhere, pop starlet Sia paints a wholly melancholic picture of party life in "Chandelier," where she bottles her emotions and, claiming she's just "holding on for tonight," suggests the next day will take a more sinister turn. Similarly, Mike Posner gives listeners a dire warning on excessive partying in "I Took A Pill In Ibiza": "You don't ever wanna step off that roller coaster and be all alone / You don't wanna ride the bus like this / Never knowing who to trust like this."
Or maybe, sometimes you go to Paris and it's so disappointing that you need therapy, and sometimes you go to a party and it's so disappointing that you end up hanging out in a corner with the house pet. In any case, it's nice when music reflects the nuanced reality of social interaction. 
I don't know if the party is truly dying, as the Times prophesied last fall. Seeing as humans have gathered for drinks and merriment for centuries throughout history, including other periods of technological and socio-economic change, I have a feeling they'll stick around. Perhaps introverts are simply getting their time in the pop music spotlight. With so many hitmakers striving to write "party anthems" praising universal elements of good times -- again, and again and again -- hearing one anti-party anthem is like sipping a glass of ice water in a sea of room-temp Coors Light. Because you know your bed is waiting at home.
REAL LIFE. REAL NEWS. REAL VOICES.
Help us tell more of the stories that matter from voices that too often remain unheard.
BEFORE YOU GO
PHOTO GALLERY
Frozen Drinks Around The World