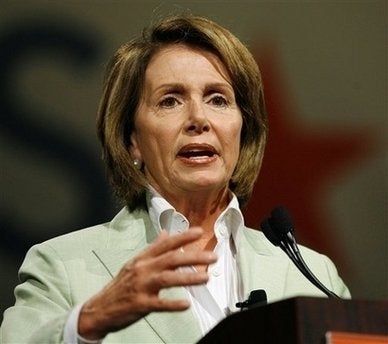 The Austin-American Statesman published a front-page article on Sunday mocking Netroots Nation and calling Rep. Nancy Pelosi "arguably so left-leaning that her parenthetical should be D-Beijing." Editor & Publisher reports that the piece soon disappeared from the paper's website:

Monday: I was back in New York and had turned the page on all this, until I got an email from Michael King, news editor at the Austin Chronicle, the long-running and successful alt-weekly ...

King informed me that the comments from Beach's article had been wiped and it was impossible to find the article on the paper's Web site, though it might still be there somewhere. Perhaps, he mused, "some editor finally looked at the piece and yanked it out of simple embarrassment."
In fact, the editor has issued an apology -- but only for trying to be funny on the front page:

Readers expect front-page stories to speak directly and clearly about events and issues. Eliminating the possibility of misunderstanding from our work is a critical part of our daily newsroom routine. When we communicate in a way that could be misinterpreted, we fail to meet our standards.

Our front-page story Sunday about the Netroots Nation convention included doses of irony and exaggeration. It made assertions (that House Speaker Nancy Pelosi might find herself at home politically in Beijing, for example) and characterizations ("marauding liberals" was one) meant to amuse. For many readers, we failed.

In trying for a humorous take on the Netroots phenomenon without labeling it something other than a straightforward news story, we compromised our standards.