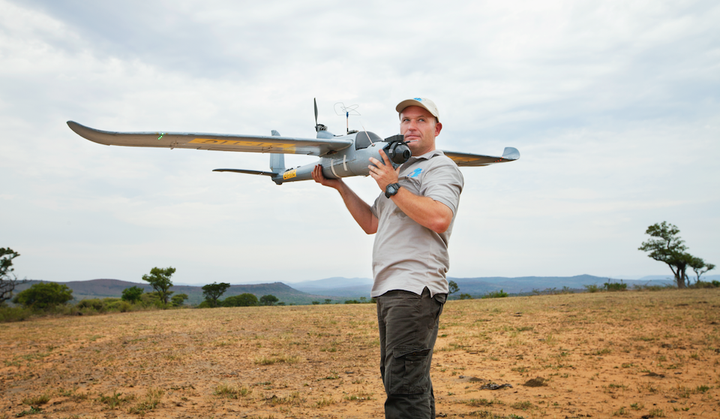 Instead of using guns to kill elephants and rhinoceroses, some poachers in Zimbabwe have begun poisoning the animals' water with cyanide ― a practice some activists believe could be curbed by flying drones over parks in the African country.  
Although drone usage hasn't been proven to stop the killing of elephants, anti-poaching program Air Shepherd is prepared to use monitoring to help stop people from poisoning animals. The organization already flies drones over parks in three southern Africa countries at night to patrol for gun-toting poachers. 
Getting the operation off the ground ― literally ― has become especially urgent since eight elephant carcasses, with their tusks cut off, were found near Zimbabwe's Hwange National Park in two separate incidents last month, Air Shepherd said. The suspected cause of death, according to news reports, is cyanide, which has been used to kill hundreds of elephants in recent years.  
"The biggest problem that we have is that ivory is a business," said Otto Werdmuller Von Elgg, the CEO of UAV and Drone Solutions, a business partnering with the Charles and Anne Morrow Lindbergh Foundation to run the Air Shepherd program. 
"The poaching of the animals is the last thing that people want to solve. It's a disgrace, but the money is just too good," Werdmuller Von Elgg said.  
There's a lucrative market for illegal elephant ivory in Asia, as consumers there purchase decorative chopsticks, pendants and knickknacks made from tusks. And some cultures believe that rhino horn has medicinal properties that can cure a wide variety of ailments, from cancer to epilepsy to hangovers. However, there is no proof that the substance has any health benefits. Rhino horn sells for about $30,000 a pound, according to Air Shepherd, compared to about $20,250 for the same amount of gold.
The poaching of the animals is the last thing that people want to solve. It's a disgrace, but the money is just too good.

Otto Werdmuller Von Elgg, CEO of UAV and Drone Solutions
Parks in Zimbabwe, like many wildlife refuges in developing countries, have porous boundaries. And compared to the small teams of poachers that swoop in for the kill, they are understaffed and poorly equipped. 
Unmanned crafts are being increasingly touted as a tool to even the fight because they can quickly cover large swathes of ground and relay real-time information to rangers. The mere presence of 8-foot drones soaring overhead can deter poachers, some supporters say. 
"Visible policing works anywhere in the world for anything," Werdmuller Von Elgg said.  
Thomas Snitch, a University of Maryland professor who developed an algorithm previously used by Air Shepherd, said the relentless killings of the endangered animals make it necessary to find new approaches to conservation.
"If you're losing 1,000 rhinos a year whatever program you're using, it's not working very well. Why not try a new technology, in an appropriate way, to try and stop this?" Snitch said in an interview with the Sierra Club.
Some conservation groups, like Save the Rhino, seem more cautious in their optimism.
"Drones have proved useful for monitoring some species," the group says on its website while withholding a full-throated endorsement. The organization expressed concern about the price, as each drone costs between $50,000 and $250,000, and pointed out that the tools wouldn't be useful without skilled operators and rangers to make arrests.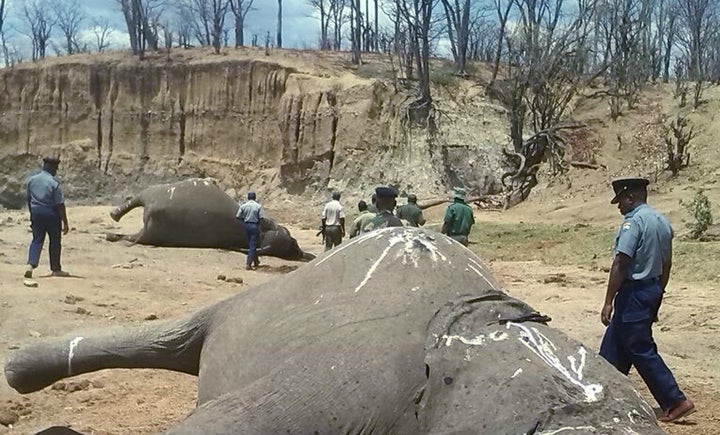 Still, Zimbabwe's Park and Wildlife Management Authority has invited Air Shepherd to monitor the Hwange park, the country's largest. Drone pilots began observational test flights over the park during daylight hours this month, because that is when officials believe people are adding cyanide to animals' water supply. No one has been apprehended yet. 
Parks officials in the country did not respond to request for comment.  
Air Shepherd's nighttime drone surveillance has shown promising results since its debut two years ago, Werdmuller Von Elgg said ― although he added that direct evidence of the program's success is a bit tough to come by. No rhinos died in South Africa's Kruger National Park during a six-month period of drone surveillance, although in some months before their patrols as many 19 rhinos were killed, according to Air Shepherd.
The program's fleet of 25 drones has expanded to Malawi and Zimbabwe in September, and an Indiegogo campaign has been set up so Air Shepherd can operate in Botswana, Mozambique and Zambia. 
The savanna elephant population fell by 30 percent in 15 African countries between 2007 and 2014, according to a recent census. Research led by Elephants Without Borders indicates that poaching is primarily to blame for the drop. 
Rhinoceroses are in a similarly precarious position. As the numbers of black and white rhinos climbed back from dangerous lows in 1990, poaching also surged. Almost 5,000 African rhinos had been poached since 2009, according to a report published earlier this year. 
Calling all HuffPost superfans!
Sign up for membership to become a founding member and help shape HuffPost's next chapter
BEFORE YOU GO