Harassment, vandalism and other hostile acts against Jewish people and sites in the U.S. increased by 34 percent last year and are up 86 percent through the first three months of 2017, according to data released on Monday.
A spate of bomb threats against Jewish community centers and schools, and vandalism at Jewish cemeteries in the U.S. this year have contributed to the surge, according to the Anti-Defamation League's report.
"What the data tells us is incontrovertible and why the Jewish community describes such heightened anxiety," ADL CEO Jonathan Greenblatt told The Huffington Post. "There's no doubt that there's a high degree of anxiety."
Greenblatt added that his organization's report, which was released on Holocaust Remembrance Day, shows that public officials must do more to denounce anti-Semitism and find ways to make Jewish-Americans feel secure.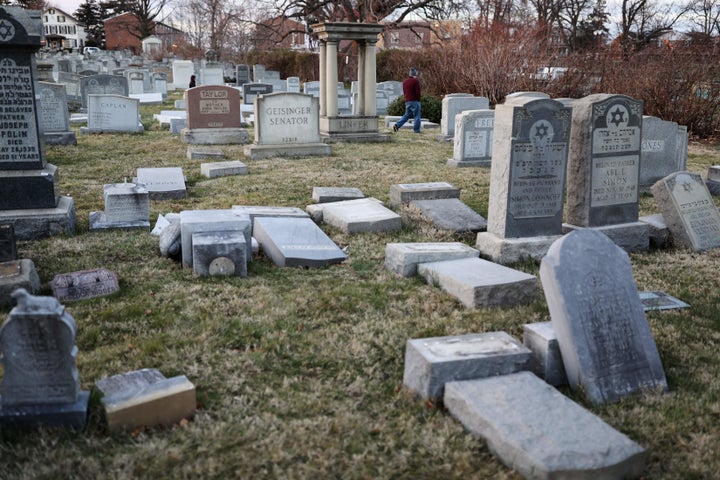 In all, the ADL documented 1,266 incidents in 2016 and 541 since the beginning of this year until March. That's a sharp increase since 2013, when the ADL recorded 751 incidents, the fewest number since record keeping began in 1979, a spokesman said. For comparison, anti-Semitic incidents peaked in 1994 when there were more than 2,000 incidents reported for the first and only time.
The ADL's analysis excluded most bigoted acts on social media. However, it included the harassment of Jewish residents in Whitefish, Montana, because the coordinated abuse rose above typical taunting and hate speech online, an ADL spokesman said. Supporters of alt-right figurehead Richard Spencer targeted town activists and Jewish residents after Spencer's mother, a Whitefish business owner, said she was harassed because of her son's politics.
While forms of harassment and vandalism have jumped since 2015, the ADL said that physical assaults fell 36 percent in 2016 and are down 40 percent this year.
Listen below to a recording of one of the bomb threats obtained by the Jewish Telegraph Agency:
The first significant growth in anti-Semitism occurred in March 2016, based on the ADL's tally. Monthly records peaked in November last year and have remained elevated through March.
Massachusetts and Colorado witnessed some of the sharpest increases in rates of incidents among U.S. states. The ADL counted 125 cases in Massachusetts last year, compared to 50 in 2015 while they climbed from 18 to 45 in Colorado. Florida, with a large Jewish population, experienced 137 incidents, a 50 percent increase. California had 211 cases, the most of any state in 2016, while New York is on pace to have nearly 400 this year.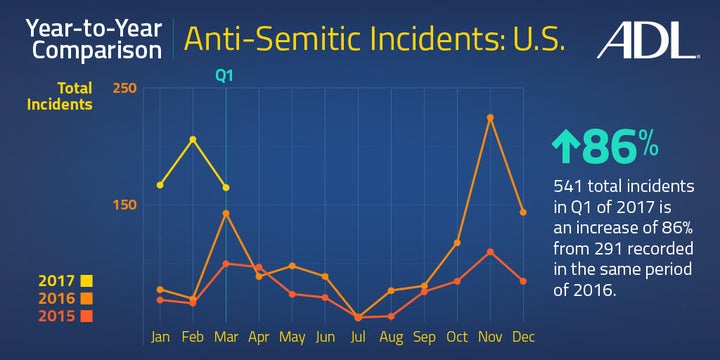 Despite the clear increase in incidents, it's difficult to explain what's causing the upswing.
Greenblatt said the ADL has tracked a resurgence of neo-Nazi and other hate groups in recent years and noticed that extremists felt emboldened during the presidential election. Trolls on social media, for instance, relentlessly battered Jewish journalists.
"Anti-Semitism is horrible, and it's going to stop and has to stop," Trump said in January after pressure mounted for him to address the rising tide of acts targeting Jewish people.
"As so often before, rising antisemitism is a symptom of a much larger social pathology," said Jonathan Sarna, a professor of American Jewish history at Brandeis University, in an email to HuffPost. "Leaders model behavior for the general public, and therefore when our leaders speak insensitively, when they seem to generalize about religious and racial groups, when they ignore or brush aside hate speech, it comes as no surprise that members of the public follow their example."
The unease felt by in Jewish communities perhaps could relent if recent law enforcement investigations prove to have rooted out the culprits. Authorities charged a Jewish teenager in Israel on Thursday for allegedly making an unspecified number of bomb threats against sites in the U.S. A former journalist was accused last month of threatening eight Jewish institutions.
The uptick in anti-Jewish incidents fits into a pattern of increased hostility towards other minorities in the U.S.
The FBI found that there had been a 67 percent increase in hate crimes against Muslims in 2015, the most recent year that data is available. Hate crimes against African-Americans, who are most frequently the victims of such crimes according to the FBI's report, rose by 7.6 percent that year.
More recent FBI stats aren't available but there have been a series of high-profile crimes against minorities this year. A man in a Kansas bar shot two Indian men, one fatally, after yelling "Get out of my country." There have been 35 threats against mosques this year, according to the Council on American-Islamic Relations, and arsonists started fires at three Islamic places of worship.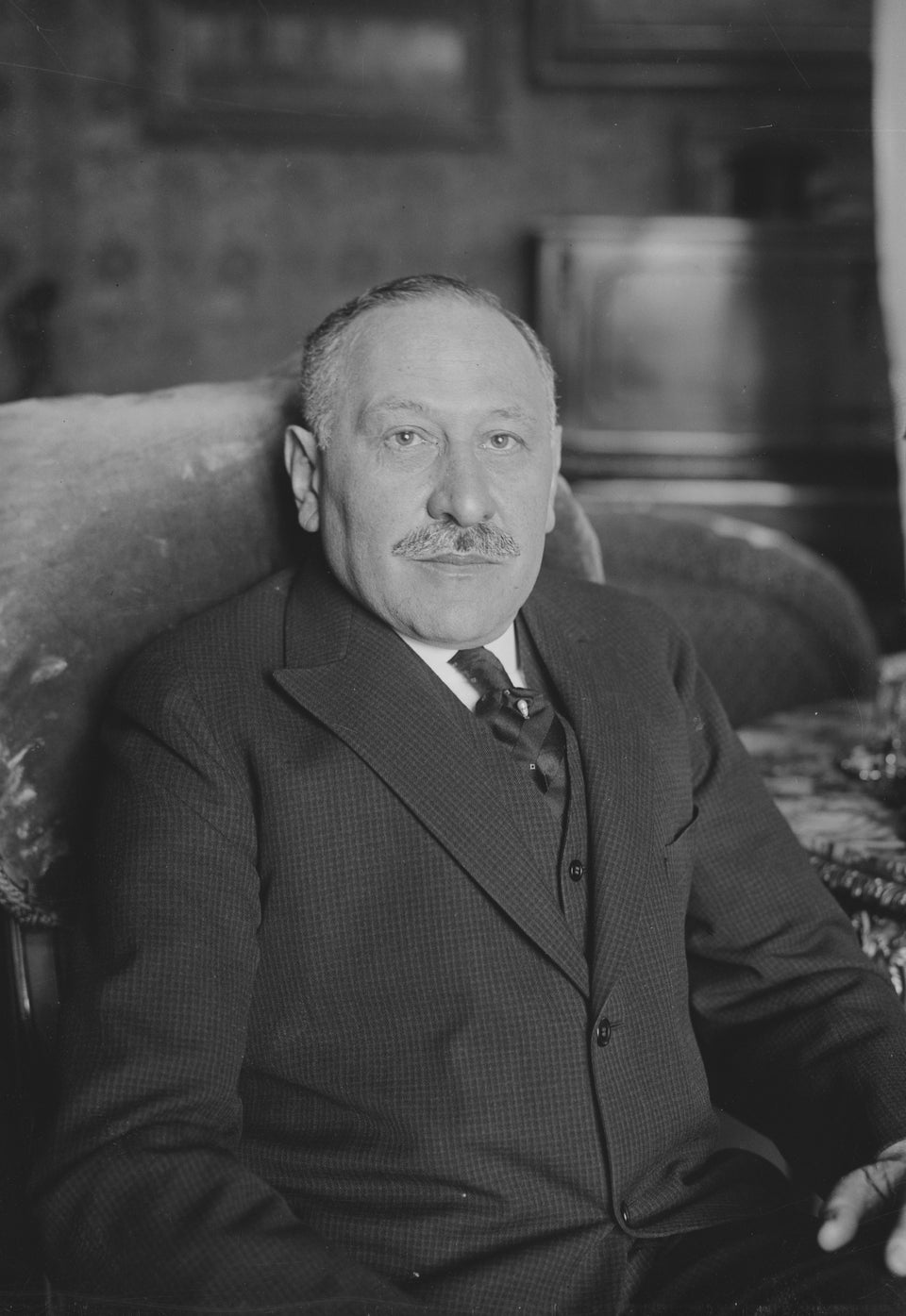 Martin Luther King and Jewish Leaders
Popular in the Community