While scrolling through my Twitter notifications over the weekend, I noticed a pro-Trump anti-Semite had finally come for me.
"You filthy Jew rat," read one tweet. It was accompanied by a caricature of a man with bulging eyes and a big nose who was wearing a black yarmulke.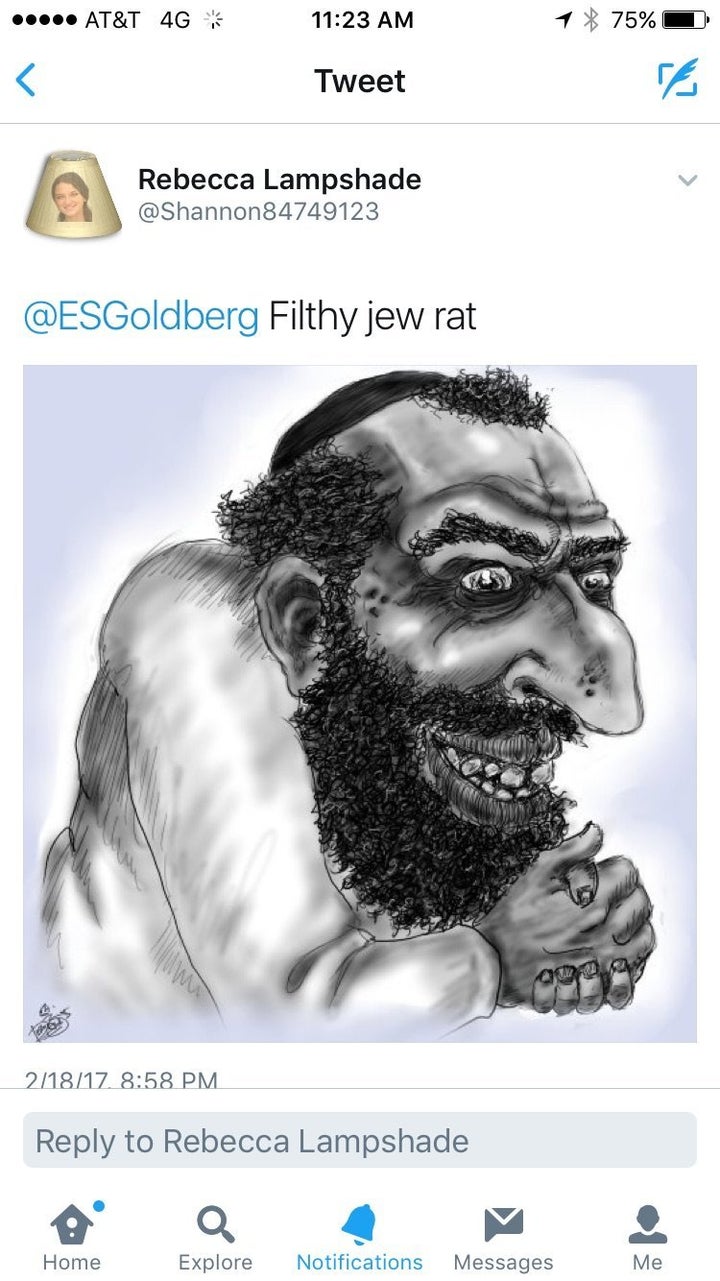 The second note read: "Get raped by a somali, you hideous hook nose jewess."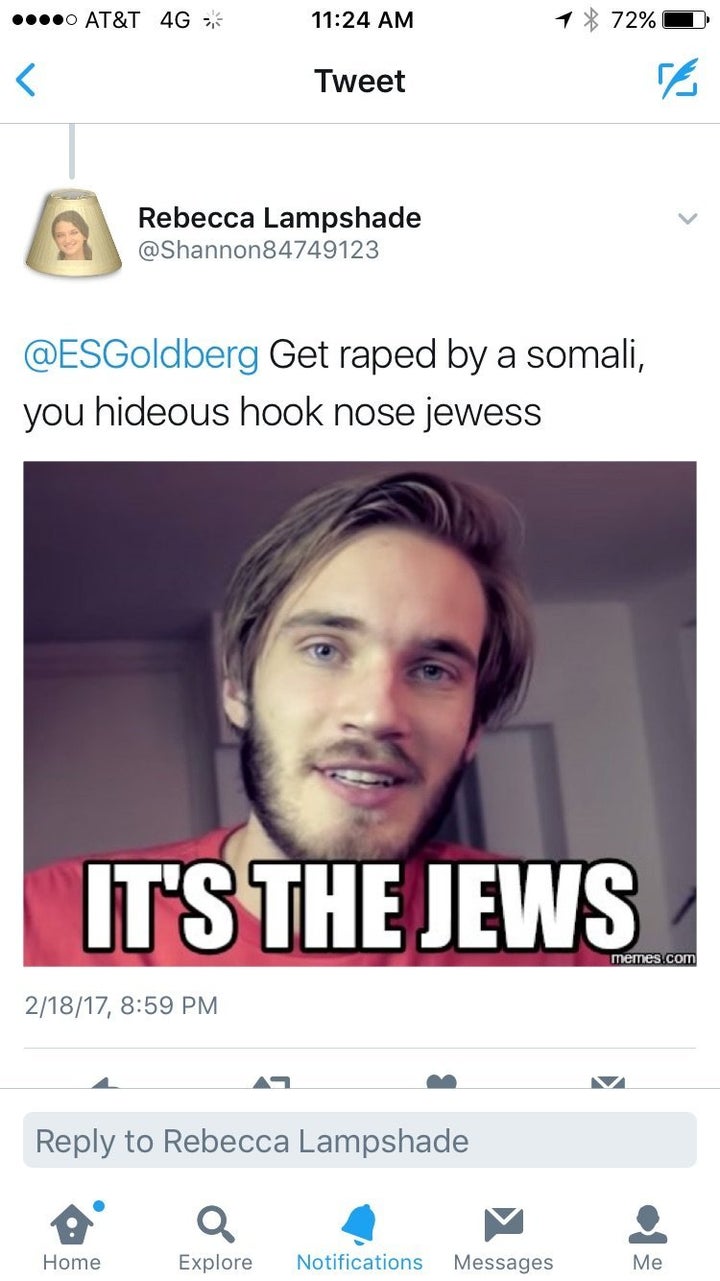 I should've been horrified when I read the depraved tweets, and part of me was.
But I was more surprised that it took so long for me to be attacked in this odious way. The fact of the matter is, such anti-Semitic acts have become a frightening new normal since Trump was elected president.
And the moment that anti-Semitism stops feeling like a punch in the gut, and more like a nuisance we just have to live with, is when we need to wake the fuck up.
The hateful tweets coincided with a wave of troubling acts committed against Jews over the weekend. Vandals toppled at least 100 headstones in a Jewish cemetery in University City, Missouri. On Monday alone, 11 Jewish community centers nationwide received bomb threats. 
While Trump faces mounting pressure to respond to these anti-Semitic acts, he didn't speak out until Tuesday morning, while he was attending an event at the National Museum of African American History and Culture in Washington, D.C.
But advocates say his statement ― calling anti-Semitism "horrible" and "painful" ― was too little, too late, and that his reluctance to respond appropriately to the issue is enabling these incidents.
"Today, Trump said that anti-Semitism is 'horrible.' Really? That's the best he can do?" Steven Goldstein, executive director of the Anne Frank Center for Mutual Respect, told The Huffington Post. "The president knows how to turn on the anger. He didn't turn it on today."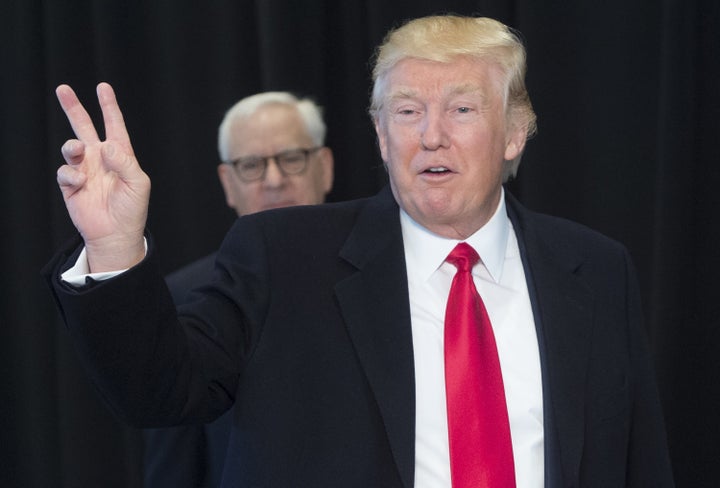 Hate crimes targeting Jews comprise the largest portion of religiously motivated attacks in the United States. In New York City, the number of anti-Semitic attacks has more than doubled this year. Meanwhile, hate crimes and racist incidents targeting other marginalized communities, including African-Americans, immigrants, Muslims and LGBTQ people have abounded since Trump was elected. There were nearly 900 incidents of hate across the U.S. in the 10 days following Trump's victory, according to the Southern Poverty Law Center. 
Goldstein believes that Trump is to blame for creating a hateful environment in which anti-Semites can thrive.
The appointment of Steve Bannon ― who ran conservative Breitbart News and who has been accused of anti-Semitism himself – is one way Trump has "condoned" anti-Semitism, Goldstein said. The fact that Trump hasn't been willing to give an impassioned statement about the issue, or offer up any viable solutions, is another way he has implicitly enabled anti-Semites, he added. 
"The president's silence on anti-Semitism is poisonous," Goldstein said. "The president is directly responsible for creating an incubator of anti-Semitism that's growing these evil acts, and he has got to take responsibility."
My Jewish co-workers ― and those with Jewish-sounding names ― have been targeted by Trump supporters who hate Jews since he hit the campaign trail. Many, like me, had never experienced any form of anti-Semitism before.
But now that Trump's rhetoric, Cabinet picks and reluctance to address the issue have emboldened anti-Semites and racists, getting trolled with Holocaust images and threats has become an everyday thing.
On Twitter, journalists are especially vulnerable to anti-Semitic attacks. Of some 2.6 million anti-Semitic tweets posted last year, at least 19,000 were directed at journalists, according to a report released by the Anti-Defamation League. 
It's become so commonplace, in fact, that when I told some co-workers I planned to write about the recent awful tweets, they asked: But what will you write?
They were empathetic, of course. They expressed their remorse that these slimy trolls have been ranting in droves ever since Trump hit the campaign trail. But the topic has been reported on ad nauseam. What could I possibly say that hasn't been said?
What I realized is that this isn't about putting a fresh spin on a tired story. It's about making sure we don't ever become numb to anti-Semitism and just limit ourselves to hoping it won't escalate. 
On this issue and many others, Trump keeps asking us, in essence, to just "trust him."
When Jewish journalist Jake Turx asked the president about the recent spate of threats against JCCs, Trump initially told him to "sit down." He then went on to say: "I am the least anti-Semitic person that you've ever seen in your entire life."
At one point during the conference, Trump invoked his go-to ― the fact that his son-in-law, Jared Kushner and his daughter, Ivanka Trump, are Jewish ― to assuage concerns about the rising number of hate crimes against Jews.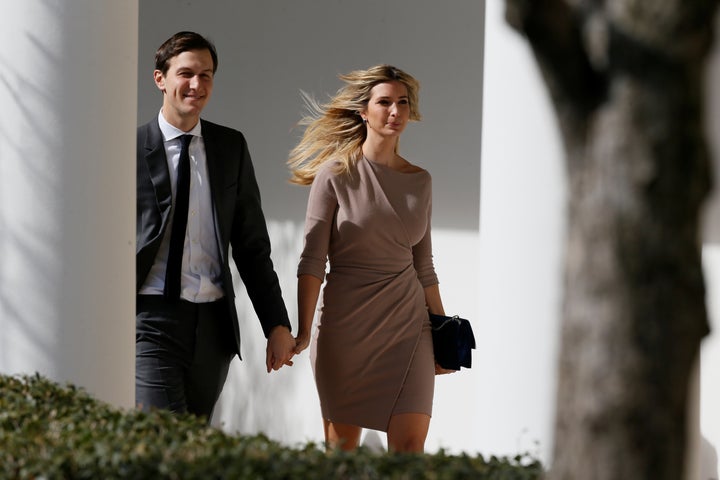 For some Jewish people, knowing that one of Trump's closest advisers is an observant Jew is comforting.
Not for Goldstein. And not for me. 
"I am sick and tired of this president using his daughter and son-in-law's faith as talking points," Goldstein said. "Faith is faith. And he needs to stop invoking them for his political convenience."
It's not enough that one of Trump's kids is a Jew. It's not enough that he has Jewish grandchildren. Just because he welcomes them into his home and his administration doesn't mean we're any safer from terrible people who would love to see the Holocaust repeated all over again. (The very Holocaust the White House wouldn't admit had called specifically for the annihilation of Jews). 
According to Goldstein, this is not an issue we can simply trust will improve just because Trump says it will. Goldstein wants to hear Trump condemn anti-Semitism, give an address on anti-Semitism at an alt-right conference and form a government task force charged with dealing with anti-Semitism. 
"If 'never again' is to mean never again," Goldstein said, "then we need to act on 'never again,' before our eyes come to see worse."
REAL LIFE. REAL NEWS. REAL VOICES.
Help us tell more of the stories that matter from voices that too often remain unheard.