Patrick Little hopes to become the Republican candidate to face off against Sen. Dianne Feinstein (D-Calif.), who'll be running for a fifth term in the fall. In a SurveyUSA poll last month, Feinstein was backed by 39 percent of the people surveyed in the poll while Little came in second place at 18 percent.
State GOP spokesman Matt Fleming told CBS News that Little has never been active in Republican politics. He added that the GOP condemns "anti-Semitism and any other form of religious bigotry."
In a video posted on BitChute, Little railed against his ejection while standing ― and spitting ― on an Israeli flag. He called participants in the GOP convention "zionist stooges."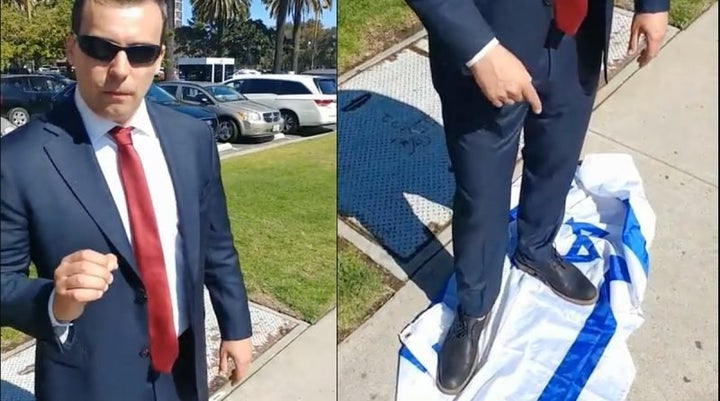 The 33-year-old IT engineer is a Marine veteran who served in Afghanistan. He describes himself as a "white advocate" who aims to "crush ... anti-white racism in U.S. institutions," and has called Hitler "one of the greatest leaders in history." Little's campaign slogan is: "Liberate the U.S. from the Jewish oligarchy."
Last month, Little protested outside Twitter headquarters in San Francisco after the company suspended his account. He held a sign that read: "It's not okay to be white @ Twitter." Two counter-protesters flanked him, one holding a sign with an arrow pointing at Little and the message: "Fuck this white supremacist."
Little told a reporter from KPIX-5 TV that Twitter was "run" by the Jewish Anti-Defamation League and that he wanted to debate if the Holocaust happened.
"Oh, the Holocaust happened, Patrick Little," the reporter told him (see video above).
Popular in the Community