On Aug. 14 — two days after the nation watched in horror as hundreds of well-armed neo-Nazis and other white supremacists held a violent rally in Charlottesville, Virginia — a 17-year-old boy in downtown Boston allegedly picked up a rock and threw it through one of the six tall glass towers that make up the New England Holocaust Memorial.
Each tower is made of 22 glass panels and engraved with thousands of numbers representing the 6 million Jews murdered by Nazis during World War II. The rock reduced one of those panels to tiny glass shards strewn across the sidewalk, later swept into dustpans by city workers.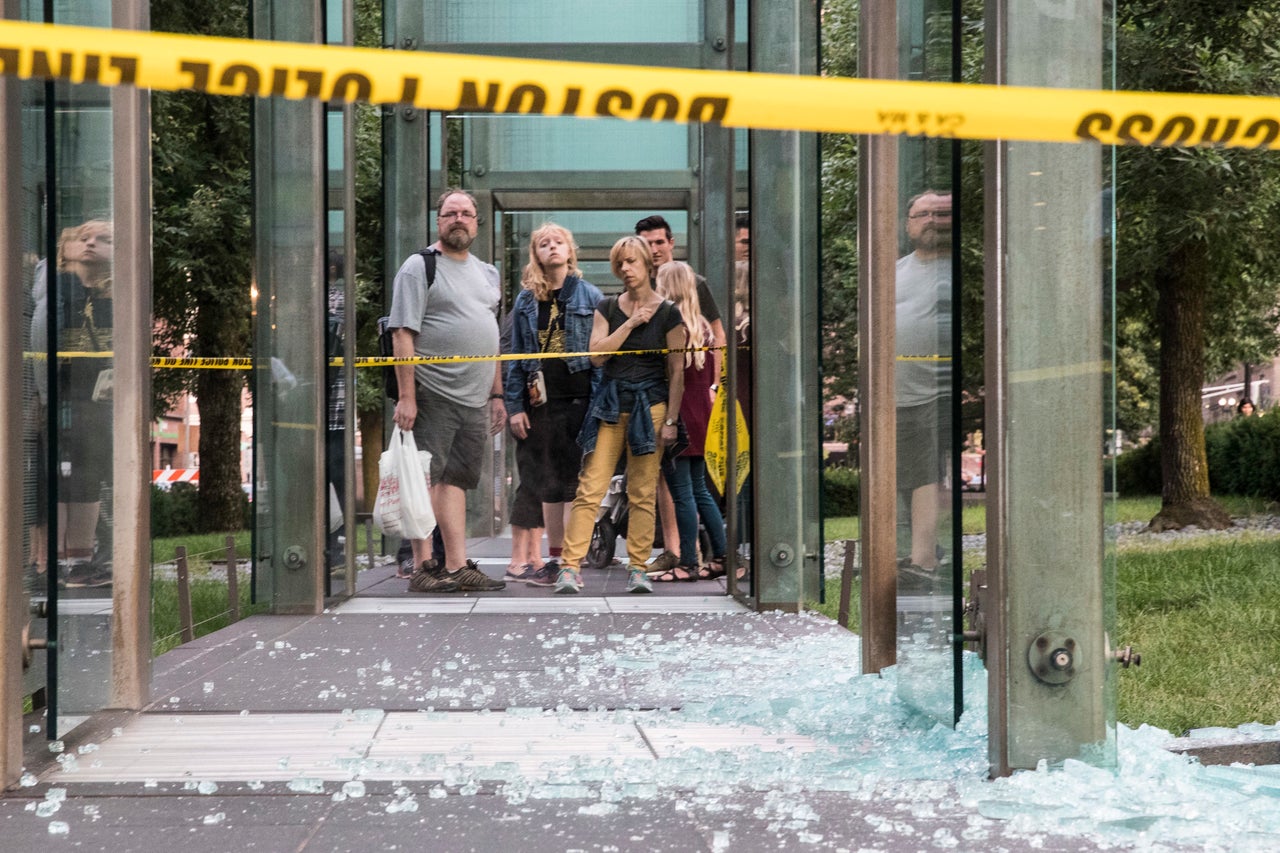 A day later, an unknown person shattered the glass doors at the K'hal Adas Yereim synagogue in Queens, New York — just hours after the nation watched in disbelief as the president of the United States described the white supremacists in Charlottesville as "fine people." The synagogue is less than 3 miles from the president's childhood home.
A K'hal Adas Yereim member sent a photo of the shattered doors to the Documenting Hate project, a partnership between ProPublica and numerous news outlets, including HuffPost. A New York City Police Department spokesperson says the department is investigating the incident, but won't say whether a suspect has been identified.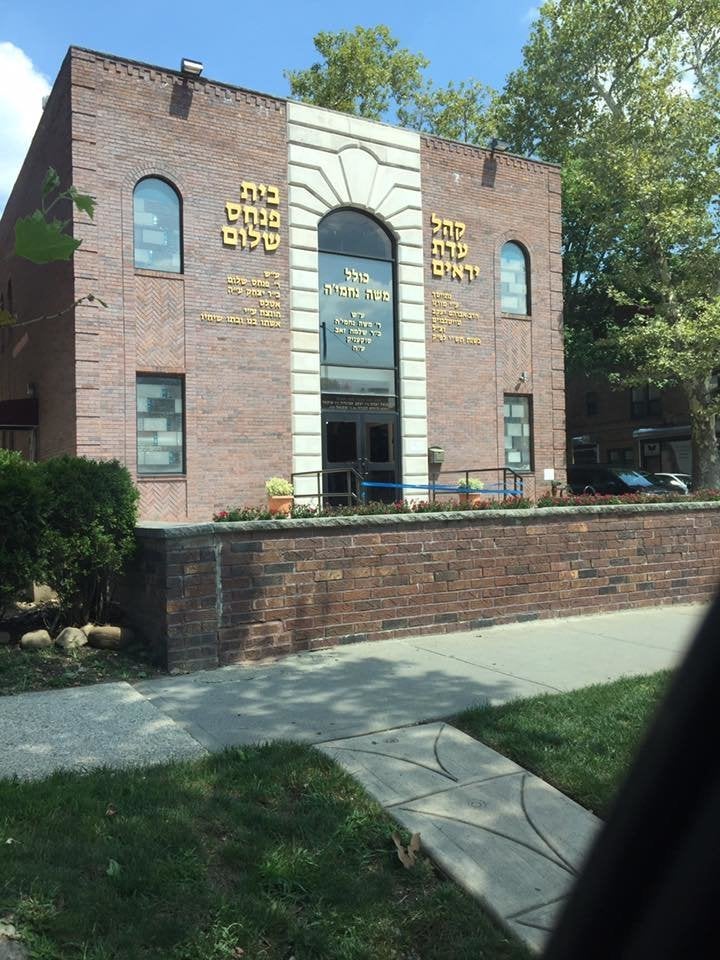 Across the country in Alameda, California, on Aug. 17, a security camera captured another unidentified vandal throwing rocks at Temple Israel, shattering multiple windows.
Since the rally in Charlottesville, the Anti-Defamation League has tracked dozens of anti-Semitic incidents across the United States. It's the sight of shattered glass at places of Jewish remembrance and worship, though, that is fraught with a terrifying poignance.
On the night of Nov. 9, 1938, and into the next day, mobs in Germany massacred nearly 100 Jews and smashed the windows of Jewish businesses and synagogues. The night became known as Kristallnacht ― "The Night of Broken Glass" ― and was a preview of the Nazi effort to exterminate Jews from the Earth.
At the white supremacist rally in Charlottesville two weeks ago, HuffPost witnessed Americans celebrating this Nazi legacy, proudly waving swastika flags and wearing T-shirts quoting Adolf Hitler. They chanted "Jews will not replace us!" and the Third Reich slogan "Blood and soil!" They carried signs with messages like "The Jewish Media Is Going Down" and "The Goyim Know."
Worshippers at Charlottesville's Congregation Beth Israel watched in terror as neo-Nazis paraded by screaming "There's the synagogue!" and "Sieg Heil!" Online threats to burn down the synagogue forced congregants to remove Torahs, including a Holocaust scroll, from the building as a precaution.
"This is 2017 in the United States of America," the congregation's president, Alan Zimmerman, later wrote on ReformJudaism.org.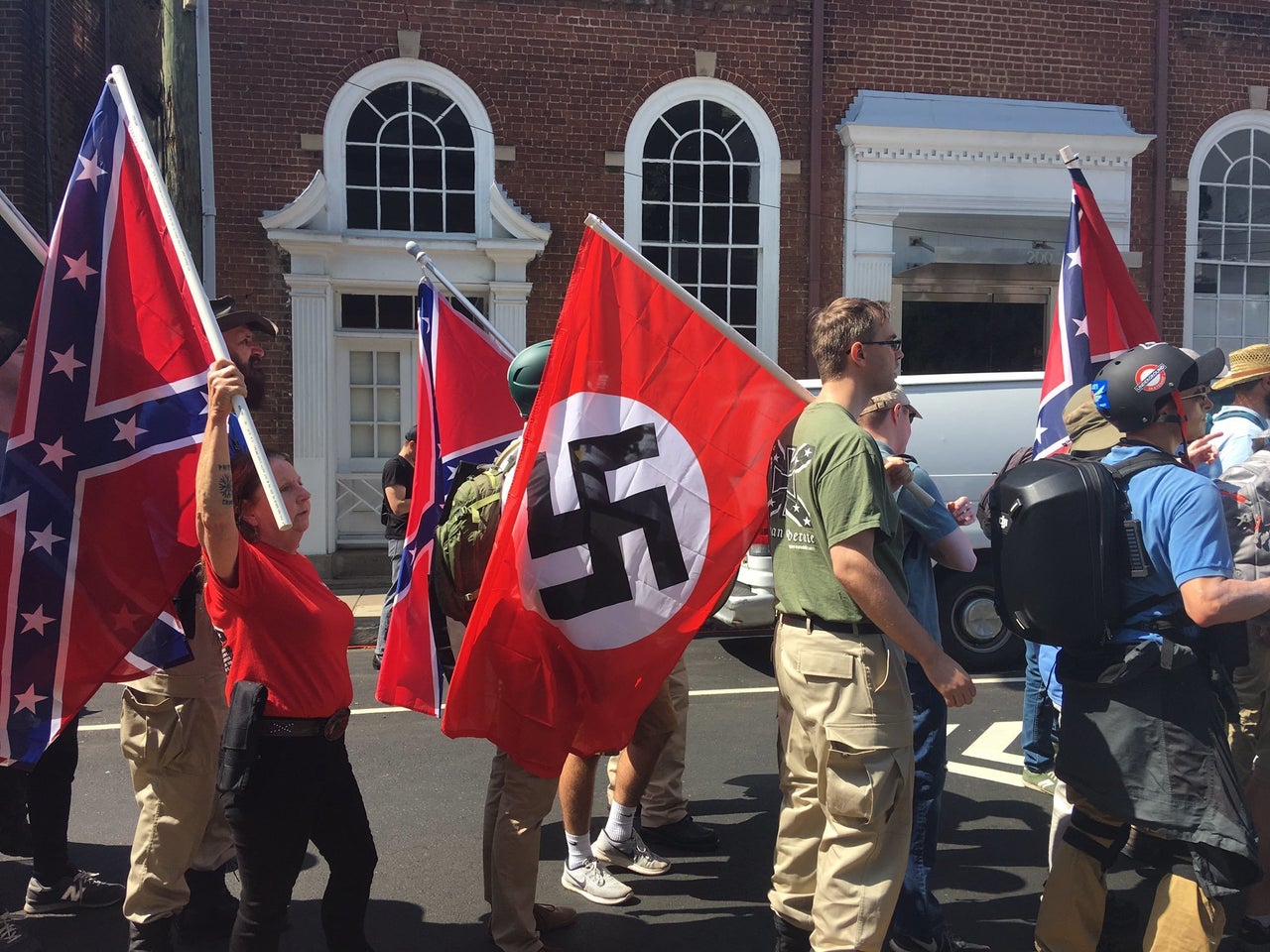 The anti-Semitic aims of the rally — which the Anti-Defamation League has called the largest of its kind in over a decade — were apparent the day before it started, when organizer and white nationalist leader Richard Spencer published his "Charlottesville statement." This malevolent manifesto described Jews as an "ethno-religious people distinct from Europeans" who are resistant to assimilation and are hostile to non-Jews.
Now, the Anti-Defamation League is concerned that the large display of hatred in Charlottesville "could inspire copycat incidents or acts of hate against Jews or Jewish institutions in other parts of the country," the group said in a statement.
The ADL provided a lengthy list to HuffPost of anti-Semitic incidents over the past two weeks. A spokesman for the group says the number of incidents is "higher than usual" when compared with other recent two-week periods.
On Aug. 13, a man made an obscene gesture to a security camera outside a Philadelphia synagogue. He then urinated on the synagogue.

On Aug. 13, someone drew a swastika on the door of a woman's home in Manistee County, Michigan.

On Aug. 14, a 17-year-old boy allegedly threw a rock at the New England Holocaust Memorial in Boston, shattering one of the memorial's glass panels. (In June, a 21-year-old man was arrested for doing the same thing.)

On Aug. 15, a 37-year-old man was arrested for damaging flowers that had been left at the memorial.

On Aug. 15, the anti-Semitic slur "KIKE" was spray-painted on a building in Washington, D.C.

On Aug. 15, a swastika and the words "WAR IS COMING!" were spray-painted on a wooden neighborhood fence in Bakersfield, California.

On Aug. 15, a swastika was found painted on a high school in Santa Rosa, California.

On Aug. 15 or 16, someone spray-painted swastikas on the driveway of a home in Lakewood, Ohio. Earlier that week, someone smashed in the windows of that family's car.

On Aug. 15, someone shattered the glass doors at a synagogue in Queens.

On Aug. 16, a swastika and the initials "SS" were spray-painted on palm trees in Miami.

On Aug. 16, a large swastika and the word "Trump" were spray-painted near Goleta, California.

On Aug. 16, a swastika was painted on a restaurant in New Milford, Connecticut.

On Aug. 17, an unidentified vandal threw rocks at the glass windows of a synagogue in Alameda, California, shattering them.

On Aug. 18, a swastika was discovered on a sign in a park in Conejo Valley, California.

On Aug. 18, a neo-Nazi hung banners reading "UnJew Humanity" and "Jewish Financing Available" from a highway overpass near Springfield, Oregon.

On Aug. 18, 15 swastikas and messages including "Jews die" were found spray-painted at a skate park in Ann Arbor, Michigan.

On Aug. 18, swastikas were spray-painted on a sidewalk near a bus stop in Bellevue, Washington.

On Aug. 19, swastikas and the word "Trump" were spray-painted on a street in Murfreesboro, Tennessee.

On Aug. 19 or 20, someone spray-painted a swastika on a sidewalk outside an Orthodox synagogue in Scranton, Pennsylvania.

On Aug. 19 or 20, anti-Semitic flyers bearing the name of the white supremacist group American Vanguard were posted at multiple locations in Asbury Park, New Jersey.

On Aug. 20, a family in Westerville, Ohio, discovered the word "Jew" written in shaving cream near their driveway. Their neighbors also found Nazi flyers in their front lawns.

On Aug. 21, a swastika was found carved into the green at a golf course in Lakeville, Minnesota.

On Aug. 21, a swastika was painted on a sidewalk near an elementary school in Las Vegas.

On Aug. 21, swastikas and a bomb threat were discovered carved into the walls of a Washington State University dormitory in Pullman, Washington, prompting an evacuation.

On Aug. 22, a 24-year-old man was arrested for spray-painting swastikas, "Heil Hitler" and other messages specifically targeting Jews and blacks at multiple locations in Coatesville, Pennsylvania. The man claimed to be associated with white supremacist groups.
The ADL cautions that it is impossible to directly link these anti-Semitic incidents to what happened in Charlottesville "without knowing the full motives of the perpetrators behind the attacks."
Still, the past two weeks have brought rising American anti-Semitism into focus. The ADL says anti-Semitic incidents surged by 34 percent in 2016 compared with the previous year. In the first quarter of 2017, the number of incidents jumped 86 percent compared with the same period in 2016.
The FBI also maintains data on hate crimes and, while its figures are incomplete, they show that Jews were the most-targeted religious minority in the U.S. between 2010 and 2015.
And Jonathan Greenblatt, head of the ADL, told HuffPost this week that his organization has also tracked a rise in recruitment and membership among white supremacist organizations.
"One of the most significant things about Charlottesville is that it showed there's a young generation of white supremacists willing to openly display their hate and anti-Semitism in public and in full view," he said.
"It's alarming to see a younger generation that's not aged Klansmen hiding behind white hoods," he continued, adding that "the majority of attendees appeared to be young, in their 20s and unafraid to show their faces."
These young white supremacists, he said, have been "emboldened by this climate in the country, in an environment where the president essentially validated them and the 'fine people' among their ranks."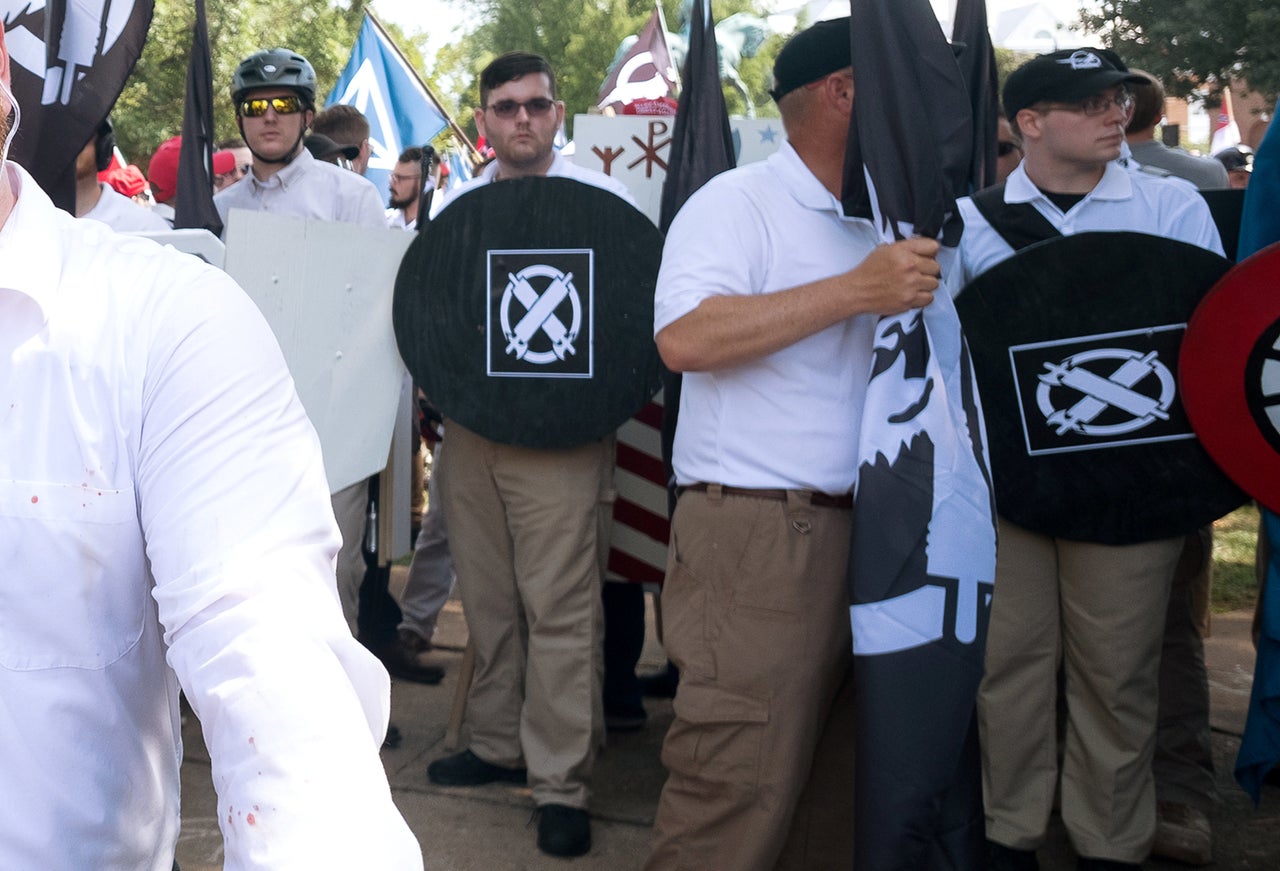 Donald Trump won the presidency despite racist comments throughout his campaign. As a candidate and now as president, he has routinely signaled his support of white nationalism and been slow to condemn terror committed by white, right-wing extremists.
The Charlottesville rally also concluded with a terror attack. Twenty-year-old James Alex Fields Jr., a member of the white supremacist group Vanguard America, is accused of driving a car through a crowd of counterprotesters. The attack killed 32-year-old Heather Heyer and injured 19 others.
In an interview with ABC News in the following days, two of Fields' former classmates recalled visiting a Nazi concentration camp in Dachau, Germany, with him in 2015.
Standing in a place where Nazis had systematically murdered at least 28,000 people, most of them Jews, Fields' friends recalled him issuing a chilling statement: "This is where the magic happened."
America does not do a good job of tracking incidents of hate and bias. We need your help to create a database of such incidents across the country, so we all know what's going on. Tell us your story.
Popular in the Community