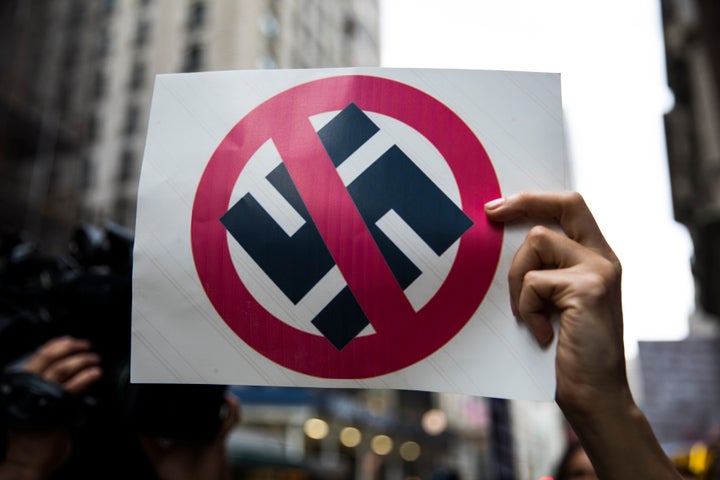 A State Department position designed specifically to focus on anti-Semitism has remained empty since President Donald Trump took office. Jewish leaders have repeatedly urged the White House to fill the post, and this week they renewed their push.
The Anti-Defamation League, a national human rights organization, sent a letter to Trump on Monday calling on him to name a new special envoy to monitor and combat anti-Semitism.
With such hatred escalating globally, ADL CEO Jonathan A. Greenblatt wrote that the U.S. needs its "voice on anti-Semitism around the world."
"That voice has been silent for the past fifteen months," Greenblatt wrote.
Past special envoys have provided input on anti-Semitism for State Department reports on human rights and religious freedom. The office also held trainings for individuals embarking on foreign postings so they would know how to identify anti-Semitism and what to report to the State Department.
"These are things that don't happen unless someone is responsible in the State Department for making sure it happens," Hannah Rosenthal, who served as the special envoy before Forman, told reporters last year.
"Mr. President, by nominating a respected and effective advocate, you will be reasserting America's moral leadership against anti-Semitism and reassuring Jewish communities that America stands with them and their ability to live securely as Jews wherever they are," Greenblatt wrote on Monday.
The ADL's renewed call to fill the position comes at a time of heightened anti-Semitism around the globe. Last week, thousands of people took to the streets across France to decry the murder of an 85-year-old Holocaust survivor whose death authorities have linked to anti-Semitism.
In the U.K. last month, Jewish leaders said they would march to Parliament after Labour Party leader Jeremy Corbyn failed to assuage their concerns about his defense of an offensive anti-Jewish mural in 2012.
"The data confirms the anger and concern of these communities," Greenblatt's letter stated. "Violent anti-Semitic assaults increased 34 percent in Britain according to the Community Security Trust in 2017, and according to the French Ministry of the Interior, increased 26 percent in France during the same period."
Incidents of anti-Semitic rhetoric and attacks have also hit Poland, Sweden, Tunisia and Iran in recent months.
In the U.S., trends that indicated an anti-Semitic spike around the time of the 2016 presidential election have persisted. A report published by the ADL in February showed that the number of anti-Semitic incidents rose nearly 60 percent in 2017, marking the largest single-year increase the organization has ever recorded. 
Trump's administration has been fairly cavalier about the dangers of anti-Semitism, at times even peddling ugly stereotypes and conspiracy theories that promulgate bias. Then-Secretary of State Rex Tillerson said last summer that he believed a special envoy dedicated to fighting anti-Semitism would actually interfere with the government's efforts to combat bias.
A State Department official told HuffPost on Tuesday that although the envoy position remains vacant, "the Office of International Religious Freedom at the Department of State continues actively to support the mission of that office."
"Combating anti-Semitism internationally is a priority for this administration," the official said. "President Trump and Vice President Pence have publicly expressed their deep concern about high levels of anti-Semitism globally."
This story has been updated with the State Department's response.
Calling all HuffPost superfans!
Sign up for membership to become a founding member and help shape HuffPost's next chapter