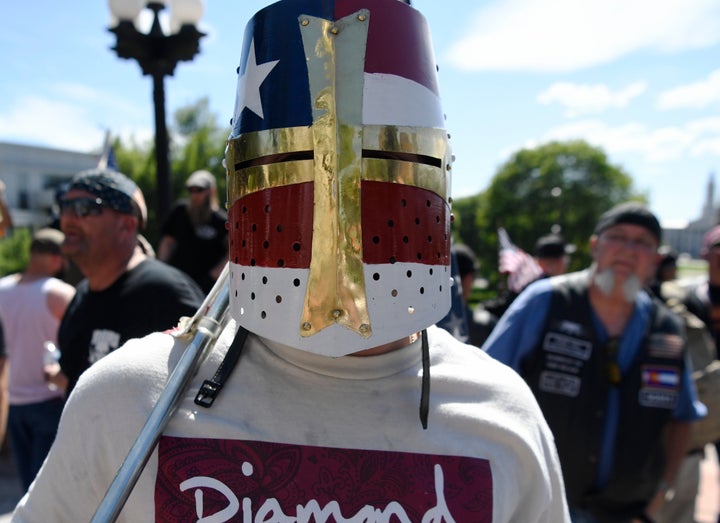 WASHINGTON ― Billy Roper, a neo-Nazi and former high school history teacher whose father and grandfathers were Klansmen, saw that a national group was organizing marches on June 10 against Sharia. He wanted to get involved. So Roper and his wife, who sells $75 swastika quilts, contacted ACT for America about hosting a rally in Batesville, Arkansas.
ACT for America, which the Southern Poverty Law Center describes as an anti-Muslim hate group, argues that Sharia, or Islamic law, is incompatible with Western democracy, and has spread conspiracy theories about Muslim refugees. The group has close ties to the Trump administration — its founder, Brigitte Gabriel, has boasted of visiting the White House, and Trump campaign and administration officials have sat on its board or spoken at its events. It's hosting a national conference in Virginia this week and will be holding what it has billed as a "national security legislative briefing" Tuesday on Capitol Hill.
But for such a high-profile nonprofit organization, ACT for America has had trouble recently keeping white supremacists and Nazis away from its events — and went so far as to accidentally coordinate with Roper before learning about his background.
"Thanks for stepping up to the plate," Scott Presler, ACT for America's lead activism strategist, wrote Roper's wife in a June 1 email, noting that he had created a Facebook event for the rally. "You are approved and good to go," he added in a subsequent email to Roper. (Presler did not respond to requests for comment, but Roper showed HuffPost copies of the emails.)
When ACT listed Roper's event on its website, the Southern Poverty Law Center published a post noting his beliefs and that he was promoting the event on Stormfront, a neo-Nazi message platform. Presler sent Roper an "urgent" email and the group quickly moved to disassociate from him. ACT for America put out a press release saying it didn't support or endorse Roper's June event in any way.
"ACT for America has never, and will never, tolerate any bias, discrimination, or violence against anyone, based on their religion, gender, race, or political persuasion," the group said in a policy statement. (ACT did not respond to requests for comment for this story, though its founder has called the SPLC "pure poison.")
"They had no idea that I was the uncensored voice about neo-Nazism, as they say, they did not know who they were working with," Roper, who was about to leave for a Stormfront conference in Tennessee, told HuffPost last week.
"When they found out, they freaked, and they tried to disavow me and disassociate," he said. "Too late."
But Roper isn't the only extremist who has gotten involved with ACT's rallies. A dozen members of Identity Evropa, a white separatist group, attended a June 10 ACT rally in New York, according to The Washington Post. In Harrisburg, Pennsylvania, Vanguard America, a fascist group, also made an appearance. A regional coordinator for Identity Evropa spoke at an ACT event in Indianapolis, according to the Southern Poverty Law Center, and Nathan Damigo ― the leader of that group who once falcon-punched a female protester ― attended an ACT rally in Roseville, California. He later participated in the white supremacist rally in Charlottesville, Virginia, that lead to the death of one woman. Augustus Sol Invictus, who attended the Charlottesville rally, spoke at an ACT rally in Orlando, Florida, according to the SPLC.
The Trump administration did not respond to a request for comment.
ACT's recent Nazi problems don't seem to have damaged its relationship with Trump allies. Katrina Pierson, Trump's campaign spokeswoman, spoke at ACT's national conference this week. (When HuffPost reached out about attending the conference, Brian Glicklich, who has been reported as a spokesman for conservative talk show host Rush Limbaugh, wrote in an email that the "event is private.")
Anti-hate groups aren't buying ACT's attempt to distance itself from the people attending its rallies. "The bigotry and hatred that motivates violence and hateful demonstrations like what we saw in Charlottesville is no different from the bigotry and hatred that drives ACT for America's anti-Muslim agenda," said Madihha Ahussain, a staff attorney at Muslim Advocates, a civil rights group. "When groups like [ACT] are given access to the highest officials in the administration, it's no surprise that the administration continues to propose discriminatory policies targeting people on the basis of their religious or ethnic background."
After the Charlottesville protests, ACT perhaps realized that it could not keep extremists away. It canceled rallies in 36 states scheduled for September and replaced them with an online event, telling Breitbart that, "in recent weeks, extremist and radical organizations in the United States and abroad have overrun peaceful events in order to advance their own agendas, and in many cases, violence has been the result."
Popular in the Community