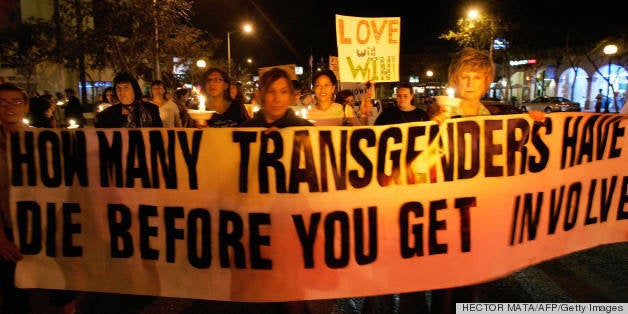 I'm going to do this blog post a little differently this time and respond to some comments I've received over the past week. I don't generally respond to comments on my online posts, because I've learned over the years that although there are some constructive criticisms among them, most comments tend to be driven by negative emotions. Dealing with such is simply too draining.
My last blog post on anti-trans violence, like many of my previous blog posts, touched on issues that deserve far greater consideration than I'm capable of providing in one post. I'm writing for a national audience that often has had little exposure to the issues at hand, and, as a result, I make an effort to give sufficient background and references to help guide those who may be new to the topic. However, doing so takes up real estate and limits in-depth discussion. I also try to be timely and topical, further limiting the degree to which I can engage an issue.
However, the topic of anti-trans violence is not one that will be going away anytime soon, so this is my next effort at grappling with it. To start, one general complaint was that I, as a white woman, had no business writing about violence against women of color. I suppose that there are some who, when they see my effort, will simply move on and ignore my contribution. That's their right. As a progressive who works to make this country more welcoming to all, and not just to trans persons, I will continue my work. As a surgeon I didn't limit my practice to white people, I was often the only person in my town who accepted Medicaid, and, as a result, I had a higher percentage of black patients, as well as a higher percentage of poor patients who couldn't afford to pay for my services, obviously. I, like many others, have a long history of serving all, in this country and abroad, and will continue to do so the best of my ability. I hope that we can begin to move away from identity politics. It's much easier to do diversity, be it in legislatures or advocacy organizations, in a "paint-by-numbers" approach, but that often creates an even less productively diverse situation.
A common complaint was that I shifted focus from a brutal murder perpetrated by a man to a debate about pronouns. My point was that deliberate misgendering by society and the media contributes to the violence. Apparently the Cleveland Plain Dealer still hasn't learned much from their recent experience reporting on the murder of Cemia Dove.
Another issue raised was that my organization, Gender Rights Maryland, was not doing anything in Baltimore to combat the problem. That's because Gender Rights Maryland is an organization with a legislative mission, not a broad social mission. We don't have the infrastructure or the funding to manage that type of mission, and we are fully volunteer-based. So we focus on our mission. However, as individuals, many of us do anti-violence work with our local governments and other advocates. I've mentioned the work I'm doing with True Child in D.C. to document the roots of the violence and to craft a program to respond effectively. That program, funded by the D.C. government, will learn from its experience and then create a template that others can use throughout the country. Similarly, I've worked with the DC Trans Coalition, the National Center for Transgender Equality, Get Equal and other organizations that deal in whole or in part with violence, and I work on publicizing the incidence of intimate partner violence in the gay community. Many of my fellow board members do the same or similar work, in addition to leading support groups and labor and religious social action groups. None of this work is easy, and all of it is necessary. Just keep in mind that absence of evidence is not evidence of absence. There are many who do this work and are not recognized; I'm fortunate to have this platform for outreach.
Then there's the question of male violence in general. I touched on it in passing, putting the anti-trans violence into perspective. Black men are the perpetrators and victims of violence to a degree way out of proportion to their population. It is a huge societal problem, with all its consequences of incarceration, gun culture, broken families and loss of hope in many American communities. It's also a problem that I hope President Obama will engage now that he's been reelected. I know that he's the president of all Americans, not just of African-Americans, but he has the ability to play an outsized role in confronting this scourge. He's done so much for the LGBT community, particularly by speaking in favor of marriage equality one year ago last week. He can do the same for the black community.
A question was raised as to the incidence of violence against trans men. It does occur, with the murder of Brandon Teena being the most famous (it was the basis for the 1999 film Boys Don't Cry), but there are other incidents, including the killing of Evon Young this year. However, the rate of violence against trans men is much lower than that against trans women.
Finally, I'd like to reiterate my belief that the most important tool in creating freedom and equality is being out working for it. For some, being out is far more problematic, or even far riskier, than it is for others, but we will not be respected by others until we respect ourselves, as a community out and proud. I've been blessed in many respects in my life, so I can afford to do this work, and I do so gladly. However, I cannot make the same impact by showing up that a black trans woman can make in her church, or a Latino trans man can in his corporation. We need more role models who are captains of industry like Martine Rothblatt, and more world-class inventors like Lynn Conway, but in the end it will be trans Americans of all social strata and life experience who come out in their communities all across this country who will change this nation at its roots. When you're out, just remember that you should interact with others as you would have them interact with you. Make your anger and disappointment work for you, channel it and change the world.
Calling all HuffPost superfans!
Sign up for membership to become a founding member and help shape HuffPost's next chapter