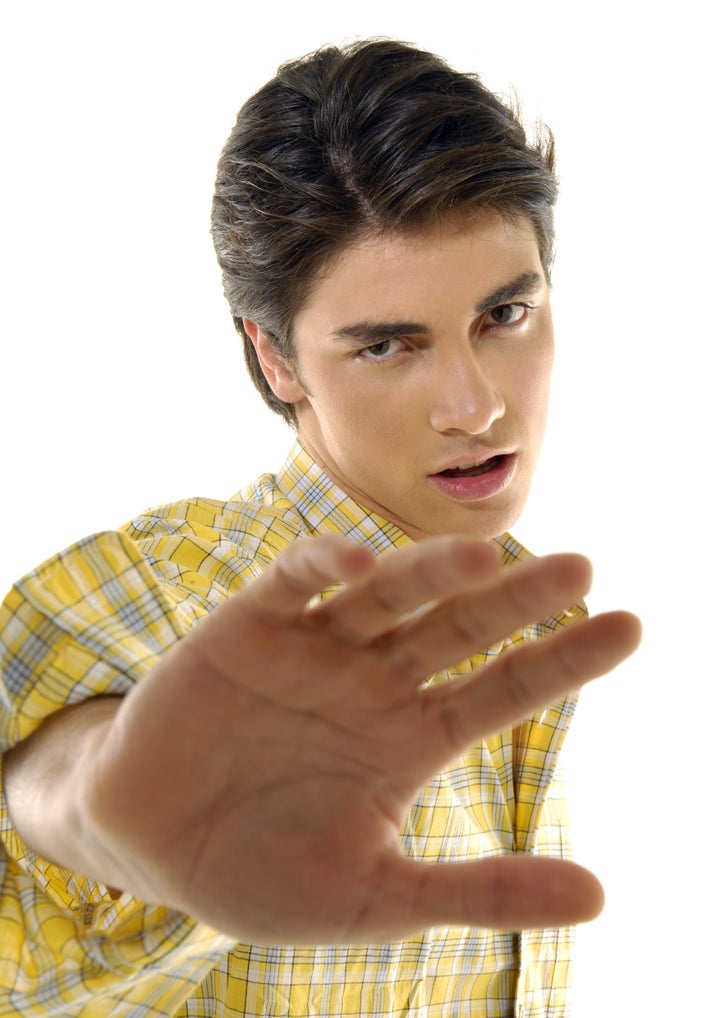 I recently read about Alissah Brooks, a transgender woman from Atlanta, Ga., and her recent run-in with a bouncer who denied her entry to a club on the basis of her gender identity. For those who haven't yet read this story, after attending a GLAAD event in Atlanta, Brooks and a few friends stopped at Don Pollo Bar and Grill. Brooks was denied entry to the bar after a bouncer asked to see her ID. Her friends then explained Brooks' transgender status to an employee of the club, saying they believed Brooks was denied entry on account of her status as a trans woman. The employee's response? "What's wrong with that? We can do that -- we have the right to be selective. We can do that. We're a private property."
Actually, they can't. This would appear to violate a city ordinance put in place to protect LGBT individuals.
I wish I could say this was the first time something like this has happened to a transgender woman, but that would be a lie. In fact, it was only a few months ago that one of my friends and I were denied entry to a bar in Chicago for the same reason, apparently. On July 19, after going to a concert on Chicago's north side, my friend and I decided to end the night by stopping at a bar for a drink. As most bars were jam-packed, we kept walking until we found one with a little more breathing room. That's when we stumbled upon Big City Tap, a bar that lives up to its nickname of "Big Shitty Tap."
We approached the door. The bouncer eyed us suspiciously. He held up his hand as if to say, "IDs, please," and we went ahead, giving him our drivers licenses. He looked at mine, then up at my face, then back down at the card, then up at my face again. He handed me my license, waving me into the nearly empty bar. My friend, wearing a cute dress that went down to her knees, covered her shoulders, and showed minimal cleavage, handed her license to the bouncer. Immediately he called for me to come back out of the bar. I heard the tail end of the conversation between my friend and the bouncer.
"Wait, what?" she asked, confused by the situation.
"Dress code. That's all I'm saying," he replied, waving us away.
We walked away from the bar, not necessarily in the mood to get into an argument over the right to purchase an overpriced beer and sit in a bar blasting shitty music. Still, it stung. I felt like a freak; I felt subhuman. There was no way to interpret "dress code" as anything other than another way of saying, "Stay out, tr*nnies." After all, it wasn't until the bouncer saw that my friend's drivers license didn't match his own initial read of her gender that he shooed us away. Had this legitimately been about some sort of dress code, why did he look at the license in the first place? The people who were in the bar? Girls in low-cut shirts that bared their midriffs, guys in T-shirts and jeans, a man in cargo shorts with flip-flops, a girl in a short skirt who wasn't wearing shoes at this point in the evening. Clearly there was no dress code in place.
We made our way to a different bar, had a drink, and called it a night. Still, I couldn't stop thinking about what had happened at Big City Tap. It seemed as though, from an attire-based point of view, anyone could enter the bar as long as the sex listed on their drivers license matched their outward gender presentation.
In what other circumstance would it be OK to discriminate against someone like this? To deny someone access to public accommodations? "No blacks allowed." "Men only." "Must have blue eyes and blond hair to enter." "Must be taller than 6 feet to drink here." "No disabled welcome." In each of these situations, there would be a thunderous outcry against the business. This isn't to say that there aren't places that do discriminate against people on the basis of race, sex, appearance, and so on, but that it's seen as less culturally acceptable. But for transgender people, this kind of treatment is almost expected.
One of my greatest fears is that I'll find myself in the hospital for some reason and I'll just be left to die, or that I'll be in a car crash and the paramedics, upon realizing that I'm transgender, will just leave me on the side of the road. You might think I'm being paranoid, but these fears are more rational than one would think.
In 2010 Erin Vaught, a transgender woman, checked into a Muncie, Ind., emergency room after she started coughing up blood. In spite of her ID, which listed her as female, she was entered into the hospital system as a male. (That has actually already happened to me). She was then sent to an exam room, where she was referred to as a "he-she," "transvestite," and "it" by hospital staff. There she waited for two hours without treatment until a doctor showed up, only to tell her that they would not be treating her, on account of her "condition." She was then sent home.
To be clear, by "condition" these doctors were not referring to whatever it was that had led to her coughing up blood. Rather, they were stating that they would not treat her on account of her transgender status. Even though the two issues were entirely separate, the doctor refused her service on account of her gender identity.
Along with examples of discrimination against transgender people in employment, housing, and public accommodations, it's become the norm to expect the worst and hope for the best. It's not right, though. It's not right at all. We shouldn't have to.
This is why I cringe anytime I hear someone say that adding legal protections for transgender individuals is giving us a "special right" or "special treatment." There's nothing special about wanting to be treated with dignity and respect, whether we're stopping at a bar for a drink or seeking medical treatment.
So before anyone jumps in and says, "Why don't you just go to a different bar?" I want to make one thing clear: This isn't about the bar. This isn't about a single event. This is about the world piling on us until we can't take it anymore.