A billboard in Arizona is drawing public outrage after featuring President Donald Trump's face surrounded by dollar-sign swastikas and nuclear mushroom clouds.
The controversial artwork appeared in Phoenix on Friday. In the days since, California-based artist Karen Fiorito says she's received death threats.
"I think a lot of people are feeling this way and I'm just trying to express what I think is on a lot of people's minds these days," she told local news operation 12 News. "Something that really concerned us was this idea of a dictatorship where things were going in a certain direction."
The billboard space was provided by the owner, Beatrice Moore, who 12 News reported has offered to showcase the work for the remainder of Trump's presidency.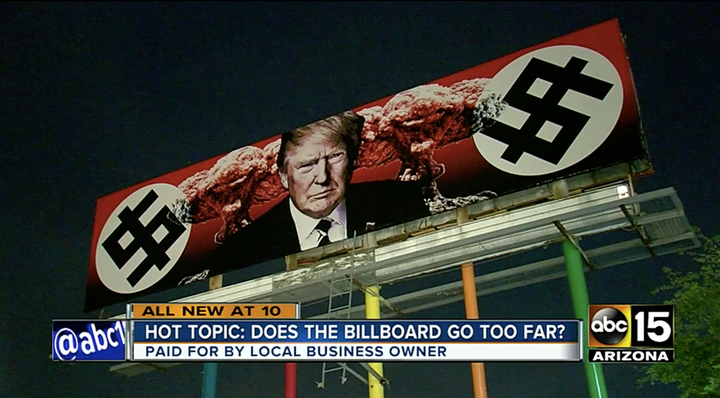 On the back of the billboard, there's another message. It reads "unity" both in English and in sign language.
Of course, not everyone is on board with the sign, even those who say they're fine with an anti-Trump message.
"It's pretty drastic, I thought swastikas were very crude and violent," neighbor Jeff Whitman told AZ Family.com. He suggested more family-friendly symbols instead.
"Maybe put some thumbs down up there around Trump or something but I don't like waking up to the Nazi signs," he told Arizona Central.
Passerby Astrid Olafsen, however, threw support behind the sign, particularly the front and back contrast.
"I think that it's a wonderful expression of the two sides of the opinions of what is going on and how we can move forward," she told Arizona Central.
Jeremy Bacpac also shared her approval of the imagery.
"It's fantastic. I think this is what artists are supposed to do, make statements, whether you agree or not, it's a statement," she told ABC 15.
On Friday, Fiorito posted on Facebook that she expected "death threats and the like" over the work. There appeared to be mixed reviews on her page's comment section, one calling her a "racist pig" and another thanking her for her "amazing, insightful artwork."
Support HuffPost
The Stakes Have Never Been Higher
Popular in the Community