The last time Clark Luster marched in New York City was in the 1960s to protest the Vietnam War.
Over half a century later, the 72-year-old retiree from Asheville, North Carolina, says a new threat has compelled him to hit the streets once again: President-elect Donald Trump.
"We've got to do something about him," Luster told The Huffington Post on Thursday. "What's happened since the election ― the appointments of his Cabinet, the incompetence demonstrated during the confirmation hearings, [Trump's] relationship to Russia ― all of these things come together and tell you that we're in a very unsettled and unreasonable time."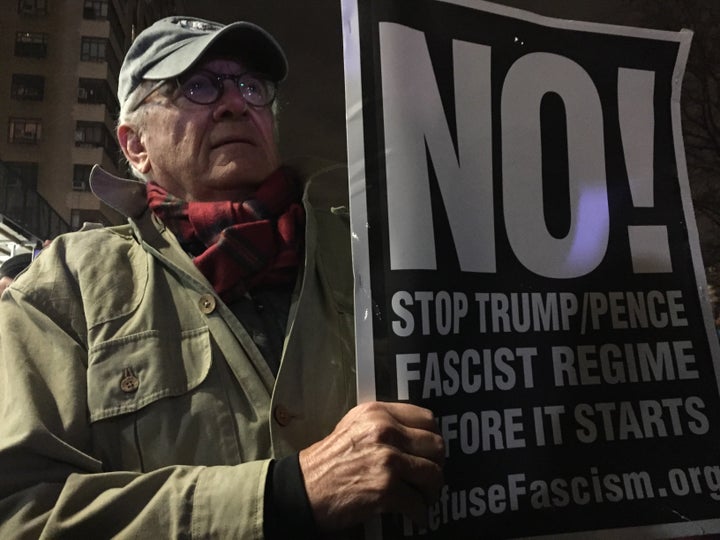 Luster is one of thousands who flooded the streets surrounding Trump International Hotel and Tower near Central Park on the eve of Trump's inauguration. Event organizers estimate 25,000 people attended the "We Stand United" rally, though the New York Police Department could not confirm the crowd size.
Filmmaker Michael Moore and New York Mayor Bill de Blasio spoke at the massive anti-Trump demonstration. Other high-profile figures, including actors Robert De Niro, Alec Baldwin, Mark Ruffalo and Cher, joined throngs of individuals and families of all ages and ethnicities.
New Yorker Tania Wolf, a recent graduate of the City University of New York, showed up at the rally to voice dissent on proposed policies that could hurt immigrants like her Colombian mother and Ecuadorean father.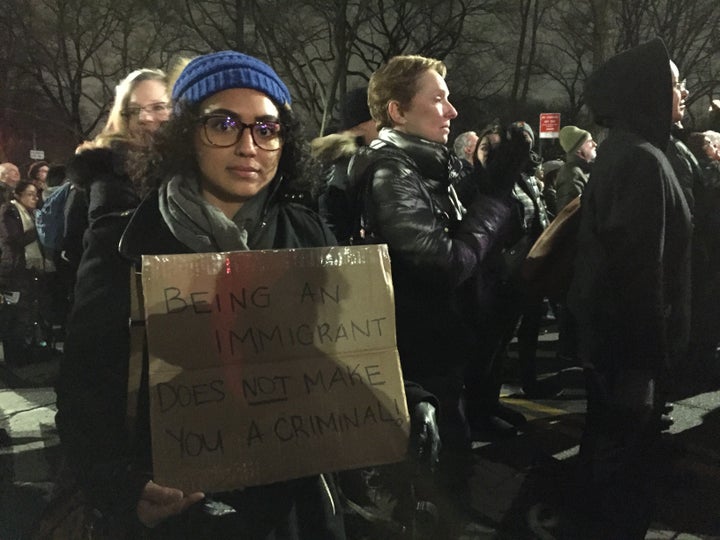 "I worry about deportation or abuses by [Immigrations and Customs Enforcement], and I worry about LGBT rights being trampled on," the 25-year-old told HuffPost on Thursday. "We can't just sit around anymore, and I know that coming out here gives me a glimmer of hope."
The "We Stand United" rally was organized by environmental advocacy group Greenpeace and liberal activist organization MoveOn.org, as well as several local nonprofits.
Organizers said on the event's Facebook page that they wanted "to stand united and send a message to President-elect Trump and Congress that New York will protect the rights of people and the environment."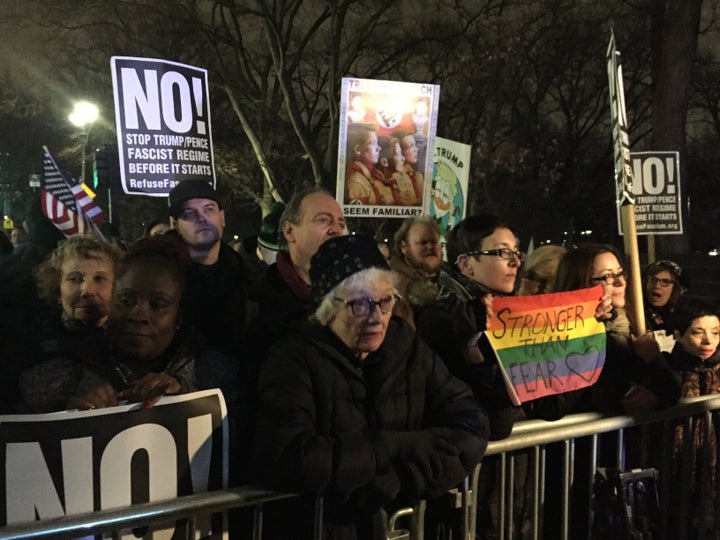 Queens resident Fiza Deen, who said her father marched from Selma to Montgomery, Alabama, with Martin Luther King Jr. during the civil rights movement, made her way down Broadway with her 7-year-old daughter, Chloe, carrying a sign that read "No! Stop Trump/Pence fascist regime before it starts."
"I feel like it's important to speak out for what you believe in," Deen told HuffPost on Thursday. "I don't believe he is a legitimate president, and I think he needs to go."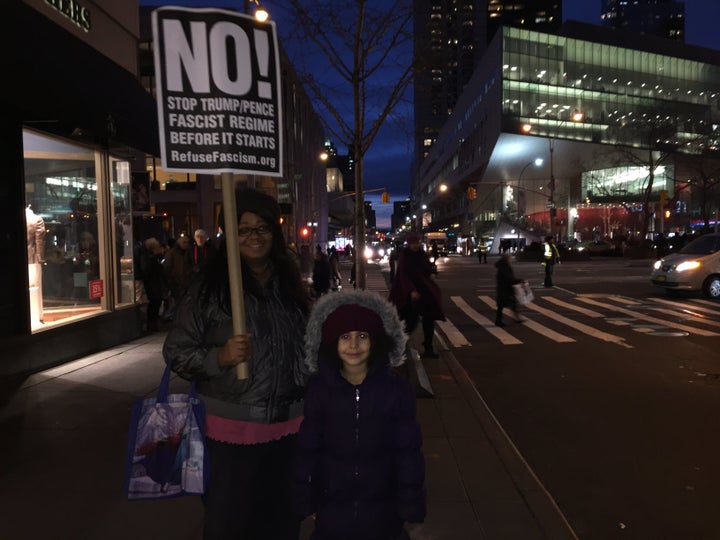 "I am worried," she said about the Trump administration's potential effects on her daughter. "Racism has become blatant. It's become crazy. I don't know what's going to happen when she gets older."
The Democratic mayor spoke at the rally along with other prominent activists. They stressed the importance of fighting for progressive policies on issues such as health care, immigration and the environment.
"Donald Trump may control the agenda in Washington, but we control our destiny as Americans," De Blasio told the throng of protestors camped outside Trump International Hotel. "We don't fear the future. We think the future is bright if the people's voices are heard. We will fight this together."
Actress and Brooklyn native Rosie Perez challenged rally attendees to unite against "intimidation and bullying" spread by the incoming administration.
"Donald Trump is from this city," Perez told the crowd. "He is a New Yorker, and yet he has spread a message across this country that is the opposite of who we are as New Yorkers."
The fired-up crowd could be heard chanting "The whole world is watching!" as she spoke.
Civil rights activist Al Sharpton and actresses Cynthia Nixon, Sally Field and Shailene Woodley also attended.
"We Americans, we New Yorkers, we patriots will stand united for our rights and the rights of our fellow citizens," De Niro told the crowd.
Justin Krebs, a campaign director at MoveOn.org, called the rally's location outside Trump's 52-story luxury hotel a "lightning bolt of symbolism."
He told HuffPost that he hopes the demonstration inspires New Yorkers to hold their local and state representatives accountable if they don't stand up to Trump's proposed policies on the environment, immigration and health care.
"[This rally] is an assertion that we are going to be united," Krebs said, noting the "remarkable surge of energy" among Americans to speak out since the election. "There's something here that is so authentic and inspiring."
Manhattanites Dawn Stewart-Lookkin and her husband, Daniel Valdes, joined the multitude of protesters to fight for a better future for their 18-month-old son, Victor.
"A big concern for us as a family is climate change" Valdes told HuffPost. "It's a crime to continue to turn a blind eye, and it's a crime mostly against people [our son's] age who, 50 years from now, are going to deal with this problem in a very real way."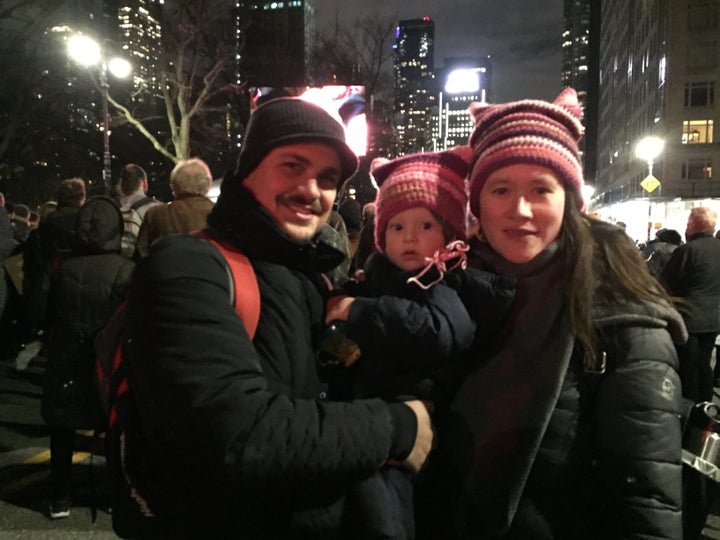 The couple said Thursday night's rally was just the "kickoff" to a weekend full of demonstrations. They plan to attend the Women's March on Washington on Saturday, too.
"Some people don't think it makes a difference to protest, but it's important to show each other that we support one another," Stewart-Lookkin said. "There are so many different things you can do to disrupt the system and make a difference and create a resistance against the Trump administration."
Minneapolis Mayor Betsy Hodges also attended the event. She told HuffPost on Thursday that Trump has "attacked our values" by targeting groups such as immigrants, Muslims, people with disabilities and the LGBTQ community.
"My hope for this rally is that people begin to think of what our proactive agenda is for the next four years," Hodges said. "I think organizing is one of the key things people need to do. Social media is very powerful, but it can't be the only tool in your toolbox."
Trump is right about one thing, though: People are expected to pour into Washington this weekend. If the "We Stand United" rally is an indication, a large number of them won't be there to sing his praises.
Sebastian Murdock contributed reporting.
Popular in the Community