WASHINGTON -- Sen. Chuck Schumer (D-N.Y.) preserved support from his hawkish pro-Israel base with his promise to vote down the Iran nuclear deal on Thursday night -- but will now have to answer to a group of anti-war liberal advocacy organizations who claim that Schumer's opposition to the diplomatic accord with Iran renders him unfit for the role of the party's leader in the Senate.
In less than 24 hours since Schumer's announcement, 17,636 members of MoveOn, a progressive advocacy group, have committed to withhold $8.3 million they could have contributed to Schumer and other Democrats who oppose the Iran deal, the group told The Huffington Post on Friday. The calculation was based on members estimating their potential contributions between now and the 2016 election.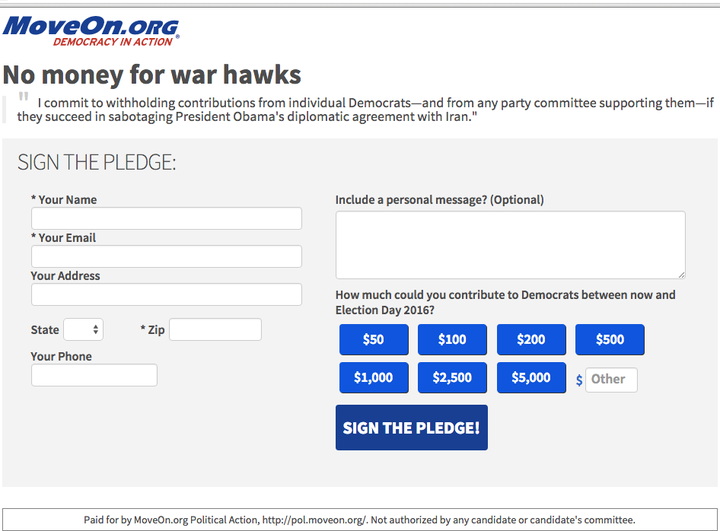 MoveOn and a coalition of Iran deal supporters are arranging town halls throughout the country during the August congressional recess, urging constituents to pressure their lawmakers to support the nuclear accord with Iran. "We thought Schumer and the Democratic party had learned this lesson a decade ago after the war of choice in Iraq," Nick Berning, MoveOn's communications director, said. "We want to demonstrate to those who haven't made their decision yet that there will be substantial political consequences for those who want to take us to war."
The National Iranian American Council, another group involved in the coordinated pro-deal lobbying effort, slammed Schumer as more averse to diplomacy with Iran than former president George W. Bush, who refused to negotiate with the Islamic Republic unless it agreed to surrender its entire nuclear enrichment program.
"He states that he is opposing the deal because Iran will retain 'its nuclear and non-nuclear power.' These demands make the Bush Administration's aversions to negotiations seem pragmatic in comparison," Jamal Abadi, NIAC's policy director, wrote in a statement on Friday. "In what negotiated outcome would Iran have relinquished not just its nuclear power, but its non-nuclear power?"
Lawmakers are scheduled to vote on a resolution of disapproval of the Iran deal when they return to Washington in September, which would revoke the president's ability to deliver upon some of the sanctions relief promised to Iran as part of the nuclear agreement. Ultimately, the resolution needs the backing of two-thirds of the House and Senate to overcome a presidential veto -- this means that in the Senate, 13 Democrats would have to break with President Barack Obama to sink the deal.
Schumer's announcement came after several wavering Democrats, including Sens. Kirsten Gillibrand (D-N.Y.), Jeanne Shaheen (D-N.H.), Tim Kaine (D-Va.) and Bill Nelson (D-Fla.) vowed to back the nuclear agreement, suggesting that the New York senator's move was carefully coordinated throughout the party.
"Gauging from the whip count and everyone that's come out in favor of the deal, we're in pretty good shape," said a Senate Democratic aide whose boss supports the agreement. "Most people assumed this would happen at some point or another, the question was when and how," he said of Schumer's position.
Assuming Schumer wins re-election in 2016, he is slated to take over as the head of the Democratic party when Senate Minority Leader Harry Reid (D-Nev.) retires at the end of next year. Even with the donor strike directed at him and other opponents of the Iran deal, Schumer is well-positioned to keep his seat in the Senate. He is currently sitting on over $19 million in campaign funds, some of which will be funneled into his Democratic colleagues' races.
The Senate aide rejected the idea that Schumer's opposition to the Iran nuclear deal would threaten his chances of leading the party in the next Senate. "You're allowed to be a leader and disagree on some big issues," the aide said, noting that Reid, the current Senate Minority Leader, is anti-abortion, a position counter to most of the party. "I think it would be different if he was attacking senators for supporting the deal or whipping members against it," he added. "Schumer's relationship with individual senators really could not be better."
Popular in the Community