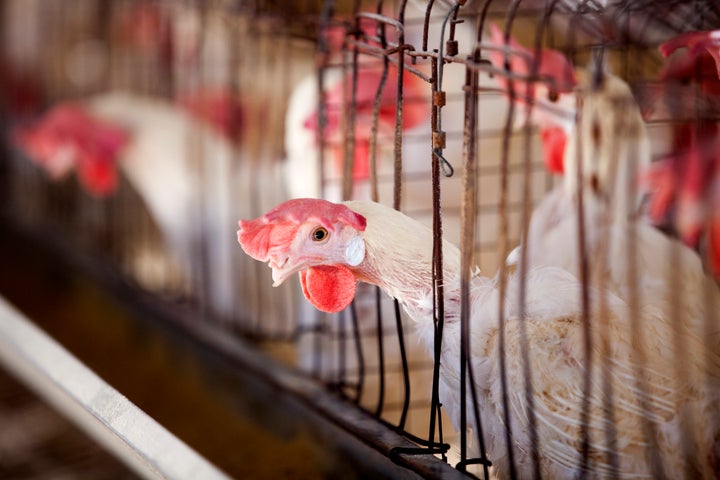 The movement to stop overuse of antibiotics in farm animals is having a good two weeks. Four household names in food sales have announced steps toward offering antibiotic-free meat.
The world's largest fast food chain, Subway said this past fall that it would begin switching to meat raised without antibiotics in response to consumer demand. The company has set a deadline of 2025 for completing that transition across its full menu.
Other restaurant chains like McDonald's have also said they're moving away from meat raised with antibiotics, while some, like Chipotle and Shake Shack, have already done so.
Antibiotics are widely given to farm animals not just to treat actual illness but to plump up the animals or prevent disease -- so-called sub-therapeutic uses. A growing number of researchers believe the resulting overuse of antibiotics in livestock is contributing to drug resistance in humans, putting us at risk of "superbugs." 
Despite that concern, sales of antibiotics intended for farm animals have surged in recent years -- to the point that the U.S. agricultural industry is responsible for an estimated 80 percent of the nation's use of antibiotics.
Still, some major meat suppliers are making a change.
In a Friday news release, Perdue Farms announced that by sometime in May, all of its value-added chicken products will be sold antibiotic-free. It called itself the first major brand to do so. The transition also applies to its food-service turkey items.
According to the company, two-thirds of Perdue chickens and over half of its turkeys are being raised antibiotic-free as part of its "No Antibiotics Ever" campaign. The company began the process of weaning its poultry off antibiotics more than a decade ago.
"This is something that's happening now, not years in the future," Andy Urban, Perdue's senior vice president of sales, said in a statement. "These are in production now. Consumers will start to see the change in a few weeks, and we'll complete the transition in May."
Meanwhile, Tyson Foods introduced a new product label last week consisting of pork products sourced from animals that are raised not only without antibiotics, but also without hormones and outside gestation crates, according to TakePart's Willy Blackmore.
Consumer pressure will be key to holding companies to their word on antibiotics reform and in encouraging others to join their ranks, Alastair Kenneil, a spokesman for London-based Farms Not Factories, told The Huffington Post. He compared it to the way growing numbers of restaurant chains have been pushed into switching to cage-free eggs. And he warned that even though the European Union banned the sub-therapeutic use of antibiotics to boost growth in 2006, some farmers still find ways to get around the prohibition.
In the U.S., the Food and Drug Administration regulates the use of antibiotics in animals but has thus far pushed for voluntary phaseouts by the agricultural industry. Much stricter regulations are scheduled to begin by the year's end. A new California state law, going into effect in 2018, will also crack down on the practice. 
"I think it's all down to consumers. There are no meaningful regulations in the U.S. or EU," Kenneil said. "I think it will all happen through big retail chains who see how people's attitudes are changing."
Joseph Erbentraut covers promising innovations and challenges in the areas of food and water. In addition, he explores the evolving ways Americans are identifying and defining themselves. Follow Erbentraut on Twitter at @robojojo. Tips? Email joseph.erbentraut@huffingtonpost.com.
REAL LIFE. REAL NEWS. REAL VOICES.
Help us tell more of the stories that matter from voices that too often remain unheard.
BEFORE YOU GO
PHOTO GALLERY
Kinds Of Food Poisoning You Should Know About (And Avoid)