So far, 2012 is bringing bad news for people who don't want "free antibiotics" in their food.
Antibiotics are routinely given to livestock on factory farms to make them gain weight with less feed and keep them from getting sick in confinement conditions. But the daily dosing, at the same time that it lowers feed needs, lowers drug effectiveness and produces antibiotic-resistant bacteria or "superbugs."
In January, researchers found 230 out of 395 pork cuts bought in U.S. stores were contaminated with a superbug called MRSA (methicillin-resistant Staphylococcus aureus). Worse -- there were "no statistically significant differences" between "conventionally raised swine and swine raised without antibiotics," reported the researchers. So much for buying safely raised meat.
Why would meat labeled "raised without antibiotics" be as full of superbugs as conventional and factory farmed meat? It can be contaminated with MRSA at the farm, by slaughterhouse workers who carry MRSA or by other meat, if processing equipment is not "cleaned out between runs of certified organic and non-certified organic meats," say the researchers. A 2009 study of swine workers in Iowa and Illinois found that almost half carried MRSA.
And in December, the FDA scrapped its three-decade effort to regulate the use of the popular human antibiotics penicillin and tetracycline in livestock. While the FDA says in the announcement that it "remains concerned about the issue of antimicrobial resistance," it also says "contested, formal withdrawal proceedings" consume too much of its time and money. For example, withdrawing nitrofurans from livestock use took 20 years, DES (diethylstilbestrol) took seven years and enrofloxacin took five years and cost $3.3 million, says the agency. Hey, we're just the government who makes laws and enforces them. They're Big Meat!
Cynics might have seen the concession to Big Meat coming when a report from a USDA-contracted researcher that asserted that MRSA, a dangerous staph bacteria that has become resistant to some antibiotics, kills more Americans per year than AIDS "disappeared" from the National Agricultural Library website last summer with no explanation, says reporter Tom Philpott.
Of course, MRSA is only one antibiotic resistant germ and not even the one clinicians fear the most anymore. Clinicians also worry about vancomycin-resistant enterococci (VRE), encouraged by the use of the antibiotic virginiamycin in livestock, Clostridium difficile, a serious intestinal bug developing resistance, and resistant Acinetobacter baumannii which has so afflicted US troops in Iraq it has been dubbed "Iraqibacter."
And days after the penicillin announcement, there was another concession. The FDA issued new, watered down rules on the use of cephalosporins in livestock (a different type of antibiotic) after Big Meat muscled down the FDA's original order to prohibit cephalosporins in 2008 (which also disappeared with little explanation). Cephalosporins are antibiotics like Cefzil and Keflex used for pneumonia, strep throat, salmonella and skin and urinary tract infections in humans and one type of antibiotic that Clostridium difficile is developing tolerance to. Over 1 million human salmonella infections occur in the U.S. a year, resulting in 16,000 hospitalizations and nearly 600 deaths, reported the Harford Advocate.
In 2008, the FDA had announced that there was "evidence that extralabel use of these drugs [cephalosporins] in food-producing animals will likely cause an adverse event in humans and, as such, presents a risk to the public health," and called for their prohibition. Notice the FDA says "will likely cause" not "could likely cause" and "presents a risk" not "could present a risk"?
But by the time hearings were held two months later and lobbyists had worked their magic, the "Cephalosporin Order of Prohibition" had somehow become a "Hearing to Review the Advances In Animal Health Within The Livestock Industry." Prohibition -- advances, same idea, right?
At the hearings, the American Veterinary Medical Association (AVMA), the Animal Health Institute, a Big Pharma trade group and the egg, chicken, turkey, milk, pork and cattle industries whined that they could not "farm" without antibiotics because more feed would be required and the animals would get sick from being immobilized over their own manure.
"To raise turkeys without antibiotics would increase the incidence of illness in turkey flocks," sniveled the National Turkey Federation's Michael Rybolt, PhD. Antibiotics "reduce the level of potentially harmful bacteria which result in infections and sickness," sniffed the National Milk Producers Federation Robert D. Byrne, PhD (key word, "potential"). Antibiotics decrease the amount of land needed to raise animals and provide a lower priced "wholesome" product for the public, said one farm operator after another. One even claimed that manure is reduced because animals eat less. Factory farming is green!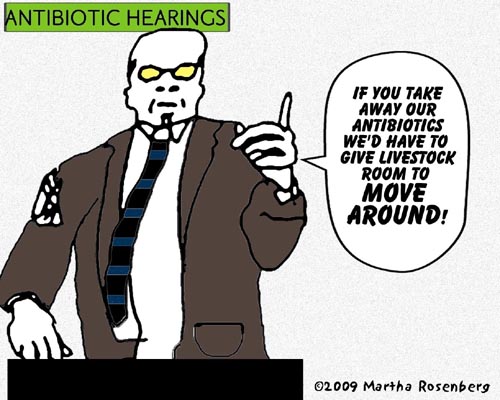 While most ag reps at the hearings defended the use of antibiotics for "treatment, prevention and control of disease," the AVMA's Christine Hoang, DVM, actually went so far as to call the less feed that antibiotics make possible a "health-promoting" effect and a "therapeutic use." Maybe she meant health and therapy for the bottom line.
After the hearings, W. Ron DeHaven, DVM, who was the USDA's top vet before leaving for industry and helming the AVMA, penned a rambling, almost incoherent 18-page letter with 62 footnotes to the FDA. Cephalosporin resistant "human pathogens" aren't increasing, says the letter, and even if they are, they're not affecting human health, and even they're affecting human health, how do you know it's from the livestock drugs, and even if it's from the livestock drugs, the FDA has no legal authority to ban cephalosporin. Got that?
Alternately maudlin and accusatory, the letter plays on terrorism fears by calling a cephalosporin ban a "food security issue" affecting "the number of animals available for the food supply." It also plays on humanitarian sentiments by claiming a ban would impede veterinarians' ability "to relieve the pain and suffering of animals" as if cephalosporins are pain killers and other drugs aren't available. (And as if antibiotics are given for animals' welfare instead of revenue welfare!) Nowhere in the letter is there mention of the rea$on Big Meat won't let go of antibiotics: It is able to raise thousands of animals in crowded conditions that would otherwise kill them for prices as "artificial" as the drugs they are raised on. Big Pharma's invasion into farming is probably the biggest reason for the demise of family farms which are no longer able to compete on price.
But less than a month after the letter was sent, on Nov. 25 the FDA quietly revoked the prohibition. Good hire, AVMA!
Of course, the revolving door between government/Big Pharma lobbying has a distinguished tradition from Louisiana Representative-turned-lobbyist, Billy Tauzin, who presided over the Pharmaceutical Research and Manufacturers of America (PhRMA) until 2010, to former CDC Director Julie Gerberding, MD, who prepared the country for flu outbreaks before turning up as-- anybody? -- head of Merck vaccines when she left the government.
Coming in Part II: Antibiotics Injected in Eggs and Big Pharma Denial.
For more by Martha Rosenberg, click here.
For more on health news, click here.