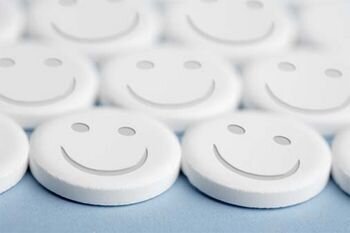 Are you taking antidepressants for something like sleep problems or a sour mood?
Researchers found that more than a quarter of Americans currently taking antidepressants haven't actually been diagnosed with the conditions that traditionally qualified one for a prescription, like depression or anxiety disorders.
The potential issue with all of this, Reuters Health reports, is that it means thousands of patients are being exposed to possible side effects, sans any proven health benefits. And where antidepressants are concerned, side effects do exist.
According to the Mayo Clinic, antidepressants can cause anything from nervousness, headache and dry mouth to insomnia, dizziness and erectile dysfunction.
The prescription of antidepressants has long been a hot-button issue, with some arguing that while popular, the drugs are not always helpful. Others believe that they are absolutely essential to treating depression and have called for the continued development of new, more effective drugs.
"As far as overprescribing, I don't think you can say that it is occurring as a blanket statement," Jeffrey S. Harman, an expert in health services at the University of Florida in Gainesville, told Reuters.
"There are undoubtedly many people being prescribed antidepressants that may not be effective for them, but there are also millions of Americans suffering from depression who are not being prescribed antidepressants or are being prescribed them at a suboptimal dose."
Indeed, according to an article in the January issue of Archives of General Psychiatry, only 41 percent of Americans with any mental health disorder receive treatment, and only a fraction receive treatment that meets minimal standards of quality care. Of that group, approximately half receive care in the specialized, mental health sector, while half are treated by non-specialists, like primary care doctors. This matters because those who receive treatment in the specialty sector stand a much better chance of getting so-called "minimally adequate care" -- about four times better -- than those treated in primary care. But care in both settings needs improvement.
The Huffington Post's Medical Editor, Mental Health, Lloyd I. Sederer, M.D., says it's going to take a lot for the system to change for the better. He calls for more results-oriented, performance-based payment for doctors and hospitals, improved electronic records and beefed-up consumer education and advocacy. "That," Sederer says, "is how we can close the gap between what we know and what we do."
Popular in the Community