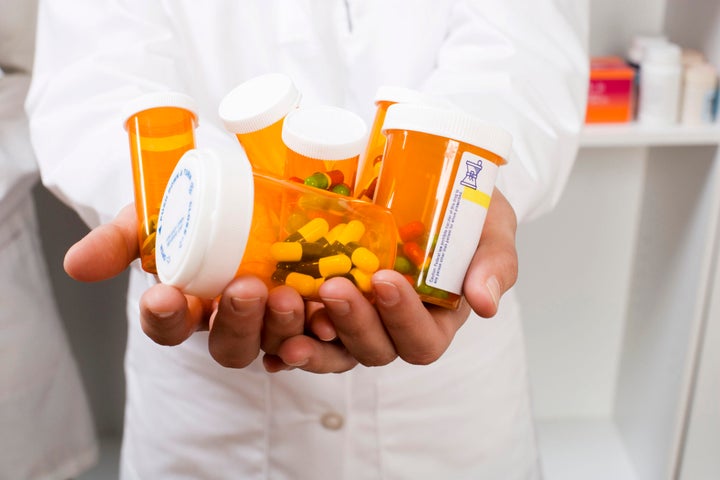 Antidepressants are increasingly prescribed for people who have not been diagnosed with an actual psychiatric disorder, according to a new study that raises questions about whether or not the drugs are being prescribed inappropriately or too often.
According to the new study, published Thursday in the journal Health Affairs, nearly three-quarters of prescriptions written for antidepressants in 2007 came from non-psychiatrists, up from 60 percent a decade earlier.
Notably, the percentage of patients prescribed antidepressants without having been formally diagnosed with a mental health condition more than doubled during that period -- up from 2.5 to more than 6 percent of visits to non-psychiatrist providers. According to the Centers for Disease Control, antidepressants are now among the top three classes of medications prescribed in the U.S.
"We knew the rate of prescribing had increased over the past two decades and were curious to know if this increase was associated with an increased diagnosis of mental health issues," said Dr. Ramin Mojtabai, an associate professor at the Johns Hopkins Bloomberg School of Public Health and the study's lead author.
"We found that the rate of diagnosis did not increase as much as the prescription of antidepressants, which was mostly concentrated in patients who did not have a psychiatric diagnosis," he added.
The study's authors write that the data sparks concerns that people are being prescribed antidepressants in order to treat conditions for which there is only limited data showing their efficacy. Those conditions could include sleep and smoking issues, as well as anxiety and headaches. The authors caution that they do not have proof that the so-called "inappropriate use" of antidepressants is up, but did call the trend "worrisome."
Dr. William Narrow of the American Psychiatric Association said that the findings should not obscure or take away from the issues surrounding people with psychiatric conditions.
"The majority of the people who have mental disorders still do not get treatment," he said. "We have a large group of people out there who are not getting help."
However, Narrow added that the APA is looking into guidelines that will help non-psychiatrists -- particularly primary care physicians who often have only a few minutes in which to diagnose and prescribe medications -- better screen for possible psychiatric conditions. He said that evidence suggests that people with mild depression, for example, might be better served by psychotherapy than antidepressants.
Dr. Mahendra Bhati, an assistant professor of clinical psychiatry at the University of Pennsylvania, expressed his reservations about drawing too many conclusions from the study, which relied on retrospective data about doctors' visits from the CDC's National Ambulatory Medical Care Surveys from 1996-2007. Bhati said such surveys cannot give information about the clinical accuracy of a mental health diagnosis in cases where one was made, something that would better round out the picture.
"It basically lets us know whether or not someone was ID'd as having a mental health issue, but it tells me nothing about the quality of that diagnosis," he said.
Bhati added he believes the prescription of antidepressants "off label" -- or for a condition other than serious depression -- is not necessarily bad, saying the drugs have "complex pharmacologic effects on the mind and body," which could help address issues like nicotine dependence and fibromyalgia.
The study's authors seem to agree, calling for further research to understand why antidepressants are being prescribed, particularly in primary care settings, and what the potential impact might be.
"We don't know what the implications are and we don't know what is going on in the head of physicians," Mojtabai told The Huffington Post. "We have to better understand what is going on in the primary care settings. I hope that it will give them some pause to be prescribing more judiciously."