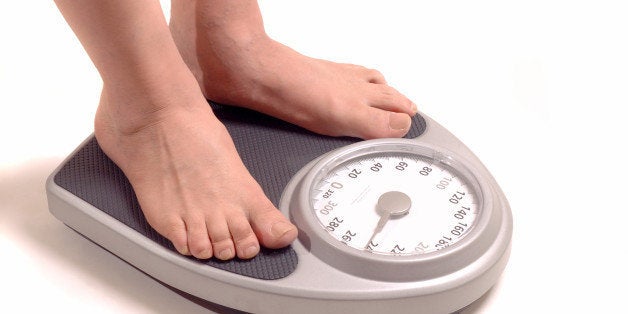 To Sally (not her real name), who wrote to me recently about her 100-pound weight gain after being given antidepressant medications for fibromyalgia, the recent study carried out by a group from the Massachusetts General Hospital will come as a surprise. Before starting treatment, her weight was normal, but after a year on a combination of Effexor and Celexa, she went from petite to extra large. Yet according to a study published a few days ago in the online issue of JAMA Psychiatry, this should not have happened. Using electronic medical records to gather information on weight change among more than 19,000 patients on antidepressants, Dr. Roy Perlis and colleagues of the this hospital in Boston found only minimal changes in weight. Most of the 11 antidepressants taken by the patients produced similar, small amounts of weight. Elavil and Wellbutrin were associated with the least weight gain and Celexa, the most. But even though Celexa caused significantly more weight to be gained, the actual amount was only a few pounds. Conclusion: The researchers said that patients should not be scared of taking antidepressants because they think they will gain weight. [1]
Although the electronic medical records refuted the connection between antidepressant use and substantive weight gain statistically, it left unanswered the question of how to explain more than a decade of reports of weight gain on these medications. A psychiatrist colleague told me that when he prescribes antidepressants, it is a race to get the patient feeling better before the weight gain is so great the patient decides to stop the medication. How does one reconcile the face-to-face experience of practitioners with the results of this medical record survey? What does one say to Sally and others like her? Your weight gain of 100 pounds on a combination of antidepressants is not related to your therapy? Even though your weight was normal before you started your therapy, you might have gained the weight anyway?
Maybe the explanation is to be found in the type of depression being treated. A Swiss researcher, Dr. Aurelie Lasserre, measured changes in weight over five years among more than 3,00 Swiss who live in the city of Lausanne, Switzerland. As reported in another issue of JAMA Psychiatry, about 7 percent of this population suffered from major depression. Weight was gained among those who had depression, but according to the author, only among those who had what she described as atypical depression, a depression characterized by increased appetite. [2] An example of atypical depression familiar to many of us is seasonal affective disorder (SAD). This winter-based mood disorder is associated with an increased appetite and people often gain 10 or more pounds during the weeks of limited sunlight.
Dr. Lasserre's findings do not look at whether antidepressants are causing weight gain. However, they suggest that people who gain weight on antidepressants may be doing so not because of the medication, but because their depression has not gone away, and thus they continue to overeat.
This is a handy explanation but leaves several issues to be resolved:
1. Most people are of normal weight before starting on their medication despite weeks of the mood disorder. In my experience running a weight-management center at a psychiatric hospital, most of our patients never had trouble controlling their food intake until they started antidepressant therapy;
2. If the weight gain during antidepressant treatment is a function of an underlying tendency to gain weight while depressed, then how does one explain the tendency of a particular drug, Celexa, to cause more weight gain than other drugs? [3] Theoretically, no drug should be affecting weight;
3. If antidepressant drugs are not associated with weight gain, what is the explanation for the results of a year-long weight-loss trial with Prozac, many years ago, in which non-depressed, obese patients, gained weight? [4]
4. And what about Sally? She was being treated for fibromyalgia, not atypical depression.
Alas, statistics are not going to help Sally and the many others who have indisputably gained weight on their antidepressant treatment, regardless of why they were being treated. One hopes that patients who are gaining weight are not ignored their weight gain because a study says that they should not be doing so.
1) http://www.nlm.nih.gov/medlineplus/news/fullstory_146648.html
2) http://archpsyc.jamanetwork.com/article.aspx?articleid=1878921#Abstract
3) http://consumer.healthday.com/mental-health-information-25/psychology-and-mental-health-news-566/weight-gain-from-antidepressants-is-minimal-study-suggests-688510.html pp 13
4) Michelson D., Amsterdam J., Quitkin F. et al . Changes in Weight During l Year Trial of Fluoxetine, Am J of Psychiatry l99, 156-1170-1176