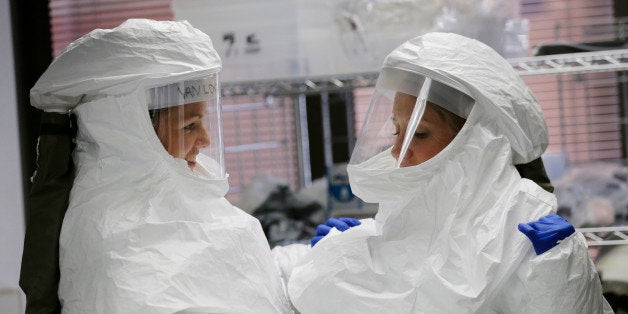 America's registered nurses are on the frontlines of health care delivery in this country. They are often the first to identify signs of a disease outbreak, whether that is H1N1 flu in 2009 as it swept through schools, measles, or the current Enterovirus D68 circulating around the country. They are always ready to provide care to all patients regardless of the disease or potential risk to themselves, putting into practice the knowledge, evidence and experience that allows them to provide safe, high quality care. I commend all of the registered nurses and other health care professionals who have volunteered to care for Ebola patients in West Africa and the reported nine patients who have been treated for the virus in the United States. Of those nine, all but one recovered.
What happened in Dallas was a wakeup call for this country. Much progress has been made in the last six weeks, and the U.S. has been declared free of Ebola. The Centers for Disease Control and Prevention has issued guidance for emergency departments in hospitals and community-based, ambulatory care settings. The guidance clearly lays out steps to "identify, isolate and inform." This refers to conducting screening and health histories to identify potential Ebola patients; then, if warranted, to appropriately isolate those suspected of having Ebola and to promptly inform public health authorities.
Now is the time to continue to take swift, commonsense action to protect the public from Ebola and other infectious diseases. But first we must address another contagion spreading across the country. We must confront the epidemic of fear.
During October and the lead up to Election Day, we saw a host of strange bedfellows foment fear of Ebola among the American public. Instead of leaders looking to science and international health agencies' 40 years of experience managing Ebola in other nations, they chose to perpetuate fears reminiscent of scenes from science fiction movies. Instead of promoting education about Ebola and a rational national discussion about what needs to be done to shore up preparedness at the national, state and local levels, we had elected officials making medical decisions on the fly and a whole host of commentators blaming individuals without the benefit of full information. We saw members of Congress calling for the closing of borders and travel bans, politicians rushing to quarantine volunteer nurses and physicians returning from West Africa, and a labor union calling for strikes and protests as leverage in contract negotiations and organizing drives.
During times of national crisis, we look to the media to play a more responsible role in helping the public understand a complex and fluid situation. This means identifying individuals' and groups' potential motives, isolating those who seek to manipulate, and informing the American public about more trusted voices who are working diligently and in partnership to solve the problems before us.
Let's move forward with focus and urgency not only to address the risks of Ebola, but also to identify and address the gaps in our public health and emergency preparedness infrastructure. We strongly support the Obama administration's emergency funding request to Congress of $6.18 billion to enhance its efforts in the U.S. and West Africa to respond to Ebola. The comprehensive funding request outlines immediate and long-term activities designed to protect the American public from Ebola and other infectious diseases, and to control the current epidemic in West Africa.
In addition, funding levels need to be restored for key programs included in the Pandemic and All Hazards Preparedness Act. These programs support public health departments and hospitals to strengthen their abilities to respond to all types of public health incidents and build more resilient communities. They support efforts to improve surge capacity and enhance community and hospital preparedness for public health emergencies. Now is the time to rise above the politics of fear. We urge Congress to act quickly to provide the necessary resources to protect the American public.
Popular in the Community